The series of columns starting this week is based in large part on Sol Smith's Theatrical Management in the West and South for Thirty Years. Smith was a theatrical producer, playwright, tragedian and clown whose small theatrical troupe played the Deep South and the Western frontier from the 1820s until the eve of the Civil War. His account of this rough, wonderful life is something of a cross between Dickens and Twain.
Smith wrote his book 40 years after his career began, and many of his anecdotes sound overpolished with retelling. Some seem just a bit too good to be true. Still, where his reminiscences can be checked against contemporary newspapers they prove accurate. I believe his narrative of his travels in Georgia is largely true, with only minor embellishment.
Smith and his players first entered Georgia at the young city of Columbus May 20, 1832, having traveled from Mobile through "The Nation," that large portion of eastern Alabama still in the tenuous grasp of the Creek people. Smith's career in Georgia was to open and close in Columbus with the Creeks in major roles at either end. The Creeks had been forced out of Georgia seven years earlier by the Treaty of Indian Springs, negotiated between Chief William McIntosh and his first cousin, Governor George Troup. Many Creeks felt McIntosh had betrayed them; he was murdered by treaty opponents within months of the signing. Though forbidden to live in Georgia, the Creeks could come across the Chattahoochee to trade. Smith entered Columbus on a Sunday morning and noted that the streets were filled with Creeks as well as residents of the town.
Smith set about advertising performances at "The New Theater," mystifying the citizenry, who knew of no theater in Columbus, new or old. Smith promptly engaged a contractor to build a 70- by 40-foot building which he completed in 4 days.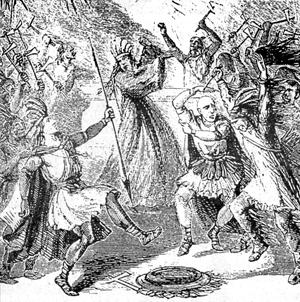 The first production was Pizarro, a historical spectacle of the Incas' struggle with their Spanish conquerors. The play required an Inca army which could not be gotten up from the small troupe, most of whom were already playing two or three parts, so Smith recruited two dozen Creek warriors at 50 cents and a glass of liquor each to impersonate the Andean soldiery. Liquid wages were issued in advance, and the Warriors of the Sun took the stage in full battle cry. Ignoring the prompter, the Creeks began their own war song and dance, swinging the weapons and snatching wigs from actor's heads. The audience was terrified; Smith ordered the curtain dropped, but the Creeks would not be interrupted. They finished their song in their own good time, took their pay and offered their services for the following evening's show, which was to be Macbeth. Smith politely declined.
After playing Columbus Smith took the company on the road, hoping to break even until the General Assembly convened in Milledgeville in late October. Georgia's aristocracy would be present there in full force for several weeks, and Smith counted on turning a big profit during the legislative session.
The troupe went first to Macon, where they had another theater built, briefly to Milledgeville, where they had to clean out a theater used for years as a stable, and then to Athens in late July for the University's commencement.
Commencement week in Athens was quite grand in those days; Georgia's rich and powerful converged on Athens, passing the time with balls, dinners and backroom political dealings. Smith had a theater built in three days (its location presently unknown) but had poor attendance. When commencement week was done the company moved on to Madison. Graduating at the top of Franklin College's class of 1832 was future Confederate vice president Alexander Stephens, who also departed Athens for Madison the day after graduation. Smith's jolly players may well have shared a stagecoach with the melancholy young schoolmaster.
In Madison the company played the ballroom of Campbell's Tavern, ending the week a hundred dollars in the hole. They went on to Monticello where their theater was a Mr. Stovall's dining room. Losing another hundred dollars they barnstormed Milledgeville, Macon and Columbus. When late October came Smith headed eagerly for Milledgeville hoping to recoup his losses during the legislative session. It was to be a journey he would regret for the rest of his long life.
©1994 John Ryan Seawright
Like what you just read? Support Flagpole by making a donation today. Every dollar you give helps fund our ongoing mission to provide Athens with quality, independent journalism.