Jill Jayne Read is so much an impresario that one assumes she directs and produces her breakfast every morning and then announces it with fanfare to the neighborhood. I know this, because I saw her at work years ago when I was one of her draftees in a couple of Vaudeville shows raising money for the Morton Theatre back when it was first being restored. "Prof. J.J. Read," as she is known when she is in the show-producing mode, bears a striking resemblance to Prof. Harold Hill in The Music Man, since she has that brazen capacity to take a bunch of human raw material and fashion it into a highly entertaining, eclectic variety show utilizing a giant cast, professional and amateur, right here in River City.
This time, Prof. Read has assembled an experienced and talented group of showbiz people to help her whip together an entertainment in honor of the 20-year presence in Athens of the Osher Lifelong Learning Institute, affectionately known as OLLI. So, naturally, this Vaudeville-Broadway-amateur hour-"America's Got Talent" kind of show is called "The OLLI Follies."
There are only two performances of this homegrown masterpiece—at 7:30 p.m. on Friday, May 1 and again at 7:30 p.m. on Saturday, May 2. Both performances are in UGA's beautifully renovated Fine Arts Auditorium, and both are free admission. No need for reservations or tickets: Just show up. That's a very busy weekend culturally, so some hard choices will be made, and the Follies should be a top contender for your time and attention.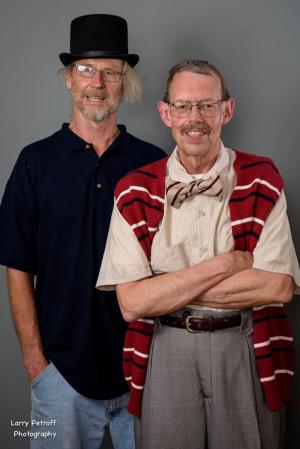 You name it, and Prof. Read will turn it into an act. So, among the familiar faces peopling the two-hour Follies show are singers, dancers, actors, comedians and musicians amalgamated into a musical review in a burlesque style, featuring tap dancing, a tambourine line, a precision march, folk dancing, a Delta blues harmonica player, a peppy pit band, some comedy routines and singing commercials for the show's sponsors. Yep, all the hallmarks of a J.J. Read production, plus—even though there is no swimming pool, as such—some kind of synchronized swimming routine. Pushing Prof. Read for details on this aspect of the extravaganza only elicits a mysterious smile.
You gotta be there to see it to believe it. A lot of hard work has gone into the making of this community conflagration calculated to demonstrate that OLLI is a lot more than just classes. Athens is touted as a great place for retirees, and OLLI is a great example that zest for living can remain strong in retirement when there's a lot of stuff to do. If the always interesting courses provided by OLLI present the thoughtful side of lifelong learning, the OLLI Follies is a buoyant reminder that when work stops, fun starts—that kicking over the traces is the signal to begin kicking up your heels.
WHO: OLLI Follies
WHERE: UGA Fine Arts
WHEN: Friday, May 1, 7:30 p.m. & Saturday, May 2, 7:30 p.m.
HOW MUCH: FREE!

But, Wait, There's…
Talk about a busy weekend! Also on Friday, May 1 at 8 p.m. in Hugh Hodgson Concert Hall on campus enjoy the inimitable Athens Master Chorale singing Haydn, Handel and Carissimi. $5-10. 706-546-0023. Also on Friday, May 1 and again on Saturday, May 2, the Athens Symphony presents its Pops Concert in the Classic Center Theatre at 8 p.m. both nights. The concerts are free but require tickets, obtainable at the Classic Center box office. Pianist Jim McKillip is the featured attraction. See athenssymphony.org.
The Human Rights Festival will be holding forth with music and speeches downtown on College Square Saturday, May 2 and Sunday, May 3. Info at athenshumanrightsfest.org.
Finally, don't forget the Congregation Children of Israel fundraiser, "Raise the Roof," at Hendershot's Sunday evening, May 3 at 7 p.m. Based on the web show, "Old Jews Telling Jokes," this evening promises to be a hilarious blend of skits, jokes and music in an intimate setting for a good cause (a new roof for the Temple). Tickets are $15 at the door if there are any left and can be reserved through the producer, Barry Wolk, at 706-548-7829 or bmiles46@aol.com.
Bad News
Harold Williams' daughter, Molly, just told me that Harold suffered a heart attack this past weekend, but her latest report is that he seems to be rallying and showing flashes of his famous wit. Naturally, he does not need any visitors. Molly will keep us updated, and meanwhile, we'll all be pulling for our gallant and beloved friend to pull through this latest setback. Harold, as you surely know by now, is the popular local CPA and musician who had a paralyzing fall a year and a half ago and has been working hard to restore at least some movement in his arms and legs.
Like what you just read? Support Flagpole by making a donation today. Every dollar you give helps fund our ongoing mission to provide Athens with quality, independent journalism.