Chuck Searcy
The Mar. 16 issue of The Nation carried a long article about Chuck Searcy, who directs Project RENEW in its mission to clean up the deadly, unexploded bombs that litter the landscape of Vietnam 50 years after the war's end. Many of us know Chuck as the affable and intelligent activist who left UGA to serve in Vietnam, came back afterward and involved himself in Vietnam Veterans Against the War, as well as student activism on campus. Chuck, of course, was also instrumental in starting the famous Athens Observer and Observer Television here before going to Washington to work in the Carter Administration and later as press secretary to Georgia Sen. Wyche Fowler. He also had a stint as executive director of the Georgia Trial Lawyers Association before returning to Vietnam in 1995, where he continues to live.
The long Nation piece, by a writer named George Black, looks at Vietnam through Chuck's eyes, and provides a lot of rich background on that epic period in our national history, as well as much horrifying detail about the continuing consequences of intense U.S. bombing and chemical warfare rained upon that countryside of hamlets and farms.
Unfortunately, the online version of the Nation article does not include all the photographs in the newsstand version, including a great picture of Chuck, whom Black describes as "a tall, lean man with a head of thick, gray-white hair and a courtly charm that seems entirely without effort or artifice."
As one of Chuck's heroes, James Brown, put it: "A man got his hair, got his teeth; he's got it all." Well, Chuck's got it all, including a deep commitment to democratic values, to people's participation in the decision-making that affects their lives, a dedication deepened by his firsthand observations as a U.S. soldier in military intelligence in that landmark of top-down decision making, the Vietnam War.
Chuck has soldiered on through a long period of U.S. government indifference and denial toward responsibility for our actions in Vietnam and is finally beginning to see some recognition and support from Washington, led by U.S. Sen. Patrick Leahy. As Chuck transitions into his inevitable role as grand old man ("Mr. Chuck") in Vietnam, he can actually, finally glimpse the day when Quang-Tri Province, the old Demilitarized Zone, will be safe from unexploded ordinance. Being Chuck, though, he is already shifting attention toward the equally horrid legacy of Agent Orange and the other defoliants rained down upon the countryside and its people, evident now in a continuing prevalence of disease and deformities. Even if Vietham seems ancient history to you, this Nation article is a poignant reminder that our government's actions abroad, especially when we don't want to know about them, cause widespread and lasting consequences.
UGA Medical Students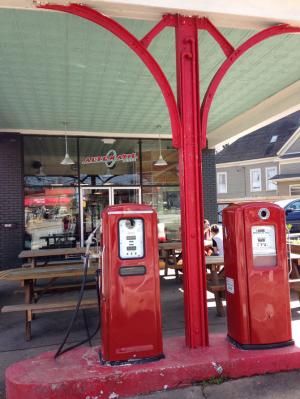 Photo Credit: Pete McCommons
The UGA medical school, the "Medical Partnership" (with Georgia Regents University in Augusta) had what they call "Match Day" Friday, Mar. 20 (as did the GRU campus). That's the day the graduating medical students find out how their preferences have matched up with hospitals offering them a residency. Reports from the campus are that the students did extremely well, as they did in their grades, and that around 13 percent of them have chosen family medicine, that always-hard-to-fill specialty that forms the backbone of medical care in our country. It remains to be seen, of course, how many of these new medical graduates will eventually wind up back here to practice in Georgia, especially in family medicine.
This Athens graduating class has 39 future doctors in it, and the main campus in Augusta has four-and-a-half times that many. Judging from the list of prestigious hospitals that have matched with the Augusta medical graduates, the main campus had a stellar year, too. Will there ever come a time when the Medical College of Georgia ceases to feel threatened by the success of the "partnership" campus here?
We need more doctors in Georgia. There was no way the medical college could expand enough to turn out 39 more doctors this year. There was an empty campus here that has been turned into a medical school of apparently high quality in a short time. Sure, that's a bonanza for Athens, but it's also a great leap forward for the State of Georgia and for the medical college in Augusta itself. It's time for the medical college and its political allies, including Gov. Nathan Deal, to own this medical school here in Athens and to realize that its success can only augment Augusta and strengthen health care for the people of Georgia.
Like what you just read? Support Flagpole by making a donation today. Every dollar you give helps fund our ongoing mission to provide Athens with quality, independent journalism.