Out and About
We're still bogged down in lease negotiations, so there's no news yet about a new location for Flagpole. Who thought it would be so complicated? Meanwhile, we have received official notice by certified mail that we've got to be out of here by Dec. 31. Nice to finally hear from our landlord.
Shoot, we've only been at 112 Foundry Street for 20 years. Adams Optics has been downtown on Clayton Street for 31 years, but now Jim Adams has moved his business around the corner to 163 Jackson St., in the block between Clayton and Broad streets. Jim says his old building was sold and the rent went up, so he moved in order to be able to continue selling glasses for $99, as he has done ever since he started Adams Optics. One man stands firm against inflation. Don't we wish everybody would?
Update on Harold Williams
Harold Williams reports some progress in his fight to overcome the paralyzing effects of a fall in his office six weeks ago that broke his neck. In a telephone conversation from his room in the Shepherd Center in Atlanta, Harold and his wife, Paula, say he has about 10 more days in his hospital room and then they will move to a nearby apartment, where they'll be more or less on their own, without nurses. Harold will go back across to Shepherd five days a week for physical therapy, but otherwise they'll be coping with his condition on their own. Harold had been learning to operate his wheelchair with a mouth-operated air tube, but now he can control the chair with his left hand—a great breakthrough. Harold swears he can now roll out of the room without hitting the doorjamb, an accident unkindly reported in this column earlier.
Harold says he is looking forward to this next stage, and he very much appreciates all the thoughts and prayers that have been sent his way. If you're reading this, you probably know Harold. If not, he's the Athens native who has played in The Jesters and other bands since high school and is also an accountant and partner in the firm Williams and Guined CPA and all-around good guy, who's constantly doing things for other people and has a good word for all and a twinkle in his eye.
Gwen's Back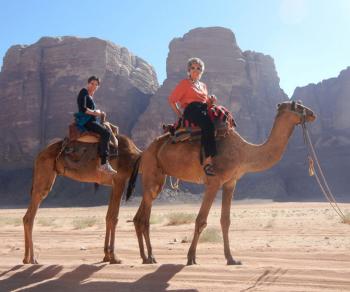 Who else but Gwen O'Looney would travel around Europe by bus so that she could meet people and stay in hostels and have her suitcase stolen and buy replacement clothes in flea markets and then go to the Middle East and ride around on a camel? That's our Gwen, and an interview with her should run in next week's Flagpole if the space is available.
Turning Points
In a close game like Georgia-Florida there are so many details that can make the difference: our field-goal kicker's unerring aim, compared to their misses. Our end's lack of understanding that a missed lateral creates a live ball, compared to the Florida defender who scooped it up. Gurley, Gurley, Gurley. His most important run was for those couple of yards that kept the last drive alive by literally the nose of the football: sheer strength of will and determination, even after being tackled behind the line. And of course that wonderful fourth-down face-mask penalty that gave us the first down that kept the ball out of Florida's hands at the end and iced the game. The refs had their hands full all day and probably should have suspended both teams for unsportsmanlike conduct. Here's hoping Appalachian State doesn't turn out to be another Vanderbilt.
Like what you just read? Support Flagpole by making a donation today. Every dollar you give helps fund our ongoing mission to provide Athens with quality, independent journalism.