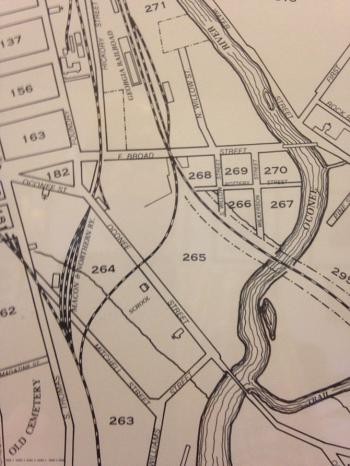 I am an idiot. I have been writing about the Selig development right behind Flagpole on the old Armstrong & Dobbs property. And I have been writing about the rails-to-trails re-development of the CSX railroad line that starts right down the hill from us on East Broad Street. Moreover, I have been walking down the hill most mornings to get a cup of locally brewed coffee at Jittery Joe's Roasting Co., which is scheduled to be demolished as soon as the Selig project finally gets rolling. And I have thrilled to the heroic efforts of our citizens who have risen up in opposition, including but not limited to Patterson Hood and his merry band, who have tried to do through music what the city won't do through zoning. All this has come to naught, and soon we will have yet more student apartments and parking decks wrapped in a veneer of retail spaces—the new downtown: the wave of the present.
Come to find out, there is the equivalent of a Native American graveyard right in the middle of the Selig/Armstrong & Dobbs project-property. (See former Commissioner Carl Jordan's opinion piece about it and John Huie's story.)
What we have, and who knew, is an old railroad bed that ran parallel to the Georgia Railroad (CSX) line that is the basis of what is now called the Firefly Trail, which is a rails-to-trails conversion that, if it is ever built, will provide a level path from East Broad Street across the North Oconee through Dudley Park and on toward Winterville. Right alongside that rail route was another one, crossing East Broad right below the Roaster is now, following the level ground through what is now the Armstrong & Dobbs property and curving toward Oconee Street, where it crossed and went over toward campus and downtown.
The whole point about railroads, as you know, is that they follow level ground. That rail spur crossing East Broad alongside the Georgia Railroad line did not go uphill from there. As railroads do, it skirted the hill and found level ground toward the campus.
Recognizing the efficacy of already established transportation corridors, our local government years ago adopted laws that protect those routes against development. See Carl's Comment, and look at the map with this Pub Notes, a detail from an 1895 map of Athens. What you see is the present rail line cutting under Oconee Street and then farther down Broad Street, you see the other line crossing East Broad and curving through what is now Armstrong and Dobbs (area 265 on the map here). That is level ground, folks, skirting around one of the steepest hills in Athens. Railroads abhor hills, and so do pedestrians and bikers.
So, what we have is a rail corridor protected by our laws that should have been a dealbreaker for the Selig development but has not even been an issue, since our government has stayed mum about it.
Selig will plop its massive development right down on top of this level path to the campus in spite of the law protecting that corridor. Our progressive Athens-Clarke Commission will look the other way and give Selig the green light on July 2, and our unprogressive mayor will gladly rubber stamp it. We'll have more student apartments, more chain stores, chain gyms, chain restaurants and chain bars, more parking decks, more cars and reduced accessibility between the rail-trail, the campus and downtown. What by law and by bold resolve could have been an organic extension of downtown Athens, instead becomes Atlanta.
Like what you just read? Support Flagpole by making a donation today. Every dollar you give helps fund our ongoing mission to provide Athens with quality, independent journalism.