With Thanksgiving and the holiday season upon us, we're all looking forward to gathering with loved ones and friends again this year. Believe it or not though, this is still another COVID-19 holiday season.
While it may not seem like the pandemic is still a real threat, more than 370 people are dying of COVID-19 every day in the U.S., according to recent CDC data. Since the pandemic began, the U.S. has consistently seen a pattern of spikes in cases between November and February, as temperatures get colder and people gather inside more. Less masking and observance of pandemic public health measures make it all the more likely that the pattern will repeat again this year.
Unlike previous years, there are some differences to consider—less reliable official testing data due to the prevalence of at-home testing; elevated flu rates much earlier in the flu season than we've seen in recent years; and increased RSV cases in children that have resulted in unusually high hospitalization rates for what is normally considered a fairly common viral ailment. Many public health officials are concerned about the potential of these three factors coming together at once, as they could inundate and stress our already tenuous health-care system this holiday season. Careful planning for the holiday season ahead, with a return to public health measures, vaccinations and booster shots, could make a big difference.
The Pandemic Isn't Over
You'd be forgiven if you thought the worst of the pandemic was over. After all, Georgia Department of Public Health and CDC data suggest as much. Locally, just 89 new cases of COVID-19 had been reported officially in the last three weeks, according to DPH's Nov. 2 update. Further, the seven-day running average for Clarke County is just five new cases a day, and no Clarke County residents died of COVID-19 in October, DPH data shows. To date, 233 Clarke County residents have died from COVID-19, with no significant increases since August, and DPH hospitalization data showed just 17 new patients admitted for COVID-19 in the region in the last three weeks, as of Nov. 2.
However, while DPH data suggests that the virus isn't causing death or severe increases in hospitalizations, at-home testing has become commonplace, and official data on new cases is a vast undercount of local viral spread. Wastewater data, however, provides a more accurate perspective. As Athens-Clarke County Commissioner Melissa Link once said, "Poop don't lie." According to Erin Lipp's wastewater monitoring project at UGA's College of Public Health, COVID-19 is still spreading in Athens-Clarke County at levels greater than this time last year, just before the Omicron variant wave hit. As of the Oct. 28, 2022 lab update, viral loads have been increasing in the last month, in the 64th percentile of all samples taken to date, and "were 10-fold higher than this time last year," despite fewer cases reported in official data.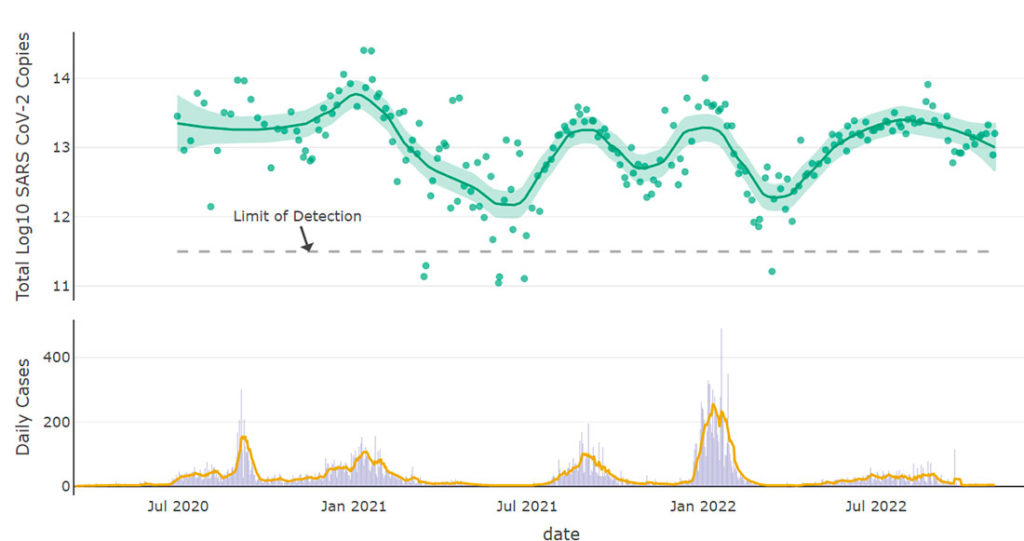 "It really has been a very slow upward climb since late September, much like our slow climb in the summer. Our levels now are higher than they were at this time last year," Lipp said. "We may be at another plateau now, but I suspect we'll see things increase around the holidays, as we did in the past two years, because people are traveling, in different social networks, and will tend to be inside. And new variants are circulating.
"Over the past two years, levels in wastewater have started to pick up in mid- to late November and peak in early January. With holidays, traveling, and movement back into Athens after the winter break, it is likely we'll see this pattern again."
Protect Yourself and Others
Vaccination, booster doses and public health measures are still the best means to help keep yourself and loved ones safe this holiday season. While vaccination rates in Clarke County have not seen a vast increase in recent months, the DPH Vaccine Dashboard data shows that local vaccination rates are ample—57% of residents have had at least one dose of the vaccine and 52% have been fully vaccinated, and 54% of those that have been fully vaccinated have also received a booster shot. Just 437 children ages 6 months to 4 years (or 6.5%) are vaccinated; while older adults maintain a near-100% vaccination rate. Children and adults younger than 25 remain the lowest vaccinated populations in Clarke County.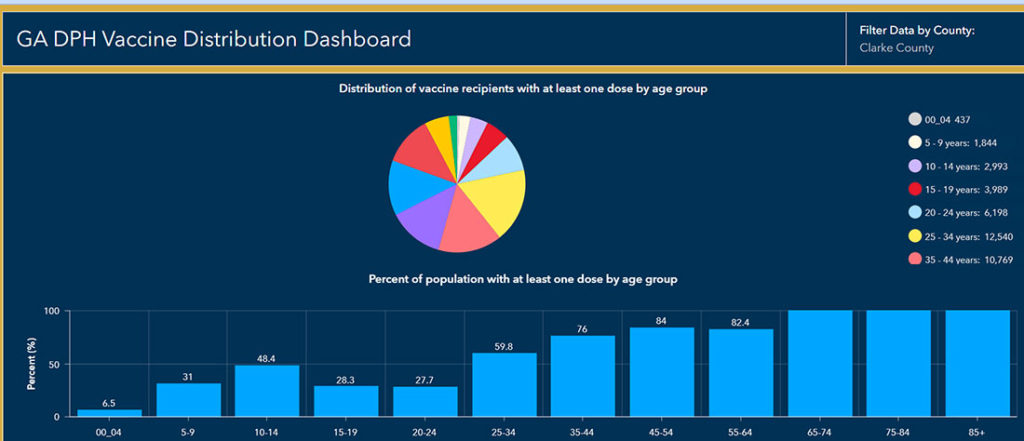 So what does this mean for the Thanksgiving and holiday season ahead? According to public health experts, now is the time to take action. Get a booster shot, make sure you're vaccinated and those most at risk have been vaccinated, or consider other preventive measures to help the spread of infection of COVID-19 and other viral spread like flu and RSV.
"I think vaccinations [for flu and COVID] are as important as ever to prevent severe disease," said Lipp, "and people can still use pretty simple mitigation efforts like gathering in groups outside, increasing ventilation when inside, and using portable air filters, which all help to reduce transmission of COVID, RSV, and flu, all airborne respiratory viruses. And of course well fitting masks (N95, KN95) also offer personal protection against these as well."
At this juncture in the pandemic, the tried-and-true rules still apply. First and foremost: Get vaccinated, and get a booster if you qualify. Follow basic public health measures that have been recommended since the onset of the pandemic—wash your hands, avoid close contact and wear a mask when you're in an enclosed indoor space with more than a few people.
Who Should Get a COVID Booster
If you've received the primary COVID-19 vaccination, you're 50 and older or are immunocompromised, public health experts recommend getting a COVID-19 booster. According to cardiologist Jayne Morgan, executive director of Piedmont Hospital System's COVID Task Force, the bivalent booster shot is available to anyone over the age of 5, but is particularly beneficial for those with pre-existing conditions or who are immunocompromised. The vaccine is safe and could be helpful for particularly vulnerable populations with the holiday season ahead.
"The new bivalent booster was formulated specifically to target the Omicron variant," said Morgan. "So it is 50% of the original formulation, and 50% of the new formulation targeting the Omicron variant. There is no reason to believe that it is not safe, and all completed trials to date have not signaled safety issues."
If you're 12–49 years old and not immunocompromised, and you've already received three or more COVID-19 shots (i.e. a two shot initial dose and a booster, a one-shot initial dose and two boosters, or any initial completed vaccine dose and more than two booster doses), your risk of hospitalization or death is significantly reduced; additional boosters are not likely to add much protection. However, a booster can provide extra protection for others for a couple of months. If you'll be seeing older or immunocompromised adults over the holidays, getting a booster dose might be worth it. Getting a booster dose two to four weeks before the gathering can give those most vulnerable extra protection by reducing your likelihood of becoming a vector. Need further guidance? The CDC has an interactive resource to help you determine whether you should get a booster dose.
With flu rates elevated so early in the season, consider getting a flu vaccine this year. According to Morgan, there's a real possibility of a particularly difficult holiday season ahead.
"RSV has arrived early this year, and the flu season has not yet gotten into full swing at a time when people are resistant to masking, as well as other public health measures," she said. "So the possibility exists, especially as peak flu season is generally between December and March, and the SARS-CoV-2 virus continues to mutate with poor uptake of the bivalent booster to date."
Getting a COVID-19 booster dose and flu vaccine simultaneously might mean a day or two of more adverse side effects, but research shows that getting both shots at once is both safe and likely to have better health outcomes in the long term.
"You can get the flu more than once a season," Morgan said. "A second infection carries the same risk of complications as the first, the most serious of which are pneumonia and sepsis. Additionally, heart attacks are six-fold higher in the first week after contracting the flu. This is especially concerning for the elderly and for those with heart and/or lung disease."
Bottom line: Get vaccinated or boosted. Consider your risk (and others'), what precautions might help beforehand, and make changes as needed if at-risk populations will be in attendance to family and friend gatherings. Consider the risk of those attending events in large groups. Are there people who are unvaccinated? Are there older adults or children? Are immunocompromised in attendance? If so, public health experts suggest further mitigation methods such as outdoor settings for crowds, increased ventilation methods or masking.
Like what you just read? Support Flagpole by making a donation today. Every dollar you give helps fund our ongoing mission to provide Athens with quality, independent journalism.