Some of the highlights of the Athens music scene are the number of different genres that call it home and the presence of promotion companies like Aubrey Entertainment that provide opportunities to spotlight them.
With collaboration at the forefront of Aubrey Entertainment's values, owner Troy Aubrey saw an opportunity to create something bigger than the average club show with East Georgia funk band Funk You—and so, the inaugural FUNK YOUtopia Festival will take place Saturday, Nov. 12 at Southern Brewing Co. Headliner Funk You will be supported by The Funk Brotherhood, The Family Recipe, and Cam and his Dam Jam Band. Each band will have an extended set to add to the "outdoor festival vibe" Aubrey is striving for, with music from 5–11 p.m. Plus, there is talk of a "killer light show" to set the mood.
"In thinking of funk as a genre, I feel like there is a lot of growth opportunity in Athens for sure. I'd love to see New Orleans-type funk/jazz acts sprout up," says Aubrey. "Funk You is really on to something, and although they aren't an Athens band, they are a Georgia band that has members from Athens performing with them. It's fun; it's energetic."
Funk You is an eight-piece (formerly nine) band with over 10 years of touring under its belt and a love for live performances with a high-intensity atmosphere. Traditionally, funk bands tend to have more members than other genres, which comes with pros and cons. Guitarist Evan Miller explains that eight members means eight schedules to work around, plus navigating travel and lodging hurdles. However, he also says that a large band helps Funk You to produce a fuller sound during its live performances that's completely worth it.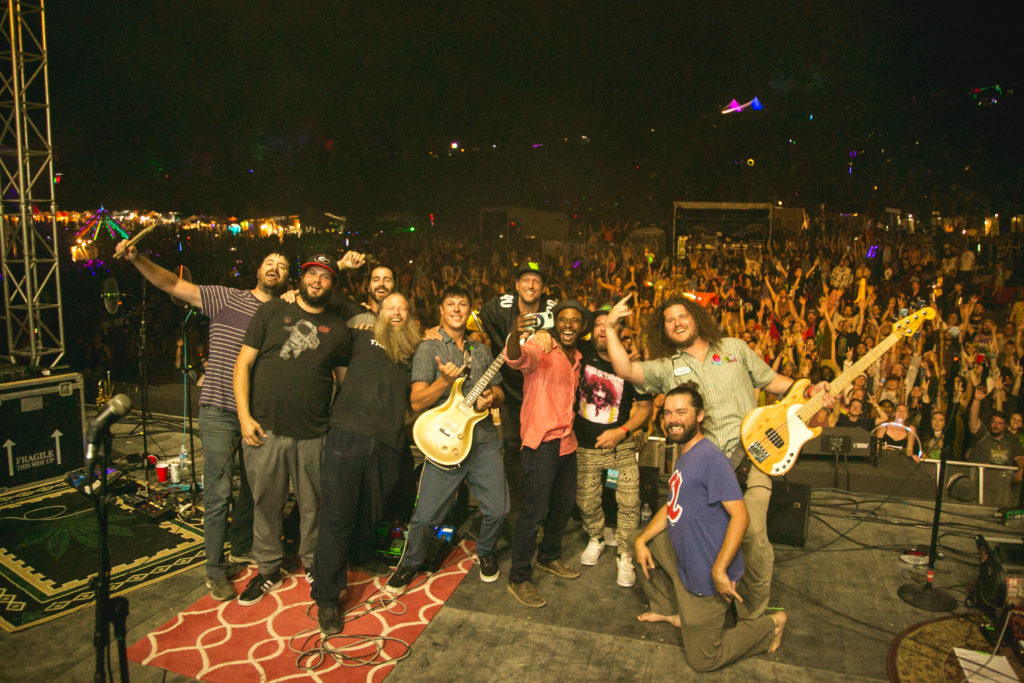 "After 10 years of being on the road and in a ton of different situations, we've learned to roll with the punches and make the best of situations that are less than ideal," says Miller. "All things aren't negative, though. Recently we got a chance to fill in for some of our music heroes, Lettuce, at a main-stage festival slot at Resonance in 2021. Sadly they couldn't make their performance, but this was such an honor for us."
The Family Recipe, an instrumental fusion group originally from Athens but now Atlanta-based, is also on the lineup, with genre influences from rock to jazz. The four-member band emphasizes experimentation with various instruments and singing styles. Using their time inside during COVID to explore other genres, the members continue to further push the conventions of jazz, funk and southern psych.
Athens native band The Funk Brotherhood takes inspiration from the instrumentation of Kool & The Gang, with Stevie Wonder and Michael Jackson-influenced vocal sounds. As another large band with nine members, the group puts a lot of energy into its live performances. Fellow Athens-established group Cam and his Dam Jam Band incorporates its Southern roots with a funky flair, featuring slap saxophone, bass guitar, lead vocals, keyboard, drums and electric guitar. Its musical influences span from blues to psychedelic funk, while prioritizing "groovy" beats.
"I've been at this for a while now, 30-plus years, so I am continually energized by the new generation of bands, artists and various/diverse scenes in Athens," says Aubrey. "We're doing all right here and have a healthy scene, and I just hope that folks will come out Saturday and support these bands."
Southern Brewing Co. is an all-ages and dog-friendly venue, so families are welcome to attend. Children ages 12 and under get in free. There will be food vendors on site, as well as other vendors like Franny's Farmacy, and guests are encouraged to bring chairs and blankets to take advantage of the spacious lawn.
WHAT: FUNK YOUtopia Festival
WHEN: Saturday, Nov. 12, 4 p.m. (doors)
WHERE: Southern Brewing Co.
HOW MUCH: $12–15
Like what you just read? Support Flagpole by making a donation today. Every dollar you give helps fund our ongoing mission to provide Athens with quality, independent journalism.