Shelter space for homeless pets is always at a premium, especially in Athens, so when the Athens Area Humane Society more than doubles its shelter space, it's a big deal. This August, after more than 15 years in a converted daycare center on Mars Hill Road, the Athens Area Humane Society will move into its new digs at 1030 Mitchell Bridge Road.
"One of the things that I love about Athens is that it is such a pet-friendly community," says Cheryl M. McCormick, who took the reins as the advocacy agency's CEO in 2020. "This will be a community destination where the bond between pets and people is celebrated."
The new space—a 15,000 square-foot industrial building shell that used to be a call center—will provide 8,000 square feet for shelter and adoptions and 6,000 square feet for low-cost veterinary care. About 1,000 square feet will be used as an education center and offices. Compare that to the 5,000 square feet of space at the humane society's Mars Hill location for a sense of the shift that's about to happen.
"We thoroughly expect that we will be able to increase our capacity to help, heal and home pets to more than 11,000 animals every year," McCormick says. "It is currently between 3,000 and 4,000 pets per year."
The new space will provide temporary homes for more than 80 cats, kittens, dogs and puppies—all with dedicated spaces to keep them healthy and comfortable. The 125-space parking lot means the AAHS will be able to expand its volunteer corps and public outreach offerings. Both were limited by the 17 parking spaces on Mars Hill Road. The veterinary clinic will double the capacity of the humane society's current low-cost spay and neuter program and allow them to offer other low-cost vet services to local animal shelters and pet owners who otherwise would not be able to afford care, McCormick says.
It's not just the size of the facility that will be game-changing, but the fact that it's a space that has been designed around pets and pet lovers. The color pallet is meant to be calming. There are acoustic dampening materials to buffer the din of barking dogs and excited pet owners. It's a pleasant place for the animals, McCormick says.
"We keep the species separate," she says. "The cats are high up because cats are predators and prey and they like to be scanning their environment for sensory cues. The dogs are more social, so we made sure they could see each other and interact with the people who come in and out.
"Those are the kinds of design considerations that we were able to make. We put the animals' welfare front and center and designed around that."
While construction has been fairly quick, plans for a new shelter space have been in place for more than a decade. The project, thus far, has been funded chiefly by a bequest left by Susan McConnell West, who died in 2006. Her donation was invested until they could fund the first phase of the project. A second phase will entail landscaping the four-acre property to allow for dog training classes, agility classes, puppy playdates and walking trails, McCormick says.
"It's a warm inviting place [where] you feel welcome, [where] your energy level rises, your anxiety level falls, and it's just an inviting place for pets and people," she says. "That's our goal, and I would argue that that is really needed here. Athens is the perfect community for that."
Longtime Animal Activist Hikes for the Humane Society
Allyson Hester-White is one of the friendliest faces at Southern Brewing Company. Her secret? Hiking and dogs.
This summer, she's combining her two passions by hitting the trail to raise money for the Athens Area Humane Society and AthensPets.
Hester-White through-hiked the Appalachian Trail in 2015. This year she received one of a limited number of permits to hike the 211-mile Pacific Coast Ridge John Muir Trail in California. It's the trip of a lifetime, Hester-White said. She wants to make it meaningful for the entire community, so she's asking people to sponsor mileage to benefit the Athens Area Humane Society and AthensPets through her Paws for a Hike campaign.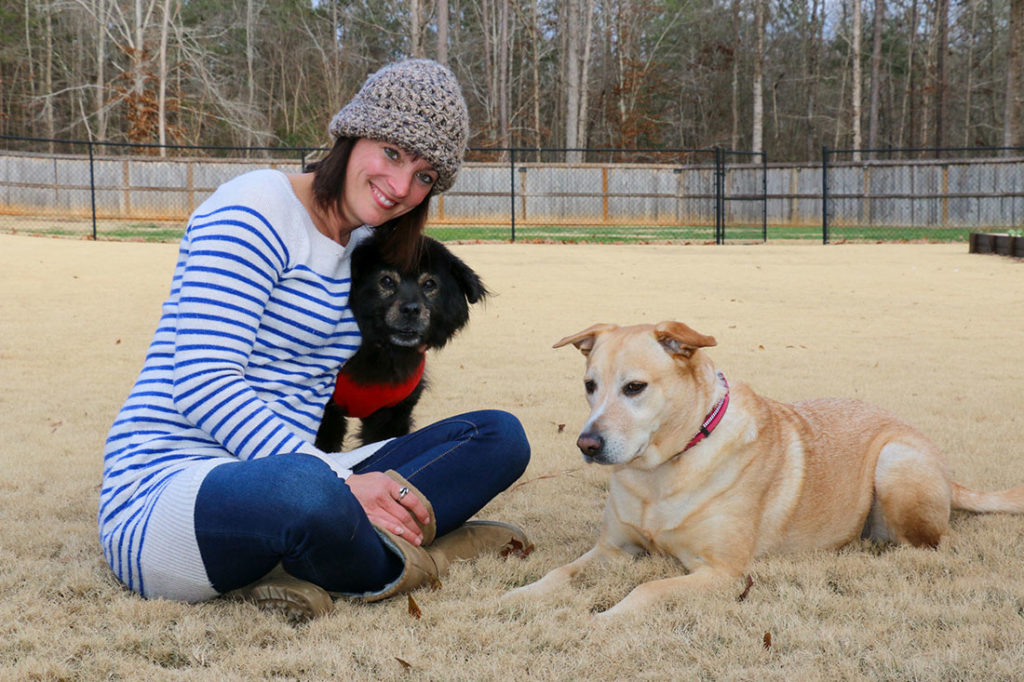 "When I was planning the hike, I thought, why the heck not make every mile count for someone other than myself?" Hester-White says. "Imagine the collective impact we could have on our world if we all used a hike as a fundraiser."
Hester-White—who works at the UGA Fanning Institute for Leadership as an outreach coordinator, in addition to sometimes tending bar—sits on the board of the Athens Area Humane Society. Her history of animal advocacy in Athens goes back to 2000, when she founded athenspets.net to highlight adoptable pets at the Athens-Clarke County Animal Shelter. She continues to sit on that board as well.
So far, she's reached more than $11,000 of her $12,000 goal. She sets out on her hike in June but plans to wrap up donations July 31. "We all know 2020 sucked for nonprofits, and it is time for individuals to think outside the box to help those organizations that do so much good for our society," she says.
Patrons can pledge through PledgeIt.org/paws-for-a-hike-fundraiser, and donations will be distributed directly to the two nonprofits. Supporters can find the link to donate, follow along with Hester-White's journey preparing for the trail and follow progress on her eventual hike at AppalachianTrailClarity.com/JMT.
Like what you just read? Support Flagpole by making a donation today. Every dollar you give helps fund our ongoing mission to provide Athens with quality, independent journalism.