Setting aside the argument over whether 2020 is the first or last year of the decade, here's a look back at some of the biggest local stories of the past 10 years.
Club Confederate: It seemed like the downtown bar General Beauregard's—named for the Southern Civil War general—might be toning down the racism just a bit when it removed the Rebel flag from outside the antebellum establishment in 2015. Nope! A few months later, a local print shop employee posted a picture of a drink recipe sheet sent in for lamination that included a tequila and watermelon shot called a "N*****ita."
Needless to say, the South did not rise again. The shot name sparked widespread outrage and inspired numerous University of Georgia students to speak out about how bars on the college side of the "khaki line" had discriminated against them. Local hip hop promoters Knowa and Mokah Johnson formed the Athens Anti-Discrimination Movement in response, which worked with other organizations to press the Athens-Clarke County Commission to pass a local discrimination ordinance and start a Martin Luther King Jr. Day parade. The county passed a law regulating bar dress codes—which many believe are often aimed at keeping out black clientele—and appointed a task force that led to the creation of an office of inclusion within the local government.
Hip Hop Heaven: The aforementioned husband-and-wife team started the Athens Hip Hop Awards in 2012, shortly after moving here from Florida. Their efforts dovetailed nicely with longtime scenesters like Montu Miller, who started a first Tuesday hip hop showcase at The World Famous with DJ Chief Rocka. Miller's been hosting hip hop shows locally since 2005, but the '10s are when the Athens scene really blew up, with newcomers like Squallé, Blacknerdninja, Kxng Blanco, WesdaRuler and Linqua Franqa joining veterans like Dictator, Tony B and Ishues in garnering recognition. Other genres, like EDM, country and Latin music, also proliferated, diversifying a scene that's long been dominated by white punk musicians, indie rockers and singer-songwriters.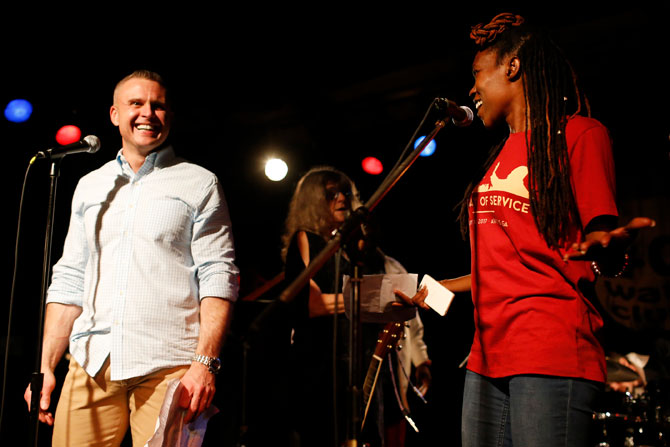 Photo Credit: Joshua L. Jones
Too Hot to Fish: In the summer of 2011, Athens Banner-Herald reporter Wayne Ford was casting about for a story when he ran into 76-year-old Oconee County resident Bobby Kirk, who told Ford he couldn't catch a bite because "I reckon it was too hot." The rest was history: "Man Says It's Too Hot to Fish" went viral back when that was a brand new phenomenon, even providing fodder for a Stephen Colbert segment.
Baldwin Hall Remains: Much as the "N*****ita" episode exposed racism on the student bar scene, the University of Georgia's handling of human remains found during an expansion of Baldwin Hall in 2016 dredged up painful discoveries of how UGA exploited slave labor that the university and the community had never reckoned with.
UGA at first claimed that the remains belonged to people of European descent, but further research confirmed what civil rights activist Fred Smith suspected—that they belonged to enslaved African Americans. Smith and some other members of the local African American community wanted the remains reinterred at a local historically black cemetery, alongside other ancestors. The university, however, opted to move them to nearby Oconee Hill Cemetery, pointing to a state archeologist's recommendation. Defensive administrators then engaged in a running battle not only with activists, but critics on the faculty, as well. More recently, the administration eased its stance, joining a consortium of universities studying their legacy of slavery and offering grants to researchers.
Dawgs (Almost) on Top: We can all agree that Mark Richt is a Damn Good Dawg who made Georgia football relevant again after the moribund Jim Donnan/Ray Goff era. But by 2016, it had become obvious that Richt had lost his fastball, and athletic director Greg McGarity made a change. He brought in Kirby Smart, a former Bulldog who apprenticed under master of the dark arts Nick Saban but had no head coaching experience of his own. Three SEC East titles, an SEC championship and a College Football Playoff appearance later, it's obvious McGarity made the right decision. While Georgia's suffered a few typically heartbreaking losses—most notably Alabama comebacks in the 2017 national championship game and 2018 SEC championship—Smart has the Dawgs poised to contend for years to come.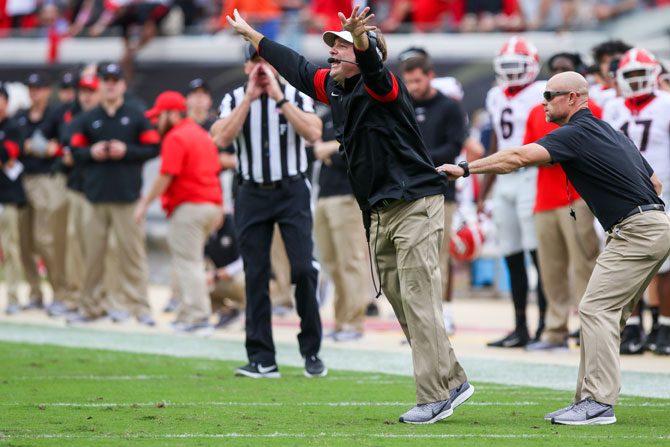 Photo Credit: Chamberlain Smith
Jamie Hood's Crime Spree: During a 2011 drug deal gone wrong, Hood and several associates tied up a man and threw him in the trunk of a car, but the man escaped and called police, who went looking for Hood. Later that day, Hood and his brother encountered ACC police officer Tony Howard while going to the brother's apartment on Sycamore Drive. Hood got out of the SUV, shot Howard in the face, then fatally shot officer Buddy Christian, who had arrived as backup. Hood hid in the woods as hundreds of lawmen from all over the region searched for him. The manhunt ended after four days, when Hood called law enforcement to tell them he would surrender—but only on live TV, because he feared police would kill him.
Christian left behind a widow and two young children. Thousands of mourners lined the streets of Athens for Christian's funeral procession, and the ACC government named a road after him. Howard recovered and resumed his career with ACCPD.
Four years later, Hood's nationally televised circus of a trial got underway, with Hood representing himself and frequently sparring with District Attorney Ken Mauldin and Judge Patrick Haggard. A sequestered jury from Elbert County found him guilty of 36 out of 70 counts—including the earlier murder of Kenneth Wray—but declined to issue the death penalty. Haggard sentenced Hood to four life terms without parole, plus 150 years.
Progressives on Top, Too: After eight years of inaction under the moderate former mayor Nancy Denson, Athens liberals were clearly ready for something new in 2018. They chose a slate of seven progressive candidates—Mayor Kelly Girtz and commissioners Patrick Davenport, Mariah Parker, Melissa Link, Tim "No Relation" Denson, Russell Edwards and Ovita Thornton—who ran on pledges to address poverty, alternative transportation, affordable housing, criminal justice, the environment and other largely neglected issues. Parker embodied the anti-establishment spirit of the group—and drew blowback from the Breitbart crowd—by rocking an Afro and taking the oath of office on a copy of The Autobiography of Malcolm X.
So far, the new regime hasn't brought about the socialist utopia many voters wanted or feared, but it has made some progress—for example, committing to 100% clean energy, instituting protections for local immigrants, passing a bike and pedestrian master plan, making transit free for seniors, banning cash bail for most ordinance violations, devoting millions to anti-poverty efforts and taking steps toward protecting historic buildings on the west end of downtown.
Cop Craziness: This might seem like multiple stories, but they're all related. ACC Manager Blaine Williams hired Rockdale County chief deputy sheriff Scott Freeman as his new police chief in 2015. Hired at the height of the #BlackLivesMatter movement, Freeman promised to build on his predecessor Jack Lumpkin's legacy of transparency and community oriented policing. Freeman hired a rookie officer named Taylor Saulters. While patrolling East Athens in 2018, Saulters spotted Timmy Patmon, who had a warrant out for his arrest related to a nonviolent charge. Patmon fled on foot, and Saulters pursued him in his police car. The chase ended when the car rammed into Patmon. Whether it was intentional is a matter of dispute, but Freeman moved quickly to fire Saulters—maybe too quickly. Later investigations cleared Saulters, and the commission gave him a $250,000 settlement to avoid a lawsuit. Morale among officers plummeted, and Williams eventually fired Freeman, replacing him with current chief Cleveland Spruill.
Under Spruill, ACCPD officers shot a mind-boggling six people over an eight-month period in 2019, killing five. While each shooting was defensible in its own right, the trend was still troubling. To Spruill's credit, he released body camera footage of the shootings so the public could judge for themselves. He also put into place a new policy requiring at least two officers to respond to a suspect with a weapon, and to strategize about how to engage the suspect non-lethally.
CCSD Chaos: Another sprawling story goes back to a Cedar Shoals High School student's allegation that three classmates sexually assaulted her on a campus stairwell in 2015—a story that shocked the public when the ABH revealed it weeks later, giving the perception that the Clarke County School District had tried to cover it up. Eventually, after numerous twists and turns, a grand jury dismissed the charges against the three defendants. But the damage had already been done: Further investigation by Flagpole revealed a callous response to the allegation, as well as other problems within the district, like discipline disparities and low morale among teachers. Principal Tony Price was essentially fired, and former National Superintendent of the Year Philip Lanoue resigned under pressure. The school board hired Demond Means as superintendent in 2017 and, well, we all know how that went.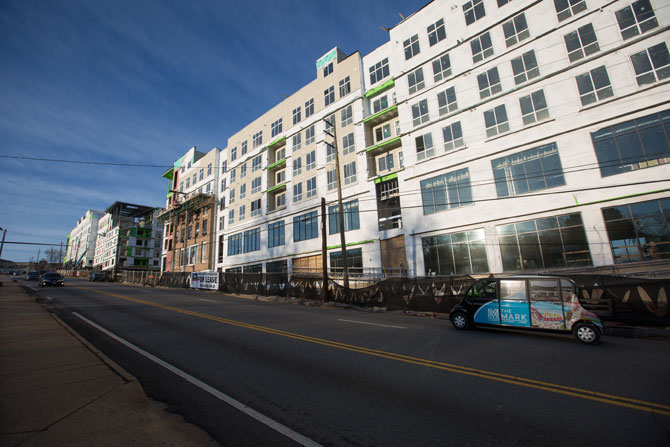 Photo Credit: Austin Steele
Luxury Living: Angst over downtown development is nothing new, but it kicked into high gear over the past decade. Selig Enterprises' proposed development at the former Armstrong & Dobbs property off Oconee Street, which potentially would have included a mini-Walmart, inspired massive opposition and even a Patterson Hood protest song, launching the political careers of Link and Tim Denson in the process.
The commission eventually approved the development in 2013 after several revisions, but by that time Selig couldn't find financing and sold the land to Landmark Properties, an Athens-based company that builds luxury student apartment buildings all over the country and had already built The Standard at the corner of Thomas Street and North Avenue. Landmark then built The Mark without the need for commission approval. Those are just two of the half-dozen or so generic student-oriented developments now dotting the downtown skyline.
The trend isn't unique to Athens. Like many cities, ACC opted to focus density downtown in an effort to curb 20th Century sprawl. And since the end of the recession, developers like Landmark have been building luxury student high-rises near college campuses all over the country. They're more lucrative because they can be rented out by the bedroom, often fetching $4,000 or more a month for a unit.
The upside is students can live close to campus (and bars) and don't have to drive (drunk) as much. But at what cost? With chains and franchises that suit the tastes of Atlanta suburbanites seemingly supplanting locally owned businesses every day, did Athens kill the goose that laid the golden egg? The influx of students—and their parents' money—to downtown also failed to halt the gentrification of in-town neighborhoods.
The local arts and music scene is surely too strong not to thrive somewhere. (Downtown II at Georgia Square Mall, anyone?) The problem runs deeper, though. Housing studies commissioned by ACC found that the vast majority of new apartment construction is intended for students, putting it far out of reach of most families. Meanwhile, housing that is affordable for the average non-student renter usually isn't in great shape. The situation is similar for wannabe homebuyers, with wages stagnant but an influx of affluent retirees driving home prices past the peak of the pre-recession bubble. Again, this is not unique to Athens, but given the state and national political landscape, it will likely require a local solution. We have a feeling it's a story we'll also be covering in the 2020s.
Honorable Mentions: Other nominees included R.E.M breaking up in 2011, the rebuilding of the Georgia Theatre the same year, the Steak 'n Shake mania that gripped Athens in 2012, former congressman Paul Broun calling evolution a "lie from the pit of Hell" and subsequent Charles Darwin write-in campaign, Athens landing the Caterpillar plant, the withering away of the ABH, the 2016 car crash that killed four UGA students in Greene County, the opening of the UGA-Augusta College medical campus and Jere Morehead replacing Michael Adams as president of UGA.
Like what you just read? Support Flagpole by making a donation today. Every dollar you give helps fund our ongoing mission to provide Athens with quality, independent journalism.