Students are currently hard at work with canvassing and phone banking for Democratic gubernatorial candidate Stacey Abrams. Phone banking and other get-out-the-vote tactics are essential to Abrams's strategy of building a grassroots coalition among underrepresented and underappreciated demographics within the Democratic Party.
According to a memo sent to donors early last month, the Abrams campaign has organized more than 100 GOTV events, connecting with over 500,000 voters in the state. This runs parallel with the campaign's growing field operation and over 20,000 individual donors.
Some question whether this strategy is sound. Abrams has criticized the overuse of broadcast advertisement in past Democratic campaigns and is steadily investing in "creating a two-way dialogue" with voters in Georgia, according to the memo.
The same cannot be said for Stacey Evans' campaign, which seems to be operating under the traditional blitz model—saving up in the early months to go full force as the primary approaches. In comparison, Evans is doing little get the word out, even in bluer areas like Athens. She has spoken to the Athens-Clarke County Democratic Committee, but the campaign lacks any field operation in Athens or on the UGA campus.
According to the latest poll, Abrams, the former House minority leader from Atlanta, leads Evans, who represented Smyrna in the legislature, in the primary by 12 percentage points, but a whopping 54 percent of voters are still undecided. Neither candidate leads against the Republican frontrunner, Lt. Gov. Casey Cagle; however, Abrams did win over every other Republican option, while Evans only won one of the hypothetical elections.
The Mason-Dixon poll, released Feb. 28, also shows that around 50 percent of registered voters don't know either candidate. While Evans is expected to release a barrage of ads as the May 22 election approaches, Abrams is taking a more grassroots approach. The UGA group Dawgs4Abrams is filled with young and enthusiastic supporters who feel reinvigorated by the campaign and believe in its direction.
President Meredith Brasher says Abrams' chances in the primary are great because of her focus on disenfranchised and underrepresented groups, such as people of color and rural voters. "She's listening," Brasher says, and she is "in touch with the electorate."
Junior Luke Vines connects with Abrams on a more personal note. Vines' father was diagnosed with cancer and without access to quality health care, he wouldn't have gone into remission. Abrams' push to expand Medicaid in Georgia was one of his biggest motivating factors in supporting her. Abrams' story about being invited to visit the governor's mansion as her high school's valedictorian, only to nearly be turned away because her family arrived by bus, resonates with communications intern Jaylen Black.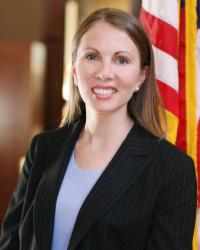 Photo Credit: House Photo Office
The two Staceys, despite being different races, have a lot of similarities. Abrams was raised in a low-income household in Mississippi, while Evans is the daughter of a single mother from Ringgold and moved 16 times during her childhood. Both went on to success as lawyers and politicians.
Even when looking at each candidate's platform, any differences seem to be blurred. Both support the expansion of Medicaid, criminal justice reform, universal pre-K and an economic structure that reduces poverty.
One clear distinction between the two is education policy. Evans voted in favor of Gov. Nathan Deal's failed school takeover, the "Opportunity School District," and Abrams voted against it. Evans has also championed the HOPE Scholarship in the legislature; Abrams worked with Republicans to cut benefits when the program's expenses started to outpace lottery revenue. Abrams' platform includes low-interest loans for college students and free technical college, while Evans is proposing to restore HOPE cuts.
Students aren't the only ones pushing for Abrams in May here in Athens. ACC Commissioner Melissa Link was listed as one of 106 local elected officials who have endorsed Abrams.
Rep. Spencer Frye, the only Athens representative who was in office while Abrams was House minority leader, has endorsed Evans. "Working with Stacey Evans in the legislature and seeing her leadership at the capitol has convinced me she would be a great governor for Georgia," he tells Flagpole.
No matter the candidate, Georgia Democrats are hoping to see a similar outcome in November to what happened in December in Alabama. Sen. Doug Jones ran a very moderate race, and with an energized base, the party was able to beat Roy Moore and flip the seat in their favor.
Who Are the Republicans Running?
The Republican field is far more crowded than the Democrats', with five viable candidates running. Here's a look.
Casey Cagle: First elected at age 28 to the state Senate representing Gainesville in 1994, Cagle upset conservative Christian activist Ralph Reed in the 2006 GOP primary on his way to becoming lieutenant governor. He's the establishment favorite this year, as shown by his substantial fundraising lead, but lately has taken a hard turn to the right, for example by embracing "religious liberty" legislation that critics say would legalize discrimination against gays and lesbians, and threatening a tax break for Delta when the airline broke ties with the NRA.
Brian Kemp: The Athens businessman was a mild-mannered moderate during his one term (2005–2006) in the state Senate. Kemp left in a failed bid for agriculture commissioner, then won election as secretary of state in 2010. He's been embroiled in several scandals involving the release of voters' personal information and accusations of voter suppression—the latter of which boosted his standing with conservatives who are worried about voter fraud despite very few examples of people voting illegally. Kemp is running for governor on a platform of rural economic development while vocally embracing Donald Trump on issues like immigration.
Hunter Hill: Hill has had a low-key but reliably conservative career in the state Senate despite representing a Buckhead swing district. He has proposed eliminating the state income tax and cutting social services—including programs like Medicaid and food stamps that are mainly funded by the feds—to spend more on transportation. Recently he criticized Cagle for supporting the Delta jet-fuel tax exemption in the first place, and for using his position to try to punish a private company, although Hill also disagreed with Delta's decision.
Michael Williams: The Cumming Republican's candidacy is based on being the first elected official in Georgia to endorse Trump. He has embraced the Trumpian notion of truth, as well—for example, by flummoxing reporters at a July press conference when he claimed Cagle had offered him a committee chairmanship to drop out of the race, then failed to back it up with any proof. In the wake of the Parkland, FL mass shooting, he has proposed placing an armed guard at each school entrance and paying teachers a stipend to carry guns in the classroom.
Clay Tippins: You may remember him from his Super Bowl ad that contrasted his past as a Stanford swimmer, Navy SEAL and tech-industry executive with Cagle's as a one-time tuxedo shop owner. Tippins is generally more moderate than the other options. Casting himself as a political outsider—a popular position these days, considering the success of Trump and Sen. David Perdue—he has little to no record to run on, but plenty of money to spend on the race. [Blake Aued]
Like what you just read? Support Flagpole by making a donation today. Every dollar you give helps fund our ongoing mission to provide Athens with quality, independent journalism.