Since AthFest Educates started AthHalf in 2010, the nonprofit has raised hundreds of thousands of dollars for local music and arts education, distributing roughly $25,000 in grants twice a year, including a round just announced two weeks ago. As the annual half-marathon approaches, Flagpole is highlighting some of the recent grant recipients so runners know where their money is going.
The 13-mile run's course will be the same as last year's, starting downtown at 7:30 a.m. Sunday, Oct. 9 and winding through Cobbham, Five Points and campus before ending with a victory lap at Sanford Stadium. Along the way, runners and spectators will be entertained by DJ Dawgtown, DJ EliteExperience, Dodd Ferrelle, The Despicable Liars, Conner Byers, Zenith Blue, the Flamethrowers Surf Band and Reverend Connor Tribble & the Deacons.
A few of the 2,500 runners' slots are still available at $90 each; visit athhalf.com to register. [Blake Aued]
Play Is Education, Too
Two ropes and a bar can teach kids a lot, according to Ann Woodruff-Conley, a recipient of a $3,120 grant.
The former special-needs educator turned full-time outreach and children's programming coordinator for Canopy Studios was met with overwhelming support when she started outreach programs to bring physical literacy to children in Athens, with Canopy dedicating studio time to the cause. Canopy serves as the umbrella over five arms of programming: adult, children's, teen, special needs and outreach with public schools.
Last December, Conley submitted a grant proposal at the last minute after finding out she could apply. She didn't receive the grant, but Jill Helme, executive director of AthFest Educates, sat down for over an hour with Conley to help her tighten and clarify the grant. The one-on-one help from Helme succeeded, and Canopy received the grant this year. It covers 50 percent of the funds needed for two programs—one with 12 kids from Chase Street Elementary, and one with 12 from Pinewoods in northeast Athens, a community of mostly Spanish-speaking children whose parents are immigrants. (The other 50 percent comes from a portion of regular class fees set aside for scholarships.)
"There's been a large body of research that says that kids are missing literacy in the physical realm," Conley says, and that's what she's out to change. "Canopy is a supporting network of a whole-child approach to education."
Using only a trapeze, she calls what they teach "soft skills," such as listening to and following instruction, teaching order and process, executive function and cooperative learning skills. "We like kids to come in and they're challenged with a skill," Conley says. "And it's wiggly and scary, and it's something they've never done, so they're being asked to call on their resilience and confidence—soft skills that make you a good community member. So they have to gather those skills up and execute a task."
It's not all heavy lifting, though. One important function is reminding kids, especially the teens who come over from Pinewoods, how to play, Conley says. "As we grow up and we get more responsibilities and added stressors to our life, we forget to play, and it's an important part of being human, enjoying being alive," she says. "It's another goal." [Kat Khoury]
Smaller Instruments for Smaller Hands
Size matters—especially when it comes to instruments. When Rebecca Floyd arrived as the new orchestra instructor for Hilsman Middle School, she was greeted with a plethora of full-size instruments—a good problem to have, thanks to the Clarke County School District's fine arts resources, Floyd says. But there was one problem: "It's middle school, and [the students] are small."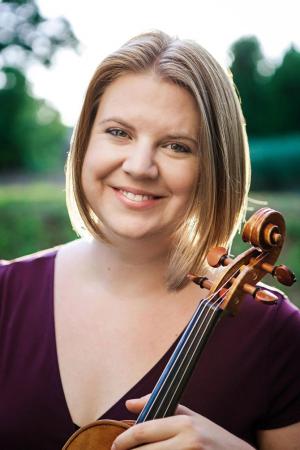 Photo Credit: Sarah Eubanks Photography
With the help of two grants totaling $3,900, Floyd was able to purchase 11 "fractional size" instruments, including violins, violas and cellos. Now Floyd not only has instruments better suited for her students, but also "a sort of a cushion for kids who couldn't afford to rent instruments before."
Floyd is a follower of the Suzuki method, a pedagogical practice based on the teachings of Japanese violinist Shinichi Suzuki from over 50 years ago. Suzuki realized the similarities between learning a language and learning to play an instrument, and promoted learning by listening over the strict memorization of musical notes. In Floyd's classroom, she encourages students to "get really familiar with hearing" notes and learning to play by ear first before mastering how to read notes. Once students are comfortable recognizing notes through listening, students can begin learning to read sheet music—a sequence that makes music "easier to learn," she says.
Inspired by AthFest Educates bringing Athens-based violinist Kishi Bashi to nine local schools this spring, Floyd says she plans on applying for another grant this year. Being "less instrument poor," she saw how excited students were about Kishi Bashi's performances and hopes to use a grant to bring in someone to work with students, or perhaps another guest artist. "AthFest is an amazing resource," Floyd says. "I am super grateful for what they do." [Kat Khoury]
Let's Go Fly a Kite
There are 203 eighth graders at Coile Middle School who probably know more about lift, drag, tension and gravity than you do. Math teacher Hilary Rustin, a California native with a doctorate in educational psychology, used her $907 grant to buy kite-making materials in order to teach her students about math, engineering, physics, safety and more.
"It's fairly simple, but it still shows them that, even with this amount of simple building, they are capable of making something that can fly way up in the air," says Rustin, who has taught at Coile for 10 years.
And fly they did. With 15-mile-per-hour winds on a cloudy day, 50 kites at a time soared 150 feet above the field next to Coile. Only a handful of Rustin's students had ever flown a kite before. Many of them live in low-income neighborhoods, she says, and 95 percent are eligible for free or reduced-price lunches.
The kids—their kites decorated with dragons, Hello Kitty characters or donuts—tried to inch their self-built toys higher than the others. Middle school is a crucial time in a child's mathematical development, and Rustin says eighth-grade math is an "intervention point" for a lot of kids. Rustin was surprised by their ingenuity and compassion on the field, problem-solving when a kite malfunctioned or crashed, helping each other fix a tear in the plastic, balance the wing or untangle a length of string. "You as a kid are confronted with a bunch of real-life challenges to solve. And it's fun, and it's beautiful, and it's outside, and it's all the things I think middle-school kids enjoy," Rustin says.
In addition to being an effective platform for teaching valuable math skills, Rustin says "it did give us sort of an IB opportunity to look at other cultures." The school, like others in Athens, is part of the International Baccalaureate program, an attempt by UNESCO to be internationally minded. The kite project provided the context to look at cultures where kite flying is a tradition and festivals and contests are held, such as Afghanistan, India, China and Brazil. [KK]
Fall 2016 Grant Awards
• Brian Parido, Clarke Middle School
$3,367 to buy three saxophones for symphonic band members.
• Rachel Osborne, Whit Davis Elementary
$2,830 to buy xylophones, glockenspiels and other instruments to teach rhythmic patterns and steady beats.
• Ian Johnson, Coile Middle
$771 for a portable PA system to teach students how to sing.
• Christine Graziano, Whit Davis Elementary
$632 for rails to allow students to display their artwork gallery-fashion.
• Chelsea McCall Garner, Stroud Elementary
$123 for three screen-printing units.
• Blake Schneider, UGA Performing Arts Center
$5,000 for second through eighth-graders to attend live performances.
• Catherine DeCocco and Todd Elihu, Burney Harris Lyons Middle
$4,557 for students to collaborate with Broderick Flanigan and David Hale on a mural about Meso-American and African migration.
• Mark Tavernier, Clarke County School District
$2,800 for Kishi Bashi to perform in eight elementary and middle schools.
• Sarah Hubbard, Wild Intelligence
$907 for 25 Whitehead Elementary students to attend the after-school program.
• Cara Emrath, Cleveland Road Elementary
$450 for 300 students to paint a mural of the U.S. on the school's blacktop.
Like what you just read? Support Flagpole by making a donation today. Every dollar you give helps fund our ongoing mission to provide Athens with quality, independent journalism.