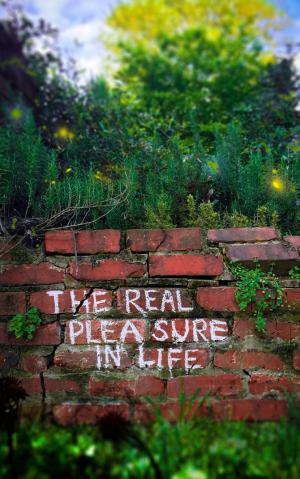 PEN & PIXEL: Former Flagpole writer and founder of writing community New Town Revue Al Dixon has a new digital book coming out this month via his publishing house Imaginary Books. The Athens music scene of the late 1990s and early 2000s figures fairly often in the book, titled The Real Pleasure In Life, and is used as a cultural touchstone as well as a narrative propeller. The book is written in "dynamic text," which, true to its name, moves as the reader scrolls, flies onto the page, situates itself in a non-linear sense and provides a ready-made headache for anyone who just wants to read the story. Imaginary Books' position is that "the primary function of standardized language is not clarity, but reinforcement of the existing class structure. The authority of language should lie in the spoken word, not the written." It's an occasionally reasonable—although too academic—way of saying the primary point of language should be communication. Yet this attempt to challenge existing structures via this method of creative typesetting inadvertently reinforces such structures, as it's often too artsy, obtuse and self-indulgent to accommodate comfortable reading and, thus, communication. There's a release party scheduled for July 15 at Flicker Theatre & Bar from 7:15 p.m. until close. Patrons will be able to experience the book firsthand via screen projections and download a free copy. Live music will come from former Athenian songwriter Madeline. For more information, see imaginary-books.com and realpleasureinlife.com.
GROUPER NOVA: A new collaborative project just came out on Athens label Echo Bass Records named Looper Nova. It features the old label standbys of C-Loop and Razzi King along with Brent Davenport and Chris Ingum. It's more jammy, guitar-oriented and loose than previous things the label has done ("One Foot," "Looper Nova") sometimes slightly silly ("Bamph," "Bump Bump Bump"), deliberately psychedelic ("Fronte," "Loud") and all in all a nice update from a label that has been comfortably under the radar for a long while. Check it at echobassrecords.bandcamp.com.
BEYOND THE BUSHES, UNDER THE STARS: One of the nicest and most memorable treats of good-weather season in Athens is taking in a show at the Orange Twin amphitheater. The next event happening is a two-set performance by seven-album-strong New Orleans group Tuba Skinny on Saturday, July 16. The group specializes in a full-palate exploration of the roots of its native city, including Depression-era blues, ragtime and jazz. Although certainly not directly related to Athens music as such, shows happen at Orange Twin so rarely that each one is a unique event, and that's absolutely essential Athens music news. Gates open this night at 7:30 p.m., with the first set happening at 8:30 and the second at 10. Advance tickets are $10. See orangetwin.com for more information on the show, parking and general rules, and see tubaskinny.bandcamp.com for due-diligence purposes.
BON VOYAGE: There's been a change in the long-running lineup of Athens punk band Burns Like Fire. Bassist Charlie Ferlito has left the group he co-founded in 2010 with Josh Smith, Web Couch and Parker Bradshaw. Ferlito is leaving the band to concentrate fully on his growing family and career. He hints he might be up for music-making sometime in the future. In other news, the rest of the band is working steadily on an upcoming album to be recorded this fall titled Always In Trouble. On a personal note, I wanna tip my hat to Charlie and wish him the best. He's gonna be difficult to replace. Keep up with all things BFL at facebook.com/burnslikefiremusic.
BITE-SIZE: Two more singles have come out on the MOEKE Records Summer Singles series since I last updated you. The songs are from Downer, who weighs in with a doomy surf-punk tune appropriately named "Surf." If you ever dug the early '80s Los Angeles scene documented in the first volume of The Decline of Western Civilization, you'll dig this minute-and-a-half jam. The next comes from Kissing Booth, which is Patrick Brick (Futo) and Erin Lovett (Four Eyes) collaborating on the track "Hale-Bopp 1997." It's pretty, gentle and sweet and not at all unlike what you'd expect from a Four Eyes-related project. Check 'em out at moekerecords.bandcamp.com.
Like what you just read? Support Flagpole by making a donation today. Every dollar you give helps fund our ongoing mission to provide Athens with quality, independent journalism.