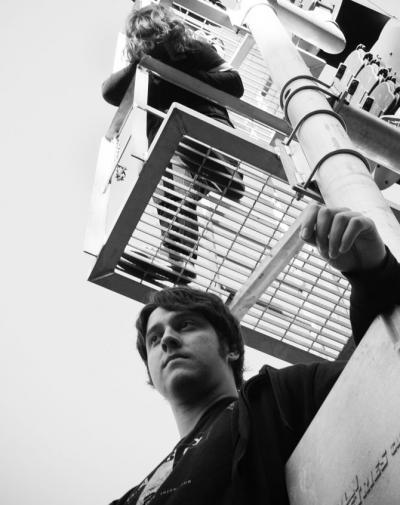 Here We Are. Now, Entertain Us: Master maestro Mike Turner and his HHBTM Records label are throwing a weekender at Green Room Friday, Mar. 28 and Saturday, Mar. 29. What's a weekender? It's like a festival, but takes place over the course of a weekend. In this case, it will showcase the cavalcade of stars that currently populate the HHBTM roster. The first night features Marshmallow Coast, Visitations, Casper & The Cookies, The New Sound of Numbers, Eureka California and Muuy Biien, while the next features El Hollín, Antlered Auntlord, the return of 63 Crayons, Axxa/Abraxas, Bastards of Fate and Tunabunny. Turner, of course, founded the now-defunct Athens PopFest, so he's got more than a little experience scheduling things. So believe him when he says, cheekily but actually maybe seriously, "Bands subject to start on time, if not early." Doors open at 7 p.m. each night, and music begins at 8 p.m. sharp. Tickets are $6 for each night, and you can get them in advance at greenroomathens.com.
Living After Midnight: The gang over at popular watering hole and music room Max has opened the books, so to speak. Specifically, Athens punk vocalist Jeff Rapier (ex-American Cheeseburger) has announced he's booking shows six nights a week there and welcomes all styles. Now, we've seen the "all styles" invitation from other joints before and, honestly, just because a room welcomes you doesn't mean you'll want to play there. It's always a good idea to check out a venue before being all like "OMG! Book me!" That said, Rapier is a top-notch dude, and if he hooks you up with a booking you can count on him to do everything he can to help make your show successful. Contact him via cobraburger@gmail.com.
All Hail: Hardcore fans rejoice: There's a new thing going on, and it's named Capital Will. So far, the band only has a couple of shows under its belt, but it seamlessly mixes new-school hardcore punk (e.g. Fucked Up, Destruction Unit, et al) with old-school Youth Crew (e.g. Youth of Today, Gorilla Biscuits) in-yr-face jams. Composed of Brett Richardson, Jon Daniels, Gil McBride, Nick Winzurk and Aditya Mewar, the band has zero recorded right now, but there are a couple of really distorted-sounding videos you can find on YouTube that still manage to convey the sense of total energy the band puts forth. So, look for 'em. Keep up with Capital Will via facebook.com/capitalwill.
Dream a Little Dream: Steven Trimmer (Glasscrafts) continues to let the music practically flow from his heart onto the hard drive. He released a particularly nice track a few weeks ago named "Listening With Flowers" that I had on repeat for a while. There are also a whole bunch of tunes available at youtube.com/user/amarnaagain and soundcloud.com/steventrimmer. Specializing in simple melodies and lithe instrumentation, Trimmer is adept at making his own little worlds and probably does a pretty good job at making them for others, too.
Change Up: The open mic night hosted by The Hut on Baxter Street now happens Sunday evenings from 7–9 p.m. Drop a line to chefbrucelutz@gmail.com if interested. Seriously, drop him a line. These open mics were only supposed to last until this week, but with the change of day, maybe they'll keep 'em going longer.
Flat Black: The deadline for submitting your music for consideration for the 2014 AthFest compilation album has passed, but those included will be gratified to know that, as reported last week, this year's edition will be pressed to vinyl for the very first time. Actually, it will be pressed only on vinyl. If you want a CD, you'll have to make it yourself from the digital download. It'll come out mid-June from Ghostmeat Records, which has been doing this series for a long, long time. Keep up with AthFest happenings over at athfest.com.
The Write Stuff: Local singer-songwriter and bandleader Dodd Ferrelle has been nominated for the Georgia Author of the Year Awards in the Children's Book category for his work If You Were a Jellybean, which was illustrated by Ferrelle's wife Cameron. Winners of the awards, presented by the Georgia Writers Association, are announced in June at the GAYA ceremony. Congrats, Dodd! [Gabe Vodicka]
The Candy Man: Remember a couple of weeks ago when I told you about the new band Cancers? The band's EP is out on Kandy Kane Records, a name that was new to me, so I asked 'em about it, and here's the scoop. It's run by Lenny Miller, one half of Cancers, who says it was pretty much created by accident/necessity, in order for the band to have merchandise to tour with this month. Cancers' 7-inch debut comes out Mar. 19. Already-released items include a tape from Miller's other band, Unfun, titled Shores of Lake Erie; Cancers' demo tape; and the Kandy Kane Mixtape featuring bands from all over the place, including Murmurs (Seattle), Sabertooth (Calgary), Hashed Out (Montreal), Canadian Rifle (Chicago) and more. All of this excited me very much, and now I need a powder and a lie-down. Get yourself up over at kandykanerecords.blogspot.com.
Got a local music tip? Contact threatsandpromises@flagpole.com.
Like what you just read? Support Flagpole by making a donation today. Every dollar you give helps fund our ongoing mission to provide Athens with quality, independent journalism.