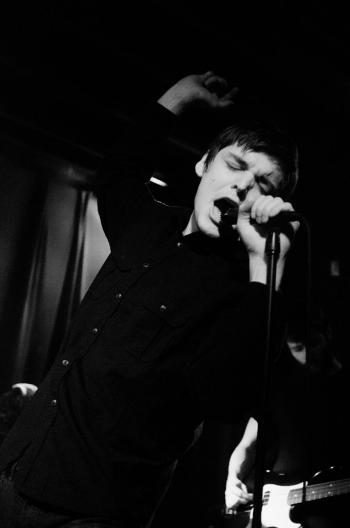 Photo Credit: Mike White
There's Something in My Eye: While the world waits for D.Y.I., the upcoming full-length record by Muuy Biien, the project's founder, Josh Evans, has busied himself by producing another ambient outing. Titled Withdrawn/I'll Never Be the Same, the four-track EP was released last week and features several moments of near-sublimity. Find it over at muuybiien.bandcamp.com. In related news, the addition of bassist Parks Miller to Muuy Biien's live lineup has transformed the group into a screw-tight ensemble whose tension is increasingly wound inward, leaving the band in the not-to-be-missed corral.
Teacher's Pet: Are you an Athens-area high school student who plays music in your school's band or orchestra program? Would you like an immersive experience in theater-pit performance? Well the Athens Creative Theatre has just the thing for ya! The program is named Hit the Pit, and all you need to participate is a recommendation from your band or orchestra director that says you're a good candidate and not a slacker. This is an ongoing program, which means that if you're accepted, you'll be added to the roll of student musicians who are called upon to perform when the ACT needs pit musicians. During such opportunities you'll play alongside professionals in a dynamic and intensive atmosphere. Think you're up for it? Have a recommendation sent to Daniel Self via daniel.self@athensclarkecounty.com, or call 706-613-3628 for more information.
History Book: We gave a formal tip of the hat to newly appointed WUOG 90.5 FM general manager Akeeme Martin last week, but this week I want to point you toward his continually updated Internet archive of broadcasts, which stretches back a full year; as of this writing, he's got 74 shows posted. Most are episodes of Martin's three-hour "Halftime Hip Hop Show" program, but there's a goodly bunch of other shows, too, including specialty shows he's hosted in a one-off capacity and broadcasts featuring special guests. You could literally spend the rest of the year listening to this stuff. Get started soon at mixcloud.com/akeeme-martin.
Got a New Thing: Even though it's not normal procedure for me to mention new businesses just because they exist, I'd like to mention the recently established Crashing Through Publicity, which is headed up by Mike Turner of HHBTM Records. In addition to having run his record label for nearly 15 years, Turner has been in the publicity game before, too—years ago, when he coordinated the collectively-owned Yum Yum Publicity. The new company takes its name from an old Beat Happening song. I kinda wish they would have used, say, an R.E.M. song (i.e. "Shaking Through") instead, but I won't let that be a deal-breaker. Current clients include all bands on the HHBTM roster as well as The New Sound of Numbers, whose album Invisible Magnetic was recently released on Cloud Recordings. Check it out via facebook.com/crashingthroughpublicity and stream a bunch of tunes over at soundcloud.com/crashingthrough.
A Pirate Looks at a 40: Did you know that Athens is now home to not one, not two, but three Jimmy Buffett tribute bands? This is getting out of hand. OK, so there's only one that would pass muster at fraternity/corporate/bachelorette gigs, and that's the long-running Sons of Sailors (find 'em at sonsofsailors.com). So flip-flops off to them. Then there's the Pencil Thin Reefer Band, which has both vexed and tickled audiences a handful of times over the past four years—and in the interest of full disclosure, I am compelled to tell you I perform with the band. But, son, lemme tell ya: Parrothead may have just stolen this goof gig's shaker of salt. Populated by punks Patrick Goral, Taylor Chmura, Sumner Moore, Stephen Pancake, Brandon Page and Will Cantrell, Parrothead plays incredibly well rehearsed and arranged punk versions of the songs you know by heart. Look, it's kind of beyond the pale that I've given so much ink to Jimmy Buffett in the first place, so you must believe I'm telling the truth. Dig 'em at facebook.com/parrotheadathens.
Sing Me to Sleep: Four Eyes has a new EP out now titled Little Creeps, and it features the best use of ukelele I've heard in a long time. See, unless we're talking Hawaiian music, I generally cringe at uke use, because it just feels silly and intentionally amateurish. But Four Eyes' new EP is slow and melancholy and just perfect for the coming season. At times the uke sounds like several acoustic instruments at once, and I don't think this was overdubbed, so props to Four Eyes herself, Erin Lovett. It's three tracks of gorgeously thoughtful writing, and I've already listened to it again just in the time it took to write this. Try it on for size at foureyesathens.bandcamp.com.
Like what you just read? Support Flagpole by making a donation today. Every dollar you give helps fund our ongoing mission to provide Athens with quality, independent journalism.