The Love You Make: Last week, half a world away, longtime Athens musician Herb Guthrie passed away following an auto accident in the African nation of Uganda. He was 64. Guthrie was on a trip organized by Church Planning International, with whom he'd done mission work for several years. Known by music fans as the drummer for the Michael Guthrie Band, his musical roots go back to the early-to-mid 1960s. Playing under different names (always with his brother Michael), including The Illusions and Arnold Bean, the band progressed from teenage British Invasion rock to radical psychedelia, and then finally to the solid power-pop the Michael Guthrie Band is known for. There was a small memorial ceremony held in Uganda last week, and this past Sunday, radio announcers Guy Goodman and Deborah Reece paid tribute to Herb on Atlanta's 97.1 FM The River. He is survived by his immediate family—wife Tina, brother Michael and children Sara and Ian. Please watch this space for news concerning tributes, fundraisers, memorials, etc. My heart goes out to the entire Guthrie family, whom I know personally to be among the sweetest, most genuine people I've ever met. Bless you all.
Athens Eye And Ear Control: They've been collaborating for basically a year now, but the improvisational duo populated by multi-instrumentalist Killick and drummer John Norris is now known as Crazy Hoarse. The first official gig under this banner, where the group will play its "Appalachian trance-metal," happens Friday, June 28 at The World Famous. For continuity's sake, or perhaps in spite of it, the band has re-branded a performance recorded at Flicker last month to reflect this new moniker, and you can find the whole 40-minute set at killick.bandcamp.com. If you need a good reason to sit in one place and really sink your ears' teeth into something, Crazy Hoarse is your bag. Sharing the bill Friday is Revien, whose ranks are filled by Kyle Dawkins, Brian Smith and Phil Snyder, each of the Georgia Guitar Quartet. How many Fridays have you puttered around doing basically nothing? This is something, so get on it.
Metal Health: Athens metal fans should be pretty glad to see Savagist climb back on its horse—at least the one parked here in town—when the band takes the stage at the Caledonia Lounge on Saturday, June 29. The crowd favorite has spent pretty much the entire past year ignoring local stages, instead spending its time heading out on regional tours, playing weekends in other towns and recording an album with engineer "Captain" Joel Hatstat. Also returning this night is North Carolina's Colossus, which channels its pure New Wave of British Heavy Metal (NWOBHM) sound through an everyday-man-on-the-street exterior. Show up on time so you don't miss For the Vulture, which is a new group I have no idea about, other than it features Andy Hollingsworth (ex-Dumps) and Zack Hembree (Grim Pickins & the Bastard Congregation.) Isn't that good enough for you? Whaddaya want? Blood?
Bangs A Lot: The beautiful people in pacificUV have cast their fundraising net out into Internet waters in hopes of raising some much needed cash for a tour of China next month. Just over a year ago, the band toured Taiwan and Hong Kong. This time around, they will return to those places but also venture into mainland China, playing shows in Shanghai, Beijing, Chengdu, Chongqing, Wuhan, Guangzhou and Shenzhen. They'll also be playing Kuala Lumpur, Malaysia. Although pacificUV has coordinated its tour with several promoters, they're in the usual position of having to pay travel and visa costs upfront. So, head to pledgemusic.com/projects/pacificuvtour and look at all the things you can get by helping them out. Unlike similar fundraising platform Kickstarter, Pledge Music gives all funds received to the soliciting party. There is no requirement that a goal is met. So, basically, everything helps. The band has pledged 5 percent of all funds raised to Nuçi's Space, so there's that, too. For all other information, see facebook.com/pacificUV.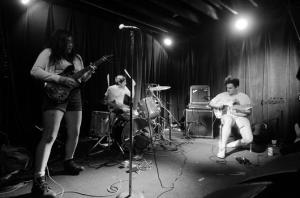 96 Degrees: Athens trio Shade, which could really be called a power trio if so many ding-dongs didn't already populate that category, have been busy recording their album at the Gypsy Farm studio at Clem's Shoal Creek Music Park. By the time you read this, the band will be deep in the mixing stage of the as-yet-untitled record. And the title's not all that's undetermined. There's no target release date, no specific label and no solid word on what formats are planned, but member Will Cash reports that vinyl and digital are the most likely routes. The finished record is gonna be around the 40-minute mark, and I'd tip my hat to any label who took a good look at this crew and put this out. Shade is easily one of the best out-of-the-gate groups to rise up in Athens over the past 12 months. This is exactly the type of rock-art shamble everyone needs more of. A very recent show is available for download at southernshelter.com, so grab it. For more information, head to facebook.com/sha.de.3304.
Under The Bushes, Under The Stars: A very neat-o show is happening at the Orange Twin Conservation Community (255 Noketchee Creek Rd.) on July 3 featuring The Athens Cowboy Choir, The Darnell Boys, The Shoal Creek Stranglers, Art Rosenbaum and The Orange Twin Family Band. The show takes place at the Orange Twin amphitheater, and as of this writing it's gonna cost $10 per person to attend, but only $5 per car to park. (Cars that are packed to capacity get to park free, by the way. So, load 'em up!) Camping will also be available for $10, and breakfast is included. If you've never been to a show at Orange Twin, you really should experience it. Things kick off at 5 p.m. and run until about midnight. For tickets, head to orangetwin.com/cowboychoir2013.html.
Like what you just read? Support Flagpole by making a donation today. Every dollar you give helps fund our ongoing mission to provide Athens with quality, independent journalism.