Staring out at the endless ocean is like looking out at the beginning of time, says Tim Showalter, describing his writing retreat to the New Jersey coast. The leader of indie-rock band Strand of Oaks was tasked with what he calls a "cool problem" when Carl Broemel of My Morning Jacket approached him about his next album. Broemel wanted to record with him, but Showalter didn't have any songs written. He hadn't even wanted to write. However, the prompt from Broemel and a knowing push from his wife propelled Showalter to the nearly abandoned beaches of Wildwood, NJ, in February 2018 with a purpose that became Strand of Oaks' sixth full-length, Eraserland.
Showalter began each day walking along the shore, keeping company with the waves and broken-down Ferris wheel. The environment seemed to reflect his manic state of mind as it swept from apocalyptic wind and rain to beautiful, 50-degree days. His rental, too, mirrored his scattered state—chaotic energy dispersed physically as objects across the room. "It was so romantic in what I view as that 'This is where art should be made' [way]," Showalter says.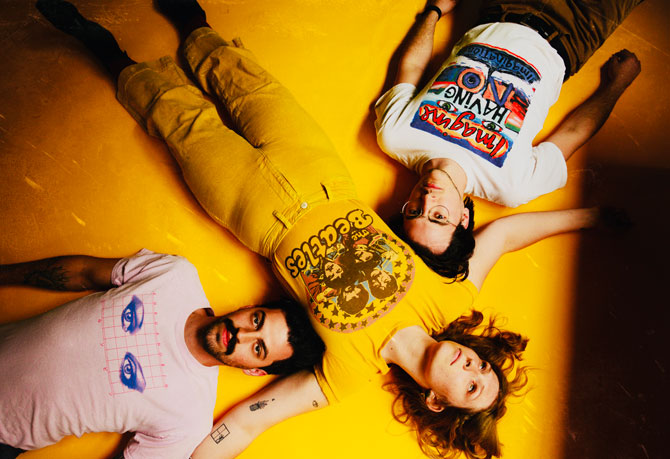 Photo Credit: Shervin Lainez
In a similar way, Liz Cooper of Nashville, TN, psych-rock band Liz Cooper and the Stampede found a conduit for her thoughts in her physical surroundings. The vase of flowers sitting in the window of her basement apartment acted as a divining rod as she wrote "Motions," on the group's aptly named 2018 debut, Window Flowers.
"I would just get lost in it and start writing because of just staring at it," Cooper says. "Whether or not it means anything about the flowers, it definitely triggered something for me."
There was something in the atmosphere of Nashville's Welcome to 1979 studio, too, that pulled her in. She describes the unassuming warehouse as both looking and smelling like the '70s. The group channeled that spirit by recording as much as it could to tape. The studio itself can be heard on the album's final track, "Walls of White," when a creaking noise marks Cooper's departure. In that way, the album's end circles back to its start: entering the time capsule.
Eraserland moves similarly but in the opposite direction, beginning with the end of Showalter's writing journey. A whirlwind 10 minutes on his last day on the coast was all it took for him to reach "beautiful, celestial closure" with opening track "Weird Ways."
"It kind of felt like 'Weird Ways' was just an echo of all the experiences, and since I knew how the record was going to end, I unconsciously wrote the beginning," Showalter says.
The album continues to reveal itself to Showalter. It wasn't until he returned to "Moon Landing" in July for the 50th anniversary of the Apollo 11 moon landing that he says his words reached him for the first time. Seventeen months and more than 200,000 miles gave him the distance he needed to find the song's true meaning. "There's a lot more weight to this song than I ever gave any credit for," Showalter says.
Likewise, Cooper's relationship with her songs is ever-evolving. They've been honed in a recording process Cooper calls "intense in a good way," grown in front of live audiences and thoroughly examined by their creator. "All of the songs have definitely morphed into some different meaning for me," Cooper says.
Indeed, in the gap between the recording and release of Window Flowers, Cooper says she felt the urge to tweak the album's songs. "I definitely wanted to change a lot, but that's a good thing. You take that, and all the things you're learning, and your hopes and dreams, and you put that in the next thing," Cooper says.
Like what you just read? Support Flagpole by making a donation today. Every dollar you give helps fund our ongoing mission to provide Athens with quality, independent journalism.