When summertime in Athens rolls around, there's much to be thankful for: more bearable traffic, shorter brunch lines and pools aplenty to drop in on. But for small businesses and musicians alike, time can slow to a crawl as the bulk of clientele and audiences head back to the 'burbs. No stranger to this seasonal downturn, recording engineer and studio operator Jesse Mangum—with a little ingenuity—developed a productive way to pass the summer and drum up business for the fall.
"In the spring of 2014, I quit all of my other jobs to focus on running the studio full time, and things were actually going really well until summer hit," says Mangum. "Athens, being a college town, slows down tremendously during the summer, and suddenly I found myself with a lot of free time."
So, to occupy whatever hours weren't booked at his The Glow Recording Studio, Mangum crafted a recording project that would serve as both an exercise in efficiency—for him and whomever he would record—and as a seasonal compilation to document what was going on in the local music scene at the time.
"The concept and parameters have remained pretty much static throughout the series," Mangum explains. "Artists are given a four-hour block in which we record, mostly live, with a few things overdubbed afterwards; mix; and master their song at my studio. The single is then released later that week, warts and all, via the Moeke Records Bandcamp."
Featuring a cross-section of local talent over the past five years, from Monsoon to Scooterbabe and Harlot Party to Dream Culture, Mangum has fielded submissions for his Summer Singles sampler each summer without any real thematic criteria: Submit a demo recording of a song in any number of formats—crude voice memo, unmixed GarageBand track or live-band practice session—and if he likes it, welcome aboard. Without much intention, though, this year's compilation has taken on new life.
"Well, towards the submission deadline, I realized that seven of the 10 artists I had selected happened to be female-fronted," Mangum says of this year's compilation. With the bulk of the singles already representing a swath of Athens and Atlanta's premier women-centric acts, Mangum decided the collection's full 10 songs should be comprised of female-led or female-identifying acts. "It just seemed appropriate to put a spotlight on the incredibly talented women that are, in my opinion, dominating the local music scene right now," he says, touching on the national watershed moment represented by movements like #MeToo, as well.
"The fact that Jesse has decided to take this approach speaks for itself," says Avery Draut, lead singer and songwriter for Avery Leigh's Night Palace, a featured act on this year's comp. "Jesse is demonstrating a commitment to extending his privilege to dismantle it, and I am excited to see other Athens folks follow his lead," she adds.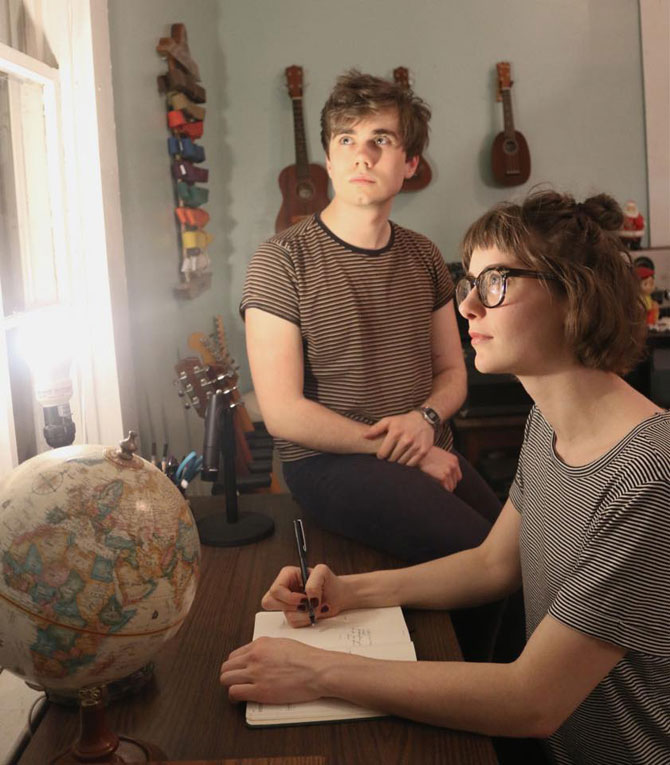 With the first single by songwriter Erin Lovett's Kissing Booth project already in the bag, this summer's series has the potential to be Mangum's Moeke magnum opus. In addition to Lovett's tune, singles are in the works for Atlanta shoegazers Twin Studies, recent Moeke signees and Macon natives Atria and Athens punks Shehehe.
It'll be one to savor, as Mangum believes this may very well be his last edition of the series. "I would love to keep it up, but a number of factors suggest to me that it may no longer be feasible," he says. For one, he's now consistently busier during the usually slow summer months than he has been in years past. Couple that with the difficulty social media's algorithms have posed in regards to effectively promoting the project, and it becomes more and more of an uphill battle.
"Promoting the singles organically via Facebook, for example, just isn't as far-reaching as it used to be," he says. "The posts just aren't being seen, and the concept of paying for sponsored posts just so my friends can see them doesn't sit right with me."
Still, Mangum's proud of the work he's put in over the past five years, and he recently found a new perspective on the project after a conversation with an acquaintance.
<a href="http://moekerecords.bandcamp.com/album/summer-singles-2018″ mce_href="http://moekerecords.bandcamp.com/album/summer-singles-2018″>Summer Singles 2018 by MOEKE RECORDS</a>
"It hadn't occurred to me that these recordings, a decade or two from now, would serve as [a] unique documentation of the Athens music scene during this time period," Mangum says. "Some of these tracks are the very first studio recordings of bands who have since become significant figures in Athens music lore, and it's likely that many more will do the same in the coming years," he adds. "I should probably prepare an archive."
Like what you just read? Support Flagpole by making a donation today. Every dollar you give helps fund our ongoing mission to provide Athens with quality, independent journalism.