Athens' summer concert calendar has two high-profile bookends: AthFest, in June, and Popfest, in August. Nestled snugly in between is those festivals' rowdier, raunchier little brother. Unlike the others, SlopFest caters primarily to locals. Each July, Little Kings Shuffle Club hosts a long weekend of loud music, providing a nonstop party for Athens' punks, hipsters, townies, service workers and freaks while also benefiting the Girls Rock Athens nonprofit.
Created in 2009 by musician Derek Wiggs, SlopFest is more or less a showcase of its founder's favorite bands, which tend, as the name suggests, to be scrappy, aggressive rock groups. The event has broadened its scale and scope over the years to include a fourth day of music—at Hi-Lo Lounge—plus hip-hop acts, singer-songwriters and electronic performers, while staying true to its DIY roots.
This year, the lineup features some familiar names—Vincas, The Powder Room, Karbomb, Motherfucker, Hunger Anthem and The Fuzzlers are all back for another spin on the SlopFest Tilt-a-Whirl—as well as scene-shaking rapper Lingua Franca, thrash-punk miscreants Apparition, heavy newcomers Fart Jar and lots more.
Also on the bill is Wiggs' own band, Shehehe, which will release an anticipated new album, Endless Summer, Aug. 11 via Athens label Laser Brains. The record's recently released first single, "Dirty Life," is a tasty slice of anthemic pop-punk, the most potent distillation yet of the group's cheery dive-bar aesthetic.
As with past editions, proceeds from this year's SlopFest will benefit Girls Rock Athens, a nonprofit "dedicated to empowering girls, women, trans and non-binary folks of all backgrounds and abilities through music education, creation and performance," according to its mission statement. Along with a summer camp, the organization hosts other programs, including a Ladies Rock Camp for women and non-binary adults and a Uke Rock series where participants build their own instruments, plus fundraisers and events throughout the year.
Girls Rock Athens is "about empowerment, using music as a vehicle for that empowerment, and that is important to me," Executive Director Jennifer Weishaupt says. "There are so many encouraging aspects of our local organization. Obviously, watching the participants become more confident throughout the week [of camp] is always the best thing. But another really great thing is that Girls Rock Athens is really loved and supported by our Athens community, especially our music community."
That two-way support stream is evidenced by the group's partnership with SlopFest. Not only does SlopFest contribute financially to Girls Rock's mission—the nonprofit's employees also help out during the festival.
"We provide volunteers to sell merchandise for all of the bands, so they can have a good time and worry only about their performances while we take care of their merch sales," says Weishaupt. "Merch volunteers get to have a great time seeing bands from the merch booth, and before and after their shifts."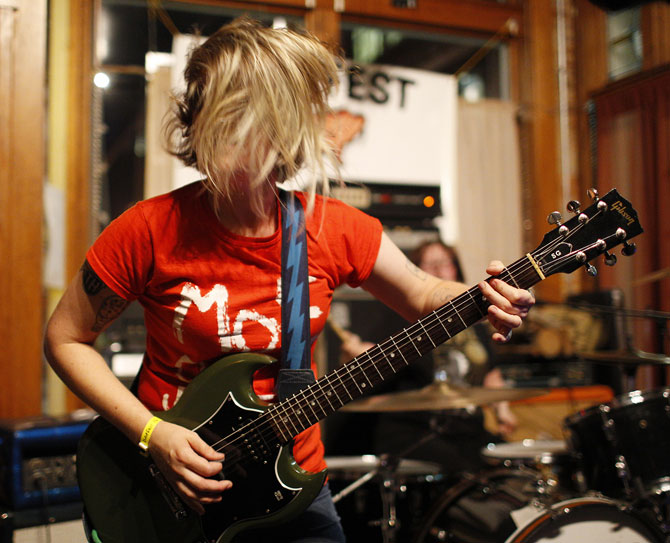 Photo Credit: Joshua L. Jones
True to the Girls Rock spirit, the SlopFest lineup features plenty of women and non-binary musicians. Shehehe, Hannie and the Slobs, Motherfucker and Lingua Franca are among the female-fronted groups set to perform, while Florida-based transgender rapper Twinki returns Friday for a follow-up to her show-stopping performance last year—by all accounts a SlopFest 2016 highlight.
Wiggs says using his festival, which was always envisioned as a locals-first celebration, to give back to the community is a no-brainer.
"As far as the Girls Rock Camp and SlopFest's support, to me it makes sense to help a charity that directly gives back to the next generation of musicians," he says. "Especially girls who are excited to try, but aren't always encouraged in the same way as boys are to maybe play drums or the guitar."
Weishaupt encourages Athenians to get involved with Girls Rock Athens, explaining, "We require volunteer leadership positions to be filled by women and non-binary folks, but we have many supporting roles for men to help out as well—including as SlopFest volunteers." And if you're no guitar hero, don't fret—no musical experience is necessary.
As always, this year's SlopFest kicks off at Little Kings, which hosts Thursday, Friday and Saturday's shows. Sunday, the party shifts to Hi-Lo, with DJ Mahogany spinning sloppy sounds during brunch hours and five punk bands closing out the festival that evening. Thursday is free, while the other nights are $5 each, or you can pay $10 for the whole shebang.
SlopFest's Founder on This Year's Must-Sees:
Illegal Drugs are a band playing for the first time. They kind of remind me of Tom Petty on different illegal drugs than his usual. Joy Kills are playing Sunday night. Imagine if Iggy Pop wanted to keep you from danger and get home safely, but still have a great night out. Space Dungeon and Dope Knife are playing a set I can't wait to see on Saturday night. Don't go on a smoke/bathroom break before Apparition plays. I have made that mistake before. Their set will be furious and loud. [Derek Wiggs]
Like what you just read? Support Flagpole by making a donation today. Every dollar you give helps fund our ongoing mission to provide Athens with quality, independent journalism.