When The Olivia Tremor Control's Bill Doss passed away suddenly last week, it was not only devastating to his family and friends, though it undoubtedly was that. It was also a huge blow to the music community Bill helped to create and had been joyously participating in once again. Even folks who knew him only peripherally were inspired by the obvious passion with which he lived and created—a fact evidenced by the sheer number of tributes Flagpole received in the days following. Indeed, what you see here is only a small fraction of them. Visit Homedrone to read the rest. (Some responses have been edited for space.)
Andrew Rieger:
I first met Bill Doss and Will Hart at a party in 1995. They gave me the first Olivia Tremor Control single, and I gave them the first Elf Power album. It was a revelation to discover other four-track enthusiasts making albums at home, bypassing expensive and often sterile-sounding recording studios entirely. (This really was rare at the time.)
Olivia quickly became my favorite band, and Bill was always such an exciting and positive force to be around—hilarious and brilliant, with an incredible thirst for taking in and creating new music. It was so exciting to be around during the recording of Dusk at Cubist Castle. Bill would make me cassettes of the album in progress, updating me on their evolution as they went. It's still strange to listen to the album; there were so many songs I got used to from listening to the cassettes that never made it onto the final version.
We toured and explored the world together over the years. I remember one time in Northampton, MA, when a sleazy promoter tried to tell us at the last minute that he'd be taking 30 percent of t-shirts and record sales. Bill was infuriated and refused to sell anything in the club, announcing to the audience that we'd be selling stuff in the parking lot after the show. During the most recent Elephant 6 Holiday Surprise shows, Bill and I were positioned side by side each night. Many times, when I'd be trying to sing one of my songs, Bill would grab my ass or kiss me on the cheek to crack me up, often making me lose my place in the song, because I was laughing so hard.
I miss you so much already, my friend, and I'm so thankful I got to learn from you and share so much with you over the years we spent together.
---
Patterson Hood:
We are deeply saddened. Bill was a great guy and a brilliant artist. Our love and sympathies go out to his family and so many close friends. It is a terrible loss to our music community. Athens is heartbroken.
---
Julie Phillips:
I met Bill Doss and Amy Hairston shortly after I'd moved to Athens in 1993, and got to interview Bill when I started working as the arts reporter for the Athens Banner-Herald in 1996. They lived, at the time, in the green house across from the Taco Stand on Milledge—the very house made famous in 1977 by The B-52s' first show. While I had absolutely no idea what The Olivia Tremor Control or Elephant 6 would become, I did know that Bill was about the coolest, nicest guy I'd ever met. We remained friends over the years, and I loved and respected both Amy and Bill as amazing artists.
I remember the Team Clermont fifth anniversary party in 2002, when The Polyphonic Spree headlined. Bill, whose band The Sunshine Fix had played an absolutely awesome set earlier in the evening, was completely over the moon about the sound Tim DeLaughter was getting with that choir up onstage with him. Bill was smiling and dancing and jumping around. I just loved his enthusiasm—there was no sense of competition, just complete and utter joy in the music. I'll hold Bill forever in my memory that way.
---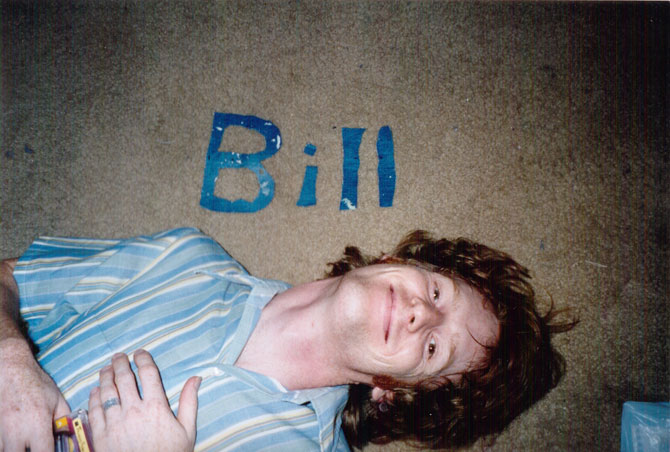 Bill Doss, 1994
Jeremy Barnes:
When I was 17, my local band in New Mexico opened for Chocolate USA, Julian Koster's band with Bill Doss, Eric Harris and Pete Erchick. They completely blew my mind—not only Bill's vocals, but also, his bass playing was incredible. I think that is something he deserves more credit for: not only was he a great songwriter and guitarist, he was also a lovely, melodic bass player.
We all stayed up that night talking, and Bill's enthusiasm for and faith in music really moved me. He always knew that music was what he should do. He did it, and was willing to face poverty, sleeping on floors, working odd jobs and general sacrifice to do it. Not only did he get through all those things, but he got through them with a smile on his face. He made shucking oysters seem fun. He made waking up at six after sleeping for four hours and facing a nine-hour drive through the Midwest seem enjoyable. Watching the Olivias on tour from '96 to '98 was one of the most enjoyable musical experiences of my life. There was always joy in their songs, joy in playful improvisation, joy in the magic of making music with friends.
---
Vanessa Briscoe Hay:
It is always sad to hear of the death of a friend. But when the friend is someone like Bill Doss, who was kind, talented and beautiful, and the death is totally unexpected, it is really hard to bear. I got to work with Bill on a few occasions, and I am so grateful that I did. Indeed, we are all grateful that he and his friends moved their wonderful musical world here to Athens, GA from Louisiana and began the Elephant 6 collective. The whole music scene re-blossomed, and we became an energy center again.
In my car, I have worn out a copy of Dusk at Cubist Castle. When I hear "Jumping Fences," one of my all-time favorite songs, and "Holiday Surprise 1, 2, 3," it is impossible to not sing along. I'm going to make a point of taking the time to waste a sunny day soon and listen to this record without interruption. I encourage everyone to listen to whatever Bill Doss recording is their favorite in the coming days, and to give their emotional support to his family and friends. My heartfelt condolences go out to his wife Amy and family, close friends and bandmates.
---
Henry Owings:
Bill Doss and I met each other in the din of Athens of the early '90s, when nobody outside of town cared about us. Cheap rent. Cheap booze. Good times. Bill was always flanked by his childhood friends from Ruston, LA: Jeff Mangum and Will Hart. At that time, they were in a band called Synthetic Flying Machine that was always considered nothing other than weird, by Athens standards. Syd Barrett backed by The Minutemen. That's how I thought of them back then, and still think of them now.
Oddly enough, when I left Athens to actually make a living wage in Atlanta, Bill and I still were close. I continued to put on a number of shows with Bill, and we'd run into each other at out-of-town gigs. Always. ALWAYS. Always a great time. Smiling. Laughing. Bill.
He and his wife were very supportive of me during very difficult times, and would routinely check in on me during some particularly trying times in the late '90s. Bill was a bro. And as you go through life, you get very few of those. I'll always cherish that about Bill.
And I've not even mentioned Bill's musical prowess because, well, it all speaks volumes for itself. Yes, Bill was good. Will was good. Talented. But together? Forget it. They were a powerhouse. Unquestionably. Bill's permanent legacy is his music. A wide swath of material that you wouldn't imagine came from a kid from the flatlands of Northern Louisiana. Bill left an indelible impression. No doubt.
---
John Kiran Fernandes: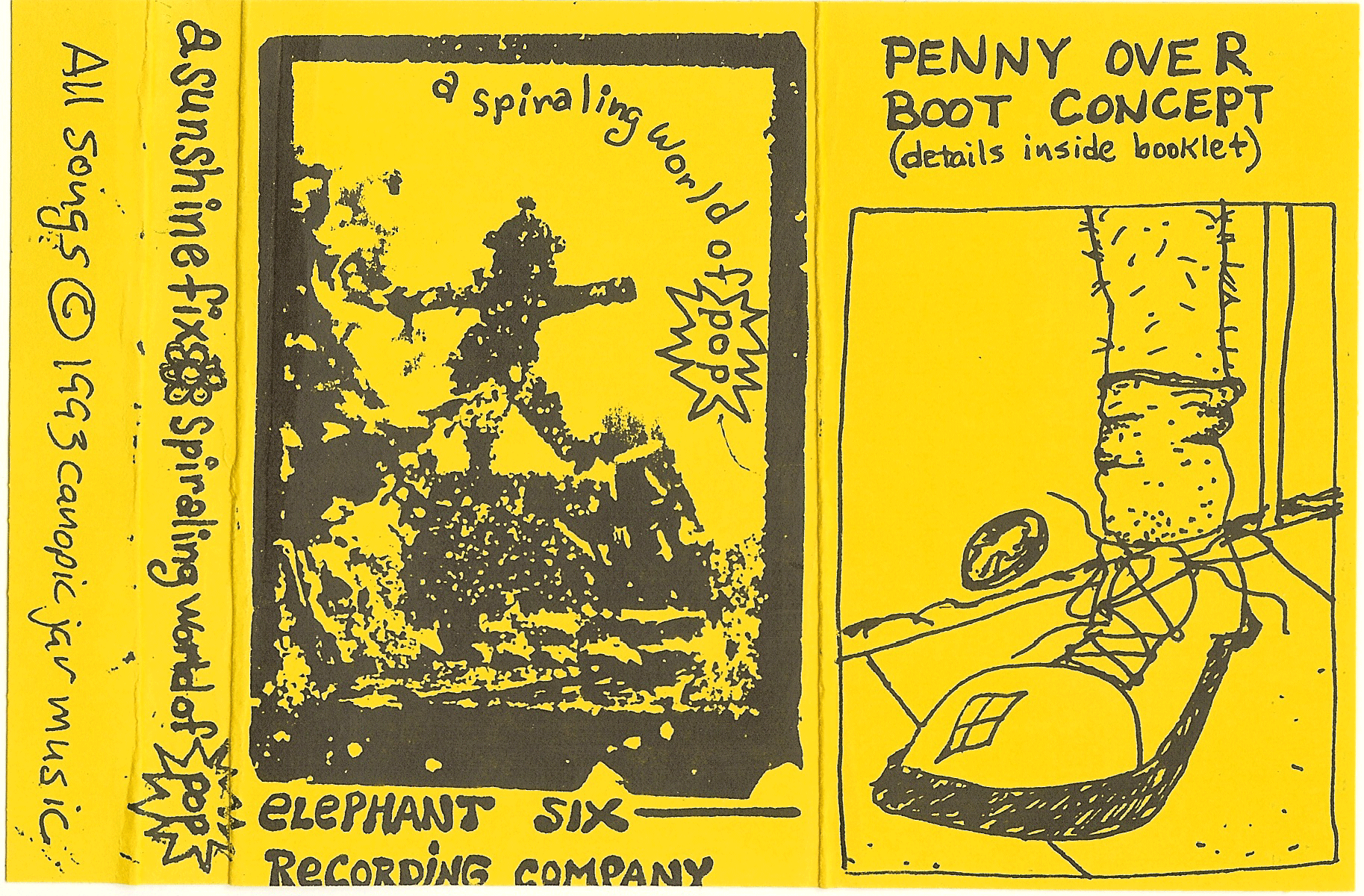 Front cover of The Sunshine Fix's A Spiraling World of Pop cassette.
I'm having a hard time holding back the tears as I write this. What a beautiful and talented soul. I've known Bill since I was in high school and he was going to Louisiana Tech University, doing photography and great four-track recordings. I remember asking him for a copy of The Sunshine Fix cassette he had put out. Years later, he had moved to Athens, then Denver, then was moving back to Athens when he came through Louisiana. He saw me playing bass with Scott Spillane at a coffee shop, and asked if I wanted to play bass with The Olivia Tremor Control.
I can't express how cool it was of him to do that, because I was a 19-year-old kid who was expecting a kid of my own—with his ex-girlfriend. Instead of being like, "Screw this guy," he warmly brought me into the fold and taught me so much about playing the bass. Not only was he a great songwriter and musician, but a great teacher, as well.
Bill, Will, Lara Hetzler, Lucy and I shared a little house on First Street. Then, eventually, we moved over to Peter Street, and shared a house with Bill's future wife, Amy. We worked various day jobs and spent tons of time together recording and practicing. The "Giant Day" 7-inch was the first OTC recording that I appeared on, and I remember us experimenting with all sorts of crazy recording techniques, like me running through the gravel on the driveway to lead in a song. After the first double album came out, we toured all over the place. A band of brothers criss-crossing the states with friends' bands and going overseas and meeting new friends.
I feel weird saying it, but Bill was almost a father figure to me, because he was older than me and always had some words of wisdom. I will miss him terribly, and always keep him in my thoughts.
---
Peter Alvanos:
I first met Bill Doss in July 2004. It was at AthFest, and his band The Sunshine Fix had just played on the main stage. Impressed, I approached him and introduced myself. Conversation ensued, and I found myself being drilled by a wealth of questions. Little did I know I was being interviewed for a position in his band. He gave me his number, and I gave him a business card I had that read, "Pete's the drummer."
This led to a wonderful friendship and musical collaboration. I joined The Sunshine Fix and toured that fall for a month. It was total bliss. A dream come true. I was as close to feeling like George Harrison as I'll ever be. Bill was always positive, caring and calm. He was nurturing, too. [Once] we were playing a show at Emo's in Austin, TX. Onstage, as we were tuning our instruments, I went over to Bill and told him, "Man, I bet there are some badass guitar players here." Bill's response: "Too bad you blow them away."
Those six words gave me a jolt. I had a different attitude. I started to believe in myself. I started writing songs, making records. I put my own band together and played shows. Bill recorded and performed on several of my songs. Bill's genuine and beautiful songs also led me to the wonderful people that performed and collaborated with him. For that, I'm grateful.
My last brush with Bill was in July 2012. It was at AthFest, on the main stage. This time, I was performing, and he was the spectator. After the show, he approached me and jokingly said, "Hey man, we should get together and play," handing me a piece of paper that read, "Pete's the drummer."
---
Ryan Lewis:
Will Cullen Hart and Bill Doss
Bill is one of those characters you meet in an epic adventure story. He comes into your life like an amazing freckled wizard, all smiles, positive vibes and magical musical mayhem. Next thing you know, you feel like a kid playing with your best friend—anything is possible, and Bill will probably find a way to get you all tangled up in it.
Being in The Sunshine Fix with Bill was like being in the The Fellowship of the Ring. No matter what happened, you were in it together. Almost skidding off the side of the Rocky Mountains in a snowstorm. Getting snowed in at a crazy Alpine Lodge Best Western on top of another mountain the night after George Harrison died and playing Beatles songs on the hotel piano all night. Almost getting killed in a cowboy bar in Montana (or was it Wyoming? We could never remember) for being "hippies." Waking up in a hotel on tour on 9/11/2001, with our next shows in D.C. and NYC, and pressing on amidst the chaos because music was always the answer. It was always crazy adventure shit with Bill. It was always good times with Bill. I love you, Bill.
---
Robert Schneider:
I remember the first time I saw Bill. As a teenager in Ruston, I used to hang around after school at Haymaker's Guitar Store, which was pretty much the hub of the local scene. I would loiter there every day and hit up the staff for guitar tips. One day, a junky yellow conversion van pulled up outside the shop, driven by this hip-looking redhead teenager a little older than me. I remember thinking to myself, "Who is this cool-looking guy?" I must have been about 13 at the time.
About a year later, I saw a notecard on the shop's bulletin board, looking for musicians influenced by Van Halen and The Beatles. I had just started a band with some kids in my high school, and I called the number and invited the guy, Bill, to join as the lead singer. When he came over, I recognized that he was the cool kid with the yellow van and was instantly impressed.
We became really tight musical partners and played in a number of garage bands throughout our high school years, [including] a band called Fat Planet that played mostly covers. We began to record together regularly. These experiences essentially mapped out the following decades of our life. This was the start of a deep friendship that continued throughout our teenage years and into our 20s, as we started Elephant 6 with our friends, then into our 30s, when Bill joined The Apples in Stereo as a keyboard player and collaborator, and up until just last month, when we sat and planned out the mixing schedule for the new Olivia Tremor Control album. We were scheduled to start mixing this week.
It breaks my heart that this partnership is now over. It breaks my heart that I won't record his warm, friendly voice again. Even more devastating is the loss of laughter, rude jokes, brotherly hugs and affectionate glances that spanned decades as we grew up together and grew to know each other better and better.
There are too many good times—in private, in the studio, and touring around the world—for me to recount here, but I will never forget. I am lucky to have these memories, and to have had thousands of beautiful life experiences with Bill Doss: one of the gentlest, sweetest, most talented people ever to exist.
Like what you just read? Support Flagpole by making a donation today. Every dollar you give helps fund our ongoing mission to provide Athens with quality, independent journalism.