After nearly half a century of performing, touring and writing, George Clinton and Parliament Funkadelic are still household names. Clinton blames "the funk" for the band's uncanny transcendence of musical fads and periods. "That's one thing about the funk," he says. "It's handed down to the next generation."
Clinton defines "the funk" as "that playfulness that app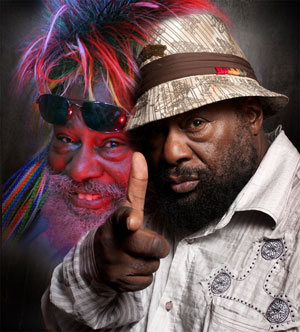 ears in all music."
"All over the air, it's the funk," he says. "Jazz, blues, hip-hop, rock, everything… Funk is the beginning of almost any new music. There's something really kiddie about it, but sophisticated at times… The funk is that element on which you begin. No matter how slick you can get, you gotta come back, in whatever new realm or way it comes about, and be able to just have fun with it. Then you're being funky."
It's not just the funk that keeps the band relevant; P-Funk's overall approach evolves with time. "We don't have to change the music," says Clinton. "We change our mindset about what's going on. It's easy to take whatever new music is coming in and, pretty soon, we become a part of that without having to try. I look for music that old musicians hate, that parents hate, and that pretty much keeps us on top of whatever the new groove is."
Parliament Funkadelic has always been a vehicle for sociopolitical content, inventively playful lyrics and technically impressive musicianship. The band seamlessly and effortlessly combines these elements, and Clinton stresses that some ineffable feeling—not knowledge, formula or superiority—makes P-Funk's music great.
"I try to stay out of my own way," he says, "in reference to thinking I know what I'm doing. I just kind of let it happen, go along with the flow, and that usually takes me to where I'll pretty much be on target or near target. Then I can figure out what I'm supposed to do… I don't know a damn thing about what I'm doing. I just feel it."
As a longtime touring artist, Clinton has seen and experienced several stages of 20th- and 21st-century American history. Interestingly, he relates today's sociopolitical climate to the one he was immersed in when, and even before, he began his career.
"I think we're in good shape with Obama," says Clinton, "even though he's catching hell with business people and the whole economic thing. The whole world is probably catching hell with that. But I think that his trials and what he's trying to do are similar to what Kennedy was thinking in the '60s." However, not every aspect of our current epoch is so familiar to Clinton. "The whole world right now has got that idea of making money to survive," he says. "That's totally new to me; I don't know what it means."
As for solutions, the artist's vision is as imaginative as his music. "I'm pushing for alien intervention," he says. "I think unless we get something from divine intervention or alien participation, we might get bored with apathy and just fuck up shit. Different races, countries, good or bad—with some alien intervention, I think we'd all pull together. But other than that, all I got is hope for everything that's going on."
Clinton does more than hope and dream when it comes to social issues. Litigious contention over copyrights has recently compelled the artist to work with members of Congress to effect change. "We actually fight the odds," he says, "to get people to understand and get involved in this." The issue is the subversion of copyright renewal, as Clinton explains:
"There are a lot of songs that are supposed to be returned to artists next year or the year after next. They're gonna have to hurry up and realize that if they don't file for those songs, they won't get them back. The record companies aren't going to give them back easy… If you don't say nothin', you'll find out that the original song has been renewed in the name of the lawyers for Universal. I just think they should inform you when someone's trying to renew your copyright in their name. Right now, I could go and change a copyright of yours without ever telling you, without ever asking you, and you wouldn't even know it."
According to Clinton, Rep. John Conyers (D-MI) is "gonna take it to the floor and actually get Congress to look at it. We've been talking a lot—his office, myself and [Rep.] Sheila Jackson-Lee [D-TX]."
Clinton's involvement in public policy hasn't interrupted his fervor for the funk. Amid all of the issues and lawsuits, Parliament Funkadelic continues to play its enduring music all over the world. For show-goers, Clinton has one piece of advice: "We're gonna tear the roof off the place. Tell 'em to bring two booties, 'cause one ain't enough."
Like what you just read? Support Flagpole by making a donation today. Every dollar you give helps fund our ongoing mission to provide Athens with quality, independent journalism.