They revamped the marquee. They hung a new red curtain. They added a brand new PA, a new coat of paint and refurbished the bathrooms; these were all part of the improvements.
Improvements that proved to be temporary; all these factors contributed to the gradual renovation of the historic Georgia Theatre between 2004 and 2009. And with the exception of the iconic marquee, all of them were lost. "After the fire, we had to gut the thing out and completely shell it," says Scott Orvold, talent buyer for the Georgia Theatre. "We literally had four walls and a marquee when we started rebuilding."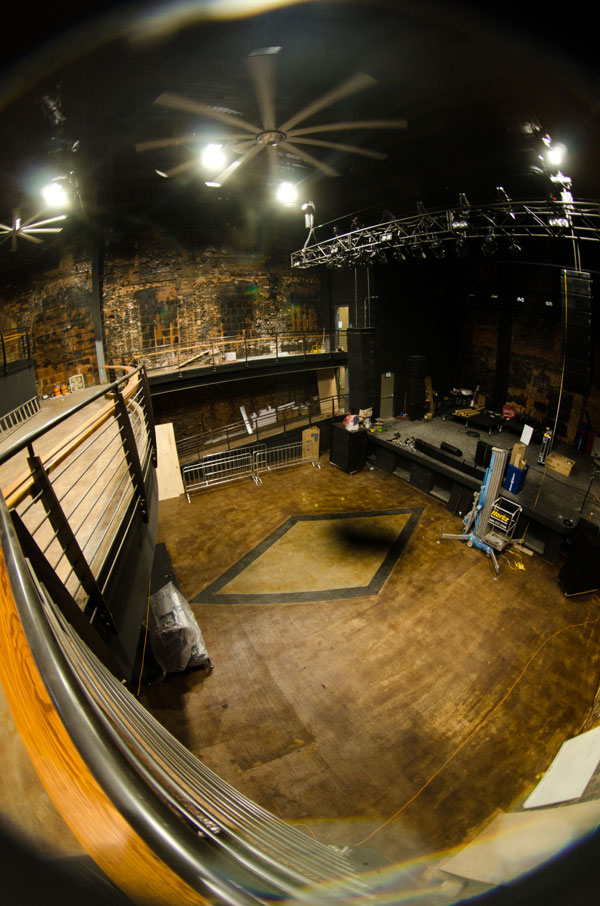 The grand reopening of the Georgia Theatre has long felt like both an inevitability and a far-off goal. Aptly, the same could be said for the reemergence of the opening night's headlining act, The Glands, Athens' reclusive indie-rock cult favorites. While heavier hitters in terms of national prevalence are booked for the two-week grand-opening celebration that runs Aug. 1–14—Georgia-centric acts like Big Boi or Drive-By Truckers, for example—the solidly local line-up and beyond-reasonable price of admission for Aug. 1 say a lot about the management's priorities. The same goes for the "open house" show on Aug. 3, which will allow patrons to enter free of charge while Kenosha Kid soundtracks their rediscovery of the space.
"We've been trying to talk them into playing here for a long time," says owner Wilmot Greene of The Glands. "The reason I like it personally is because it's so Athens. It's the most Athens thing I could think of. And it's a $10 ticket; that's cool."
The gravity of the impending event is not lost on Madeline Adams, who, with her Black Velvet Band, will be the first official act to set foot on the stage before the return of The Glands (there was at least one "secret," unannounced show at the Theatre last week). "It's an incredible honor," Adams says. "This is definitely going to be the largest audience we've ever played in front of." After recalling her first visit to the Theatre—a listening party for R.E.M.'s Up which she attended with parental supervision—she says that since the reconstruction, "I wanted to go and check it out, but now I'm sort of holding off until the show to give myself the happy surprise."
The end result of the rebuilding effort is a combination of comforting commonality with the Theatre's traditional look and the aforementioned happy surprise, and it's all a long, long way from four walls and a marquee. Two weeks before the official reopening of the Theatre, Orvold and Greene walked around and inspected what was left to be done as well as what had been accomplished so far. It's all an overwhelming amount of change, but the commitment to retaining much of the Theatre's old charm is wholly evident.
"We tried to make the venue feel as much like it did before [as possible]," says Orvold. "So, we're trying to do things like have the red curtain that everybody remembers, have the slanted floor that everyone remembers… we were able to reclaim some of the stuff from the old venue, like some of the old wood that was in our office and in the hallway. We were able to salvage it and hire a wood craftsman to reuse it and continue to give it the same feel that it had in the past."
The handiwork of Landus Bennett and Richard Shrader, the wood craftsmen from the company Watson Springs who were hired for the project, is evident in nearly every corner of the building, including the scorched wood found in the ticket booth, the semicircular bars and elsewhere. Upon stepping into the foyer, a colorful, fractal-flecked ceiling mural by local painter Kris D can be seen overhead.
Stepping further into the building, under one of the original beams from 1887, one can take in one of the biggest differences in the new Theatre: a completely revamped balcony. "We changed the style of the balcony; instead of having all seats, we made it three-tiered," says Orvold. "That was for a couple of reasons. One, to gain capacity, so we could sell more tickets legally; and two, just to make it more of a rock/dance style venue. We modeled a lot of the building after the way they have it set up at the 9:30 Club in D.C."
The new balcony is equipped with stylish handrails and a bar of its own; there are areas along the sides that can be reserved for VIP tables. The sight lines all around give a perfect view of the expanded stage as well as the new Nexo PA system put in place by production manager Rick Wallace.
Everything seems bigger, but with a bigger room comes a higher cost of staying open. "Overhead will be higher, bottom line. Overhead was high before!" says Greene. Aside from the physical renovations, another major change that came with the new ownership and management in 2004 was a renewed commitment to showcasing local talent, something bigger rooms are often reluctant to do. Many Theatre-goers will recall ex-Elf Power guitarist Jimmy Hughes' marathon local shows circa 2008.
"It's going to be harder, but we're going to make a very conscientious effort to make sure we still do it," says Orvold. "We're definitely committed to making sure that locals are able to grow into this room and that we're able to still do that. I'm also very much going to try every chance we get to put locals in front of national touring support, and to create opportunities that a local band wouldn't have before. So, when they're able to support doing a show in here, it's gonna be a real step as far as accelerating their career."
On the second level above the main floor, audiences will discover something that was nonexistent in the Theatre's previous life: a place to find some quiet. "One of the things we thought the Georgia Theatre never had was a quiet space to get away from the music a little bit, if you needed a spot to kind of chill and step out for a second, somewhere to meet people," says Orvold. The lounge area, which directly overlooks the marquee, will have comfortable seating and, for the grand reopening, a photographic presentation of the Theatre's phoenix-like development from smoldering walls to full-fledged venue.
Taking the stairs (or the new elevator) up to the third floor, Athenians—show-going or not—can take advantage of another revenue-increasing aspect to the new Theatre: the rooftop restaurant. Which is named… nothing, so far. "We've talked about that a lot, and the marquee on the side says 'Classic Triple'; I'm curious to see if that name will stick," says Greene. "We're featuring three proteins, so it works: barbecue, chicken and tofu. I kinda want people to just name it themselves, see what people start calling it. And I bet people will just say 'The Roof.' But if 'The Classic Triple' stuck, I'd be cool with that."
The restaurant will be run by Ken Manring, the smoked-meat guru behind White Tiger Gourmet and Greene's former bandmate in local act Ashtray. The rooftop bar, all odd-cut thick granite, was built by Matt Zbornik and Five Eight vocalist/guitarist Mike Mantione. The restaurant area will, much like The EARL in Atlanta, feature live video feed of the show going on beneath the diners' feet. You can call the restaurant whatever you want, just don't call it closed (hey now); it'll be open for lunch and dinner seven days a week, right until the bars close.
The entire building has an nearly-almost-there feel, right down to the offices, which are, much to the management's chagrin, not quite there yet. Where have they actually been conducting office work? "Everywhere," Greene and Orvold say simultaneously. "I've had, like, six offices since the fire," says Orvold. "That's been the hardest part of this whole process for me personally—the displacementness of it. Not being around your partners and the people you're working with has made operating a business pretty tricky. Mr. Horton donated some space to us for a little bit above Horton's Drug Store, but it was too cold in the winter and too hot once it got warm out." Greene seems alternately exhilarated and exhausted, speaking to Flagpole at the tail end of a 12-hour day in what has seemed like a 25-month long streak of 23-hour days.
"It's crazy when you do a process like this," he says. "You stare at it on paper for so long, and I didn't actually really start feeling good about it until two or three weeks ago. [It] didn't really start looking like a venue; it just looked like a big construction mess until two or three weeks ago."
The day it all came together was a milestone in triplicate: "The [balcony] handrails, the production lighting and the floor happened all in one day," says Orvold. With the floor area cleared in order to be treated, Orvold says, "it was, 'Ah, that's what we've been doing for the last two years.' It really kind of put it in perspective."
The Glands, Truckers and Big Boi shows are already sold out, but you can buy tickets to all other Theatre events at www.georgiatheatre.com.
Like what you just read? Support Flagpole by making a donation today. Every dollar you give helps fund our ongoing mission to provide Athens with quality, independent journalism.