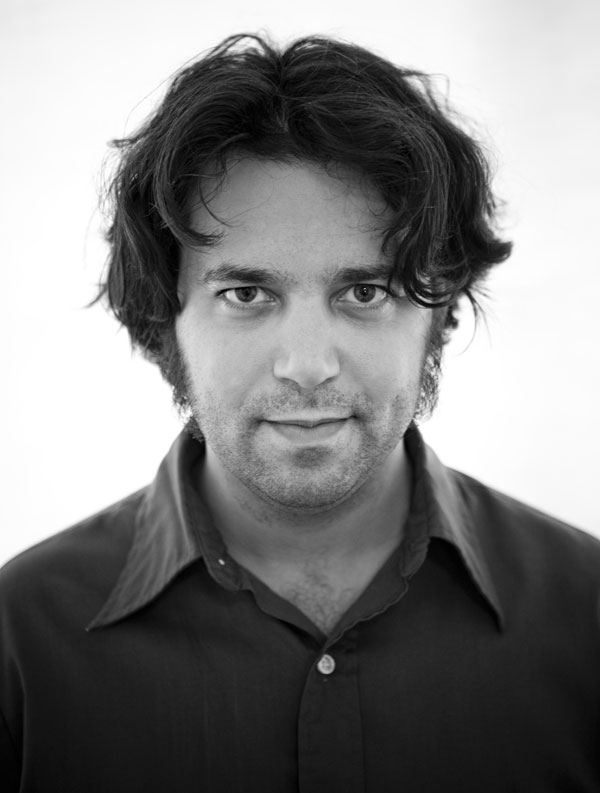 Jay Gonzalez is an admitted anglophile… I'm not talking Britpop, like Stone Roses or Oasis, but rather first generation, ground-zero 1965 British Invasion à la Beatles and Gerry and the Pacemakers. A devoted fan of Harry Nilsson and cult hero Emitt Rhodes, Gonzalez's solo material has a distinct '70s feel, akin to Badfinger, Todd Rundgren and solo Paul McCartney. Much is written about the Drive-By Truckers, their story-telling songs and three-guitar attack, but the newest member of the band (since 2008) is a gifted singer-songwriter whose own musical projects deserve a moment in the spotlight as well.
What Gonzalez draws upon is pure pop for now people, the sunny melancholy that defined pop songwriters in the last century. He carries on this tradition, but with a background in rock and roll that name-checks some well-loved bands of Athens' past decade. Before joining the Drive-By Truckers, Gonzalez cut his teeth playing in many local bands, including The Possibilities, Nutria and The Inflatable Orchestra.
At the age of seven, he picked out his first record from a New York department store. The choice? Billy Joel. "He gets knocked a lot, and it was embarrassing to admit that I liked his stuff for awhile," says Gonzalez, "but I think he's a songwriter (musically speaking) on par with Bernstein, Rodgers, Gershwin, Carole King, McCartney, which is the lineage he's continued." Gonzalez took piano lessons from the "old lady down the street." After a few years of piano lessons and a brief detour for karate (inspired by The Karate Kid), he picked up the guitar at age 14.
Gonzalez left New York and migrated south to Athens with fellow musician Kitty Snyder. The two transplants formed the band Loveapple in the mid- to late-'90s. From there, he went on with various musical projects, including solo projects, up until his current work with the Truckers. He's also a member of Cut Buffer and has a forthcoming debut solo album.
Flagpole had a chance to sit down with Gonzalez in October when the multi-instrumentalist played the first of two solo shows at Hendershot's Coffee Bar. He devoted his sets exclusively to "guilty pleasures" and his original material, playing covers that included Bob Dylan, Nick Lowe and even a tune from West Side Story. It was the perfect opportunity to reach into the psyche of one of the Truckers many songwriters and explore his motivations and inspirations.
Flagpole: What should an audience be thinking after being exposed to your music?
Jay Gonzalez: They're probably thinking, "Has this guy heard any music after 1980?" or something along those lines… hopefully, they'll be humming a chorus from one of [my] tunes.
FP: What keeps it entertaining for you; what keeps your pistons pumping?
JG: Coming up with a new song always refreshes everything and gets the pistons pumping… it's almost cliché, but you really do wonder if any more are gonna come… also, switching from piano to guitar or vice versa is a good way to keep it fresh for me. [On the forthcoming Drive-By Trucker's album, Go-Go Boots, Gonzalez not only plays keyboards and piano, but also Wurlitzer, accordion, Hammond B-3 and the singing saw. He also contributes harmony and backing vocals.]
FP: Did you have any hand in writing the songs you record with Drive-By Truckers?
JG: I don't know, with three songwriters… it's kinda understood I do my own thing on the side. Even with The Possibilities, who I played with before, you know, as the third songwriter, that was a lot. I'm working on [a solo record] right now with my buddy Chris [Grehan]. I'm recording it and sending it up to him in New York. We're hoping to finish by the end of the year. So, I've been working on something for the last few years, even before the Truckers. A lot of the original stuff I'm playing [I'm] just trying to put it together into a cohesive album.
FP: Has there been a consistent vision in your music from beginning to end with no deviation?
JG: I don't think I had any specific vision for my music until the last few years as I mainly worked with other writers and bandmembers and just kind of wrote what I wrote and would see where it went. Chris Grehan, who I've worked with since college, pretty much has the same pool of influences as I do and the same idea of a good record… strong melody is always the main thing, followed by an interesting chord progression, hopefully set to a good beat. Though, lately I've been working harder on editing and refining lyrics, I think that's my weak point… but I rarely listen to lyrics unless they're really striking anyway… which may have something to do with mine not being as good as they should be!
FP: In terms of live performance, do you ever feel like you become possessed or "in the zone" onstage?
JG: I never used to get in any "zone" while playing, as I worried about what the audience was thinking, how the sound is, if I'm in tune, etc. Since playing consistently with the Truckers, I've gotten to where I feel comfortable enough to get into that space onstage… which really should be the ultimate goal. These last two Hendershot's shows have been a leap as far as getting right into the zone—not rushing songs, actually focusing on delivery.
FP: What do you need to see, feel, hear and/or understand in order for you to feel satisfied with what you are doing?
JG: I need for there always to be something going on to catch the ear in a song I'm working on. No dead space, no just floating along… I never listen to music just for mood; I always want to be pulled in. If I have music on in the background while talking to my wife, Katey, she can tell when my eyes glaze over that I'm focusing on the music in the background, and she certainly lets me know she knows I'm not listening!
FP: So, how does the Jay Gonzalez Dictionary define rock and roll?
JG: That's tough. For me I guess it's having that indefinable spark of energy mixed with infectious, immediate songs.
Like what you just read? Support Flagpole by making a donation today. Every dollar you give helps fund our ongoing mission to provide Athens with quality, independent journalism.