Now that August is over, all we have to do is make it through the desert of September to reach the genre paradise that can be October. Then awards season will be upon us! It seems like it was January only yesterday, and here we are already anticipating a new Star Wars. What tops your list of upcoming flicks?
September
IT (R) Can Mama's Andy Muschietti make Stephen King's epic coming-of-age terror tale float again? Bill Skarsgård has some giant clown shoes to fill; Tim Curry's Pennywise is still a titan of terror, even if the 1990s TV miniseries has faded. Hope floats, no matter how many bad adaptations of Stephen King novels get made.
HOME AGAIN (PG-13) Nancy Meyers' well-appointed catalog-shoots-cum-feature-films are surprisingly acceptable. Her daughter's feature directing debut looks cut from mommy's cloth. The tale of Reese Witherspoon and several younger men might not be in my wheelhouse, but this chick flick's pedigree intrigues.
MOTHER! (NR) An assumed candidate for year-end hardware, Darren Aronofsky's could-be thriller stars Jennifer Lawrence and Javier Bardem as a couple in jeopardy due to some unexpected guests. With Ed Harris and Michelle Pfeiffer.
KINGSMAN: THE GOLDEN CIRCLE (R) Can Matthew Vaughn recapture the verve of Kingsman, his most successful attempt to put an alterna-comic on the big screen? Fans of the original expect wild shenanigans and blood—lots of blood.
THE LEGO NINJAGO MOVIE (PG) Though Ninjago is well lower than Batman on the totem of themed Lego sets, this tale of a young ninja whose dad is a supervillain bent on destroying the world looks more than adequately entertaining, considering its September release.
AMERICAN MADE (R) Doug Liman and Tom Cruise reteam for what looks like a familiar made-in-America tale of greed, drugs, money, sex and… well, I guess that's it. The trailer shows Cruise in his natural element, which is dangerously entertaining.
FLATLINERS (NR) A Flatliners remake? Nope. No, thank you.
October
BLADE RUNNER 2049 (R) The director's cut of Blade Runner was the first VHS tape I bought when I started collecting movies, so color me excited for this sequel pairing Ryan Gosling and Harrison Ford, returning as Rick Deckard. Hopefully Denis Villeneuve can knock it out of the park.
GEOSTORM (PG-13) Whoa! Dean Devlin, Roland Emmerich's Independence Day producing partner, finally makes his feature directing debut with this superstorm flick starring Gerard Butler. Judging by the trailer, it looks quite Emmerich-esque, for better or worse.
JIGSAW (R) Like any slasher worth his bloody salt, the unkillable Saw franchise returns from the dead. Who knows whether it will be any good? At the very least, Tobin Bell is back. The Spierig Brothers (Predestination and Daybreakers) are directing.
November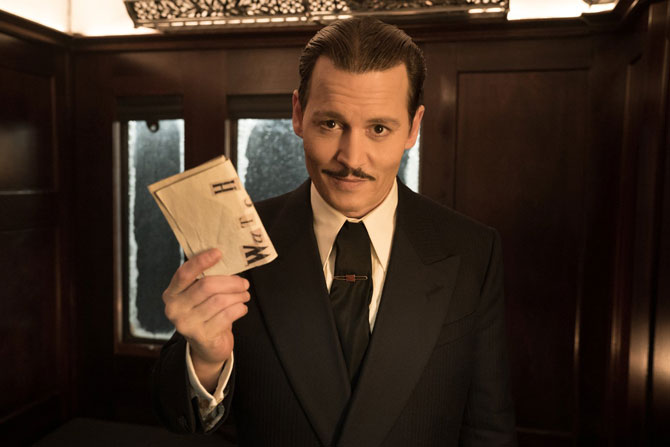 THOR: RAGNAROK (NR) The trailer for Marvel's latest solo adventure implies the hiring of Taika Waititi (What We Do in the Shadows and Hunt for the Wilderpeople) to direct was a stroke of brilliance. Appearing brighter and funnier than the fine Thor sequel, Ragnarok also gives us more Hulk and introduces Jeff Goldblum to the MCU.
JUSTICE LEAGUE (NR) Fingers are crossed for DC's latest attempt to put multiple superheroes together on the big screen. After the inert dud that was Batman v Superman: Dawn of Justice, Justice League shows promise based upon the trailer's use of Jason Momoa's Aquaman alone. Director Zack Snyder did not finish the film due to a family tragedy; The Avengers' Joss Whedon stepped in to finish up the project.
MURDER ON THE ORIENT EXPRESS (NR) An all-star cast—Kenneth Branagh (who also directs), Penelope Cruz, Willem Dafoe, Judi Dench, Johnny Depp, Josh Gad, Derek Jacobi, Leslie Odom Jr., Pfeiffer and Daisy Ridley—are all suspects when a murder occurs on the famed train. The world's greatest detective, Hercule Poirot, must solve the mystery before the murderer strikes again. This newest screen version of Agatha Christie's classic harkens back to the star-studded romps of yore (the '60s).
December
STAR WARS: THE LAST JEDI (NR) Finally, Luke Skywalker really returns to the Star Wars Universe! Hopefully Rian Johnson, who helmed the superior Brick and Looper, has crafted another worthy entry in this venerable canon. It cannot be worse than the prequels, right? (Seriously, someone convince me it cannot be worse than the prequels.)
JUMANJI: WELCOME TO THE JUNGLE (NR) This is not your older (insert family relation here)'s Jumanji. Dwayne Johnson, Kevin Hart, Karen Gillan and Jack Black are the avatars for four teens who discover an old video game into which they are sucked. Hopefully, it won't suck.
PITCH PERFECT 3 (PG-13) The first one was a surprise winner; the second was a deafening disaster. The trailer includes some sincere Rebel Wilson laughs, which is promising.
Like what you just read? Support Flagpole by making a donation today. Every dollar you give helps fund our ongoing mission to provide Athens with quality, independent journalism.