Out Now
BABY DRIVER (R) Edgar Wright—of Shaun of the Dead, Hot Fuzz, Scott Pilgrim vs. the World and The World's End—again tackles a film without Simon Pegg, and the reviews have been white-hot. I've seen it, but you'll have to wait until next week for my take, due to the Independence Day holiday. Jamie Foxx, Jon Hamm and Kevin Spacey all star as criminals consorting with Ansel Elgort's Baby, a getaway driver savant who uses music to fuel his balletic wheel play.
DESPICABLE ME 3 (PG) Despicable Me was a surprise treat; Despicable Me 2 was an even more surprising sequel. The third movie introduces Gru's estranged twin brother, Dru, who turns the reformed supervillain back to a life of crime, much to the pleasure of his yellow Minions. Trey Stone of "South Park" joins the cast as '80s-obsessed supervillain Balthazar Bratt (no relation to Benjamin). After DM2, I am happy for more Gru.
July 7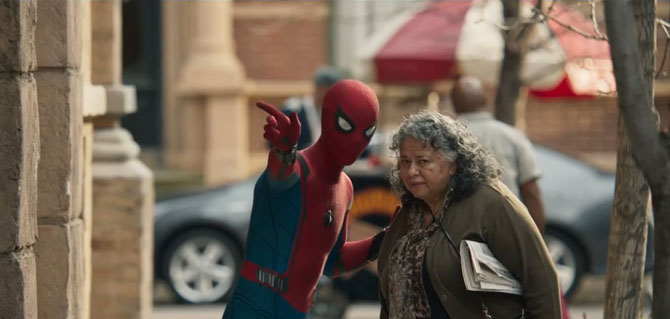 SPIDER-MAN: HOMECOMING (PG-13) Spider-Man returns (again), and we are actually excited, thanks to Captain America: Civil War's tease of Tom Holland's apparently excellent web-slinger. Jon Watts (Cop Car and Clown) takes the directing helm from The Amazing Spider-Man's Marc Webb. Early reviews provide hope for what feels like the umpteenth rendition of your friendly neighborhood Spider-Man. Michael Keaton smartly gets to put his stamp on previously unseen villain Vulture. Robert Downey Jr. shows up as Tony Stark/Iron Man, and Marisa Tomei is the youngest Aunt May yet.
A GHOST STORY (R) The director of Pete's Dragon, David Lowery, offers some summer counter-programming with this fantastical romantic drama distributed by It Comes at Night's A24. Stars Casey Affleck and Rooney Mara cannot hurt A Ghost Story's chances.
July 14
WAR FOR THE PLANET OF THE APES (PG-13) The last summer movie for which I truly cannot wait, the third installment of the new Planet of the Apes franchise pits ape leader Caesar—Andy Serkis' motion-capture performance is in sore need of at least a special Oscar—against a military leader played by Woody Harrelson by way of Marlon Brando's Col. Kurtz. Nothing excites me more than a new entry in the modern version of one of my favorite childhood franchises. (Yeah, I own a Cornelius bust that holds DVDs for all the original movies, as well as the television series; what of it?)
July 21
DUNKIRK (PG-13) Christopher Nolan, the acclaimed director of The Dark Knight Trilogy, brings spring's Their Finest to life with this recreation of the Dunkirk rescue. One can watch this war movie in 70mm, 35mm or IMAX. The cast includes Tom Hardy, Cillian Murphy, Kenneth Branagh, Academy Award winner Mark Rylance and Harry Styles (yes, of One Direction). I am not sure why Christopher Nolan needed nearly another hour to tell the story of The Dark Knight Rises, but at least Dunkirk does not break two hours, a feat the filmmaker has not accomplished since 2002's Insomnia.
VALERIAN AND THE CITY OF A THOUSAND PLANETS (PG-13) Apparently, the source material for Luc Besson's latest sci-fi epic is a big deal in France. Dane DeHaan and Cara Delevingne star as special space operatives who must save a space metropolis and the future. Who knows how this latest space opera will do? Besson is not an unmitigated homerun, though he has some great films in his past. Hopefully, Valerian will be a surprise like The Fifth Element. Then again, DeHaan is no Bruce Willis.
July 28
ATOMIC BLONDE (R) This action flick comes from an uncredited director of John Wick and the Deadpool short that accompanied Logan. That alone is a recommendation. Throw in Charlize Theron, and who can honestly argue against seeing it?
AN INCONVENIENT SEQUEL: TRUTH TO POWER (NR) Al Gore returns with another documentary about climate change. Can Gore's newest doc recapture the cultural zeitgeist of its decade-old predecessor? In An Inconvenient Truth, Gore proved more human than the entire 2000 presidential campaign. That title is rough, though.
Aug. 4
THE DARK TOWER (NR) Stephen King's magnum opus finally hits the big screen with Idris Elba as the Gunslinger himself, Roland Deschain. Matthew McConaughey stars as the ever-popular Man in Black. A lot of expectations and moving parts could doom Nikolaj Arcel's long-awaited adaptation of King's seminal work.
DETROIT (NR) Kathryn Bigelow might have a shot at another Oscar with this period biopic about the Algiers Motel Incident during the 1967 riots in Detroit. Bigelow's Oscar-winning writer Mark Boal rejoins her for this intense historical drama.
Aug. 11
ANNABELLE: CREATION (R) Any chance to re-enter The Conjuring universe is welcome, especially when directed by horror surprise Lights Out's David Sandberg.
Like what you just read? Support Flagpole by making a donation today. Every dollar you give helps fund our ongoing mission to provide Athens with quality, independent journalism.