PIZZA NO. 1: How much is there, really, to say about pizza? It's hard (but possible) to screw it up. Pretty much everyone eats it. It's an excellent family compromise that is, therefore, severely overpriced at theme parks. WUOG 90.5 FM's "Athenian Eats" show, which airs Mondays at 4:30 p.m., spent a whole episode on it recently. I couldn't even guess what percentage it makes up of the average college student's diet, other than to say "a lot."
I'm from Atlanta, which means the pizza I grew up eating the most and that shaped my opinion of what makes a perfect slice is from Fellini's, which opened in 1982 and has seven locations. The folks who started Transmetropolitan, from what I remember, had some connection to Fellini's, and the pies they made had a lot of similarities: big slices, crisped up briefly in the oven, less floppy than Little Italy's and with a big pouf of floury crust at the end you hold in your hand. Transmet was sold last year, and over the summer its new owners put some major changes in place, renaming it Starland Pizzeria & Pub (145 E. Clayton St., 706-613-8773), renovating the interior and radically simplifying the menu.
The single best change is the fact that you can now sit at a long but not too high bar downstairs, either to eat or to drink, which makes the environment much more pleasant. Instead of entrees and a whole lot of predetermined topping combinations, the menu pretty much sticks to pizza. At $3 for a basic slice and 50 cents per topping, it's a little pricier than some of its competitors, but the slice itself is a massive one. The slice and a salad combo, for $6 (which doesn't include a drink), is a heck of a lot of food, and you can pick from three salads: garden, Caesar or Greek.
The toppings probably aren't quite as fancy as those at Automatic, but you can get capicola or tempeh or zucchini as well as pepperoni. The Hungry Sasquatch (pepperoni, sausage, meatballs, ham, mushrooms, onion, green pepper, black olives) is still available, lest you worry, and quality control seems much improved, though I still miss the counter-ordering model a little.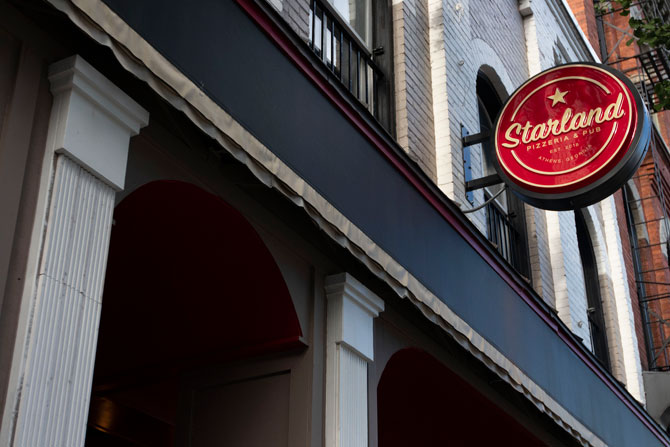 Photo Credit: Savannah Cole
Should you desire a calzone and balk at the prices ($9–$12), you should know that it appears to be the size of a medium pizza folded over and crimped. Unless you can eat a huge amount of food, you will get two meals out of it. Ditto for the Zesto Pesto sandwich, available with or without chicken and always with pesto, mozzarella, tomato, basil and spinach, which doesn't need the meat. The white bean dip with focaccia isn't anything special, and some of the bread-based stuff, including the pizza crust, can be a hair underbaked.
The reverse of the menu includes a selection of cocktails, including a surprising number of tropical-themed rum-based ones (Dark 'n' Stormy, Pain Killer, Jungle Bird), a daily sangria, frosé, housemade limoncello, a small selection of wine by the bottle or glass and a bottled/canned beer list that goes from Miller High Life to Birmingham, AL-based Trim Tab's Paradise Now. It's a good mix of standards and more interesting stuff. Starland is open Sunday through Thursday until midnight and Friday and Saturday until 2 a.m.
PIZZA NO. 2: You probably aren't aware of Crazy Dough's Artisan Slice Bar (115 Hickory St., 706-395-4458) unless you live in the behemoth development The Mark, just down the hill from downtown. Pulling into its parking area feels like visiting another city, and the parking meters appear to be a work in progress (plus, there are signs posted by a company with the word "booting" in its name that do not inspire confidence).
There's the usual amount of franchise word salad about passion and fine ingredients, but the pizza itself isn't bad. Some of it has too much in the way of ingredients, including various drizzles (balsamic, barbecue sauce, buttermilk ranch, Gochujang aioli). Pizza does not need drizzles. Various pies, both "gourmet" and proletarian, sit behind glass for you to point at and receive slices of. The high-powered oven that briefly crisps and heats your slice does its job well and makes the experience feel a little less like Cici's.
Regular cheese slices are $3, gourmet ones are $4, and whole pies are available as well. The crust is very thin, which works well for the body of a slice but is a little cracker-like at the wide end. Here again, there is a bit of overpromising on the ingredients, which may turn out to be small breaded chicken nuggets.
Stubborn brand craft sodas make things feel more upscale, and you can get various gelato-based things, like an affogato (made with Phoenix Roasters nitro), an ice cream sandwich or a milkshake. Crazy Dough's is open from 11:30 a.m.–10 p.m. Monday through Wednesday, until midnight Thursday, until 3 a.m. Friday and Saturday and closed Sunday. It delivers for free to Mark residents.
Like what you just read? Support Flagpole by making a donation today. Every dollar you give helps fund our ongoing mission to provide Athens with quality, independent journalism.