GROCERY NO. 3?: It's not really accurate to refer to The Treehouse Market (8851 Macon Hwy., 706-850-4380) as a grocery store when it's really more like a fancy convenience store, but it does have some staples and—what's more important for this column—both sandwiches made to order and some hot foods. There's a big counter that takes up a good bit of one wall when you walk in, with a chalkboard menu on the wall. Specials are listed on a sandwich board by the door, and there's even a bit of seating, with a few tables and a comfy banquette.
The store's offerings are in line with what you'd expect from the ritzy shopping center that also hosts the second location of Mama's Boy and the brand-new The Falls: There's a large selection of cigars in a custom-woodwork case, plus wine sippy cups and fine snackies (dry salami, cheeses, pickles, etc.), but there are also domestic beers and Slim Jims for the students in the area.
The sandwiches call to mind both Jimmy John's (the Italian, with Genoa salami, pepperoni, capicola, provolone, Italian dressing, lettuce and tomato, is essentially the No. 5) and Em's Kitchen (the Cuban is fairly similar, but maybe that's because they're both straightforward, with nothing weird). Should the Reuben be on special, it's a decent option, although the bread is maybe sliced a touch too thin, and the chipotle chicken sandwich that is another occasional offering is decent, too.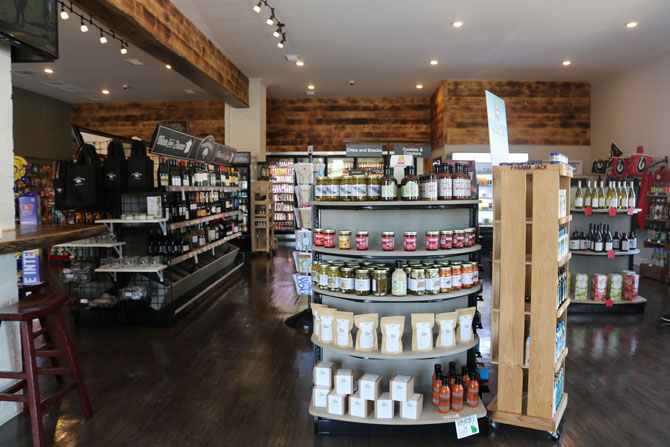 Photo Credit: Jessica Silverman
Nothing is going to blow your socks off, least of all the empanadas, which are kept hottish in a warmer and are available in chicken or beef. At the same time, everything kind of meets a need for quick, relatively inexpensive food, some of it hot. If you'd rather assemble your own sandwich or you're doing some kind of zero-carb thing, you can also buy Boar's Head meats and cheeses by the pound, sliced to order. Because of the convenience store location, you have a wide array of chips and beverages to round out your meal, or you can get a scoop of one of the deli salads in the refrigerated case: pasta, potato, etc.
The market offers pizza, too, although it seems at about the same level as that served at the roller rink, as well as baked goods supplied by a corporation, soup and a wide variety of coffee and tea drinks (including some aimed at children). Your kids will be intrigued by the high-tech milkshake/smoothie machine, the store has free Wi-Fi, and you can get gift baskets of sweets and snacks.
The Treehouse Market is open 7 a.m.–10 p.m. Monday through Friday, 8 a.m.–10 p.m. Saturday and 8 a.m.–9 p.m. Sunday.
WINTERVILLE IS LIT: OK, that's an exaggeration, but with Off the Vine opening, Wok Star still providing excellent actual Chinese food (although Too Sweetz bakery is no longer operational out of the same space) and Little City Diner killing it on pies and more, the sleepy town has a lot more going on culinarily than you'd think. The opening of Peach Pit Cafe (321 Athens Road, 706-899-0001), a brand-new barbecue place right across the street from Off the Vine, means the town has basically doubled its food options.
The interior isn't anything fancy, but the people who take your order are friendly, and there are seats at the counter where you order, should you wish to converse. The menu is the kind of simply typed, straightforward single sheet on a colored piece of paper that you would expect of a country barbecue place, with descriptions in black and prices in red. You can get pork, chicken (not pulled; available by the half), ribs and brisket, most of which is available as a sandwich or a plate, with slaw, stew, chips and bread. That's about it. The choices are pretty simple.
The 'cue itself, unfortunately, could be better. The proprietors seem to take a light hand with the rub, so the meat doesn't have a ton of flavor. The sauce is good, though, especially the one designated for the chicken, which is nearly straight vinegar and zips it up considerably. Y'all may be happy with that, but I'm a crazy purist who wants my barbecue to stand on its own without sauce.
The stew also gets a thumbs up: decently peppery, fairly finely textured, enough salt. Best of all is the cake (a chocolate marbled thing with thick chocolate icing on the day I went, but it varies), which you can choose instead of banana pudding for a little sugar. It's a step up from the neon-colored soda-moistened stuff you get at most barbecue restaurants, for sure.
Peach Pit Cafe is open 11 a.m.–8 p.m. Wednesday through Saturday and 11 a.m.–3 p.m. on Sunday, which makes it a great addition to the local scene. It serves no booze but does take credit cards.
Like what you just read? Support Flagpole by making a donation today. Every dollar you give helps fund our ongoing mission to provide Athens with quality, independent journalism.