Between Ligaya Mishan's recent New York Times article, "A Quest for New York's Perfect Biscuit" (which attracted no small controversy, due to its highlighting of biscuits that featured chocolate, duck fat and—heavens!—sugar), and the discovery that, despite McDonald's recent addition of all-day breakfast, you cannot get an Egg McMuffin past 10:30 a.m. in Georgia, due to our being in the "biscuit market," biscuits are au courant. Flagpole's own David Mack even featured them in his comic last week: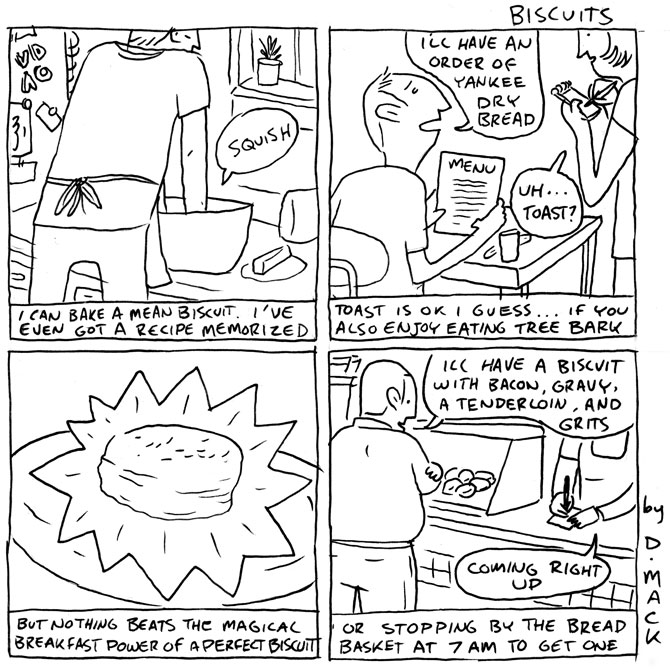 Mishan writes, "A Southern biscuit is equal parts comfort and controversy, its quality, authenticity and very classification as a biscuit subject to dispute. Its most crucial ingredient is not flour, fat, leavening or liquid, but nostalgia. The biscuit you ate at your grandmother's knee is the only biscuit there will ever be." To which the only proper answer is, "Bull." Nostalgia is a powerful thing, but it doesn't, or shouldn't, trump taste.
I have pulled over at countless convenience stores on small highways, drawn in by a sign reading "biscuits," only to be fairly disappointed with the results. Egg and cheese and sausage lead to marginal satisfaction pretty much regardless, but their enclosure is often lacking: too dense, too doughy, too apt to stick to the roof of your mouth. The Bread Basket, in Boulevard, is generally renowned for its offerings, but the fillings (varied, well-priced, served with a smile) are better than the biscuit itself.
Angie's Place (10336 Hwy. 72, in Hull, 706-546-6141) opens at 5 a.m. and serves its cathead biscuits until noon Monday through Saturday. The building is low and simple, with a mural of a train running across the front to mirror the railroad on the other side of the highway. Four windows each bear a line of a little rhyme: "Buttermilk Biscuits/ Here We Go/ Round and Round/ Whip That Dough." Biscuits are sliced and assembled from pre-cooked ingredients in a hurry. If you require jelly, you can dip yourself some out of two large tubs at the end of the counter. The cheese grits are pretty minimal, done a little too thin and under-salted. Fried chicken comes in both regular and spicy versions. Your best bet is probably the pork tenderloin on a biscuit, which you can accessorize with gravy but does not require it. It has a kind of meaty simplicity that isn't as obvious or crowd-pleasing as the salt-bomb of the sausage.
Better than Angie's but more of a drive from Athens is Gina Belle's (530 General Daniels Ave. N., in Danielsville, 706-795-0288), which serves breakfast and lunch most days, but breakfast only on Saturdays, when it closes at 11 a.m. I had planned on checking out its lunch options, which are well reviewed, but chairs were up on tables and things were shutting down. Thankfully, there were still biscuits and some fillings on the steam table, and they turned out to be excellent. Gina Belle's also does the flat, ginormous style of biscuits known as "cathead," but they're both more delicate in texture and a touch saltier than at Angie's. The browned crust, which can bland out at many a biscuit retailer, is particularly good, and the country ham, sliced thin, pairs perfectly with the whole package.
In Athens (well, Bogart, technically), Strickland's (4723 Atlanta Hwy., 706-548-7003) is still the gold standard when it comes to the classics, with biscuits available with traditional fillings in the a.m. and plain, as a bread with lunch offerings in the p.m. That said, Jarad Blanton at The Pine (1235 S. Milledge Ave., 706-208-0059) is making a strong case for himself with the restaurant's Biscuit Brunch, served Saturday and Sunday from 10 a.m.–2 p.m.
As you hoof it up the hill from the parking lot in the back, should you not be able to snag one of the few spots in the front, you'll pass the folks who opted for Waffle House instead, perhaps soaking up last night's debauchery with some old-school grease. They shouldn't have written off the place next door. Sure, you can't hear "Waffle Doo Wop" at The Pine, but Blanton's basic buttermilk biscuit with sausage gravy is just as capable of treating your hangover. Tall rather than flat, it manages to stand up to the intensity of the gravy with housemade sausage and a faint hint of citrus, the delicate yin to the gravy's ballsy yang.
Blanton says his Southern grandmother made biscuits when he was growing up that were always his favorite thing; she taught his mother how to make them, and his mother taught him. His food has always had gusto as a hallmark, and he says he uses bacon fat in all his roux and confit, but the lightness of the biscuit is an even more impressive achievement. The brunch has a small menu, with a few flatbreads, some other more complicated biscuits, pimento cheese grits and, post-12:30 p.m., a smoothie that incorporates Cathead Vodka and spicy Blenheim ginger ale.
Like what you just read? Support Flagpole by making a donation today. Every dollar you give helps fund our ongoing mission to provide Athens with quality, independent journalism.