This past summer has been about as eventful on the food scene as any in my memory. We had major closings, some of which came as a big surprise. We had major changes, as beloved institutions moved quarters. We had a few nice openings and the promise of more in the near future. Yes sir, summer 2013 was like a mild earthquake throughout the Athens food industry. If you've been out of town, here's what you missed.
By far the biggest news of the summer was Farm 255's closing. Rumors spread regularly about the restaurant shuttering pretty much throughout its life. Considering its focused mission and large staff, in some ways it was surprising that it stayed open so long. But with the original owners moved out of Athens for some time, the passion wasn't necessarily there on anyone's part to run the big ol' ship, so it ground to a halt. Chef Whitney Otawka, who had been a pleasure to watch calmly running things in the open kitchen, signed to Hugh Acheson's Cinco y Diez, a Mexican restaurant he plans to open in the former Five & Ten, in Five Points, so it's good news that she's sticking around, and that that space isn't becoming a Little Caesar's or something.
The closing of Farm also meant the shuttering of Farm Cart, which really kicked off the (still tiny) food truck scene in Athens and provided nice eats at Normal Bar on Thursday. Thankfully, Farm's large and lovely restaurant space won't be unoccupied long. Vanessa and Juan Molina's Broad Street Coffee, a vegan eatery that has a devoted following in its current petite space at Broad and Hancock, will be changing names (to Echo), ramping up its offerings and moving in on West Washington Street, beginning this month.
Also closing was Five Star Day Cafe, an equal shocker and primo downtown location. Various folks have supplied various reasons for the closing, but regardless of the answer, the potato cakes, soul chicken, meatloaf and more are sadly missed.
Five & Ten's move seemed to go as smoothly as possible, with the restaurant being closed only a few days before reopening in its larger, lovelier home on Milledge, in a historic property designed by architect Fred Orr. Rather than ripping out the walls inside, Acheson let them stand, respecting the building's integrity and creating interesting (if at times somewhat isolated) spaces. The menu shows little difference, either in its interests (it's always in flux depending on what's in season) or its prices. Things run well. The coffee space just off the bar maintains the fancy wallpaper from the previous tenant, and serves light open-faced sandwiches on weekdays from 10:30 a.m. to 2:30 p.m.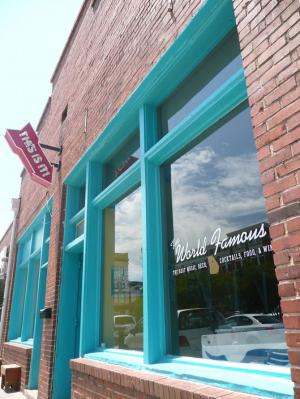 The World Famous, Bain Mattox's tiny music venue in the former Wilson's Soul Food on Hull Street downtown, started serving its tasty bar menu at lunch, too, leading to an explosion of interest in its cuisine, which is delicious stuff.
Opened over the summer or just before were Journey Juice (cold-pressed organic juices in Normaltown), Zoe's Kitchen (Mediterranean franchise on Alps), Groucho's Deli (deli franchise in the former Sudz on Baxter), Botanas (Mexican on Broad), Tin Drum (franchise pan-Asian in Beechwood), Marker 7 Coastal Grill (seafood in Five Points), Normaltown Cafe (country cooking out in Danielsville), Wingspan (a mobile wings and burgers trailer on Chase Street), Junkyard Dawgs (burgers and hot dogs on Commerce Road) and Bulldawg Wings and Tropical Grocery (weirdness on Baxter). Sam's Food Mart on Prince added beer growlers. And although neither opened in the summer, Grub Notes reported on the eats available Friday afternoons at the First Class Laser Car Wash on South Milledge (yummy, meaty, Indo-Pak) and weekends at the Pendergrass Flea Market (worth a trip).
Closing were Rustica (Normaltown; soon to be replaced by Hi-Lo, Joey Tatum's music venue/bar/eatery), Silver Lining Cupcake Co. on Baxter, the Watkinsville Tlaloc (to become a La Cabaña de Don Juan), Al's #1 Italian Beef downtown, A Tavola in the Bottleworks (theoretically to move elsewhere) and the Harris St. Locos, which remains open for special events.
Taj Mahal, the Indian market on Baxter, moved to Broad, near Alps; Hendershot's Coffee Bar opened in its new, bigger location in the A Tavola space on Prince; and Jittery Joe's Roasting Company announced that it will move to the quonset hut on Barber, due to the Selig development. Highwire Lounge and Stuffed Burger both remodeled and reopened, and the latter added brunch.
As far as what's coming up, the most eagerly anticipated opening (which may have even happened by the time this runs) is that of Thom Leonard's Independent Baking Company, which took over the former Strand salon in Five Points. The building is now gleaming white, the interior well equipped with some serious stuff and the sign hung outside. Leonard has quite a reputation in the bread world, and I have high expectations. Mimi Maumus's home.made catering on Baxter started lunch mid-August, serving her lovely deviled eggs, pimento cheese and other Southern lunchy things.
Also coming in Normaltown is another bar, in the former Jewels, called The Old Pal and focusing on craft cocktails. Between it, Hi-Lo and Normal Bar, plus the growlers in Sam's, the area should be thoroughly toasted. Mama Bird's Granola, which makes a nice product, plans to open a physical space with community kitchen soon, in Hull. Grilled Teriyaki on Broad is about to be Little Bull, serving Puerto Rican food. The spot next to Jimbo's on Baxter that once upon a time was Ronnie B's, then Butt Hutt, then Runt's is set to become Fat & Happy BBQ in the near future. Watkinsville is getting a Southern place called Stellar, and Winterville will soon have Little City Diner. Franchise-wise, Baxter is getting a Pizza Hut across from the dorms, Insomnia Cookies is moving into downtown and the Five Points Deli/Local Jam space will be taken by Atlanta breakfast chain J. Christopher's.
So welcome back! Remember to keep up with the Grub Notes blog, where news is posted regularly, and don't forget to eat out at your favorite places. After all, they could be gone tomorrow.
Like what you just read? Support Flagpole by making a donation today. Every dollar you give helps fund our ongoing mission to provide Athens with quality, independent journalism.