Much as we continue to grow in other ways, the T-shirt that reads "Athens, GA: A Drinking Town with a Football Problem" is not inaccurate. Even if you choose not to imbibe, if you're young and you like to go out and socialize or see music, you're going to end up with a lot of late nights downtown. No matter how much people complain about shows starting too late, it's not a very solvable problem.
That said, the saying "nothing good happens after midnight" doesn't have to apply to food. I'm not saying I've never been to Krystal or Taco Bell at 2:30 a.m., digging through the change drawer in my car to scrape up enough for a snack, but my function here is to point you to some better options. There are many chains and franchises that do late-night eats—foremost among them Waffle House, which even has a branch downtown—but they're less interesting to talk about. This list is by no means comprehensive, but it does seek to be catholic in its tastes and point you, perhaps, to some more exciting options than McDonald's.
Once upon a time, there was a perfect solution at the very end of the night, and its name was J.B. the Original Polish Sausage Man. Set up directly outside of the 40 Watt Club, he grilled his sausages, stuffed them into a soft bun, topped them copiously with sautéed peppers and onions, plus yellow mustard and the infamous "comeback sauce" (a salty-sweet-spicy-sour combo punch) and handed them over with a fair bit of banter.
But the restrictions on food trucks are tough, so a J.B. sighting is much rarer these days. Now, you have to cast your net wider to find the perfect comestibles to soak up a few too many PBR tallboys. Still, the offerings have improved and expanded. The best late-night meal is clearly still a fried-egg sandwich on well-toasted bread with grain mustard and some sharp cheddar, made by you in your own kitchen, but the following are some decent substitutes. (As a bonus, we've included some reader-submitted photos of local folks' late-night eats.)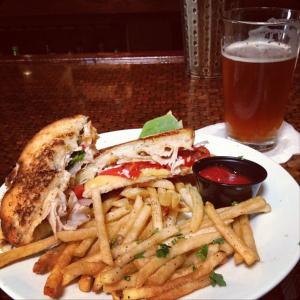 Classics
Little Italy
Little Italy is a classic for a reason. Its NYC-style slices and gigantic sandwiches are available until as late as 3 a.m. It's fast, cheap and consistent, a perennial favorite for sobering up at the end of the night—not to mention you could theoretically come home with leftovers for the next morning. Its no-nonsense staff does a great job keeping unruly customers in line (literally). 125 N Lumpkin St., 706-613-7100
The Grill
Open 24 hours, since 1981, The Grill is not only great for burgers, fries (with feta dressing) and shakes late at night, when even other late-night eateries have closed, but also a fine option for vegetarians who want to go beyond pizza, with veggie burgers and a great grilled cheese on multigrain bread with honey mustard and sprouts. Starting at midnight, you can also order from the breakfast menu. The Grill's staff has seen it all. Someone should really write a book. 171 College Ave., 706-543-4770
Taco Stand
This list is short on Mexican eats, and although Taco Stand is in no way authentic anything (other than authentically Athens), who wouldn't want to eat a Herschel Burrito (BBQ pork, black beans, jalapeño coleslaw) or opt for the fantastic simplicity of T-Stand's basic cheese quesadillas with peppers and onions? 247 E Broad St., 706-549-1446
Something Different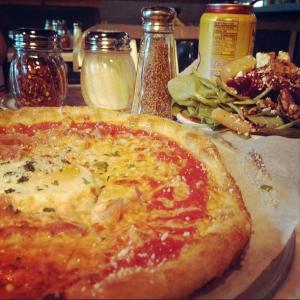 Streets Cafe
The only food truck currently working downtown Athens that attempts anything beyond hot dogs, Streets sets up at Max Thursday through Saturday nights from 9 p.m. until at least 2 a.m., as well as at Terrapin Beer Co. in the late afternoon. Chef/owner Ryan Morgan likes to play with cross-cultural flavors, cooking up Korean BBQ tacos, a Korean-accented deep-fried hot dog (topped with pickled cucumbers and radish), takoyaki (fried octopus dumplings) and lovely little pork sliders with chipotle sauce. His menu is often in flux, depending on his current interests. Facebook is the best way to keep up with his whereabouts and specials
The World Famous
David Eduardo and Bain Mattox's tiny music venue/drinkery also features a muscular menu of gourmet bar food served until 2 a.m. by Jarad Blanton, whose cherubic, bearded face can be seen through the little window that looks into the kitchen. The waffle iron is broken too often for my liking, but when it's not, you can get a marvelous chicken-and-waffle sandwich with bourbon-maple butter and homemade hot sauce. The pork steamed buns might be the single best late-night option on this list: sort of like soft, thick little tacos, they enfold a small pile of shredded slow-cooked pork, hoisin, excellent red miso pickles and sweet chili mayo. The poutine (French-Canadian cheese fries with gravy) is equally delicious as a gut-bomb. [Flagpole Review] 351 N Hull St., 706-543-4002
Lay-Z Shopper
Downtown Athens' sole bodega, Lay-Z Shopper offers a full array of convenience store food until 4 a.m., plus smokes, poker chips, nonalcoholic drinks and awesome made-to-order deli sandwiches. Boar's Head meats and cheese are sliced on the spot and assembled into well-balanced creations that can seem healthy in comparison to most other options at that hour. 361 E Clayton St., 706-356-1115.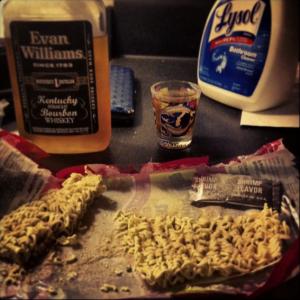 Dawg Gone Good BBQ
Open until 2 a.m. Thursdays and 3 a.m. Fridays and Saturdays, this tiny space across from Little Kings Shuffle Club attracts a sizable crowd for its ribs, pork, chicken and sausages with classic sides including mac and cheese, potato salad, yams and slaw. If you want a meal, not just a helping of fat and salt, Dawg Gone Good is your place. 224 W Hancock Ave., 706-613-9799
Eat Hibachi
Despite seeming merely like a place to get a boring rice bowl (which you certainly can order), Eat Hibachi also is Athens' only Korean restaurant. Why not be adventurous and go get a big bowl of steaming-hot kimchi soup after a night out? Or bibimbap, the Korean method of getting rid of leftovers (a large bowl of rice topped with veggies, grilled meat, fried egg, etc.)? Korean pancakes, bulgogi (BBQ beef), jobchae (sweet potato noodles with meat and veggies) and more await those with interesting tastes. It's open until 3 a.m. Thursday through Saturday. 131 East Broad St., Suite A, 706-548-7441
The Rooftop at the Georgia Theatre
Run by the folks downstairs at The Branded Butcher, the Georgia Theatre's rooftop has fantastic views, a lovely, almost beachy atmosphere and a great little kitchen doing creative eats until relatively late (hours vary). You don't have to have a ticket to the show downstairs to participate in the fun up top, or to eat Matt Palmerlee's awesome deviled eggs with sriracha, veggie banh mi or charcuterie platter (usually a couple of nice cheeses, salami, housemade jam, olives and bread). Looking for more traditional drunk food? They also make a nice little burger, a chili cheese and slaw dog, pork or tofu tacos, cheese fries and a BBQ sandwich. Yum. [Flagpole Review] 215 N Lumpkin St., 706-850-7670
Sweets
Always Baked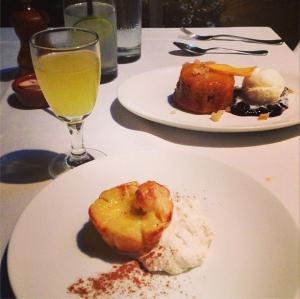 Our local late-night cookie delivery service/retail store is about to get some competition from a cookie franchise opening nearby, but the local joint's offerings—with Georgia music-inspired names like the "Almond Brothers" and the "SpotieOttieDopedelicious"—really hit the spot if you're jonesing for sweets past midnight. (They're open until 2:30 a.m. or later on the weekend.) Plus, the owners give all profits to charity. 268 N Jackson St., 706-850-5478
Pauley's
More than just a daytime crêperie, Pauley's has built a following through remaining open until 2 or 3 a.m. most nights, with a big selection of beer. If you want to pretend to sophistication, you can go for the crêpes, either building your own or picking a predefined combination of ingredients both savory and sweet. Slices of Cecilia cakes are available as well, should your tastes run to sugar rather than salt. 134 E Clayton St., 706-549-0034
Off the Beaten Path
Pulaski Heights BBQ
It's not exactly downtown, and it's not exactly the wee small hours of the morning, but those who define late-night a little earlier shouldn't miss the $5 deal Chuck Ramsey's restaurant runs. From 10 p.m. until he runs out, you can get a BBQ pork sandwich and a Miller High Life for that minute amount. Plus, the bar is open until at least 11 p.m. [Flagpole Review] 675 Pulaski St., 706-583-9600
Inoko Sushi Express
This branch of Inoko is out on the Eastside, in the Kroger shopping center, but it's a hidden resource if you want late-night sushi. Fast and cheap but clean and well-executed, its offerings aren't super high-end, but they're a great choice for something different, especially if you're in the area. Open until 1 a.m. Friday and Saturday. 2301 College Station Rd., 706-546-5662
The Varsity
It's a bit of a hike from downtown, but there's something charming about the Atlanta-based home of "What'll-you-have?" and not just during football season. Chili dogs, slaw dogs, onion rings and a Frosted Orange could be a perfect way to round out your night. The Varsity is open 'til midnight Friday and Saturday. 1000 W Broad St., 706-548-6325
Like what you just read? Support Flagpole by making a donation today. Every dollar you give helps fund our ongoing mission to provide Athens with quality, independent journalism.