Athens-Clarke County commissioners will vote today to urge the state legislature to approve a new district map drawn by Democratic Rep. Spencer Frye that would allow three progressive commissioners to keep their seats and tens of thousands of voters to remain in their current district.
Four Republican legislators who represent parts of Athens—Reps. Houston Gaines and Marcus Wiedower and Sens. Bill Cowsert and Frank Ginn—introduced a map earlier this month that would prevent commissioners Melissa Link, Tim Denson and Russell Edwards from running for re-election this year by placing them in districts that aren't on the ballot until 2024. Their map would put two-thirds of Athens voters into new districts and create three open seats on the commission.
They introduced the map despite the commission voting 7-2 in December to send the legislature a locally drawn map that made minimal changes to the current districts only to equalize their populations based on 2020 Census data. However, three commissioners—Mike Hamby, Ovita Thornton and Allison Wright—refused to support the locally drawn map despite warnings that a lack of consensus would open the door for Republicans to redraw commission districts without public input or local support. Hamby, Thornton and Wright have frequently feuded with the commission's younger progressive majority, and several other commissioners have accused them of conspiring with Republicans to oust progressives.
Frye denounced the Republican-drawn map in strong terms, calling it an effort to thwart the will of Athens voters who'd elected Link, Denson and Edwards by overwhelming margins.
"This is literally taking the vote away from Athenians. It's disruptive to the democratic system of government," Frye told Flagpole. "They're not even picking up Republican [seats], which I could accept, because that's what redistricting is designed for, but to disrupt the democratic process, I'm very disappointed with my colleagues. This is what we've come to expect from the party of Trump.
Like several commissioners, Frye noted that the four Republicans introduced the map on Jan. 6, the anniversary of Trump supporters storming the U.S. Capitol to stop Congress from formally counting Electoral College votes.
"This is a joke—messing around with peoples' lives and laughing about it," he continued. "It's got to be one of the largest subversions of democracy I've ever witnessed. Certainly something we'd expect from a banana republic and not the United States of America."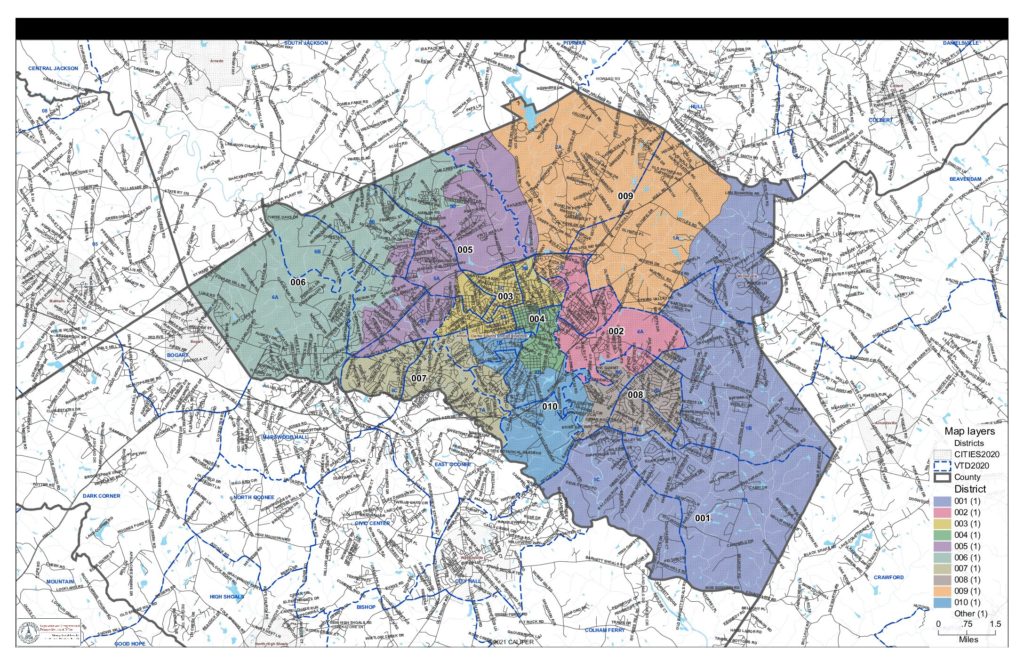 Frye said that his map accomplishes many of the same stated goals as the Republican-drawn one, such as creating a fourth majority-minority district, while also keeping incumbents in their districts, keeping neighborhoods like East Athens intact, splitting fewer precincts and reducing the potential for voter confusion.
Cowsert, Ginn, Gaines and Wiedower did not respond to requests for comment.
Several commissioners reacted enthusiastically to Frye's map. Denson organized a rally outside City Hall at 4 p.m. today that will feature speeches from Frye, commissioners, Mayor Kelly Girtz and voting rights advocates. At 4:30 p.m. the commission will hold a called meeting to vote on lending their support to Frye's map.
Like what you just read? Support Flagpole by making a donation today. Every dollar you give helps fund our ongoing mission to provide Athens with quality, independent journalism.