Three progressive Athens-Clarke County commissioners won't be able to run for re-election if a new commission district map proposed by Athens' four Republican legislators is approved.
Races in odd-numbered districts are on the ballot in 2022. But a map introduced last Thursday by Republican state Reps. Houston Gaines and Marcus Wiedower and Sens. Bill Cowsert and Frank Ginn places commissioners Melissa Link, Tim Denson and Russell Edwards in even-numbered districts that aren't up until 2024, meaning they'll have to relinquish their seats. Link is paired with Commissioner Marah Parker, Denson with Commissioner Jesse Houle and Edwards with Commissioner Mike Hamby.
"They basically ousted us," Edwards told Flagpole. "What a way to commemorate Jan. 6."
Redistricting is a mandatory once-a-decade process to adjust populations after a census. The state legislature is responsible for drawing state House, Senate and congressional maps, and also has the authority to approve local maps. Those state legislators had put ACC officials on notice that they would draw their own map if a locally drawn version that made only minor tweaks didn't pass the commission unanimously.
Two commissioners, Hamby and Allison Wright, voted against the local map last month, while Commissioner Ovita Thornton abstained, despite their colleagues pleading with them to support it. "The Athens-Clarke County mayor and commission have been unable to reach a consensus; therefore, this delegation worked to create a draft map," according to a news release from Gaines, Wiedower, Cowsert and Ginn.
Although he didn't specify who, Cowsert told WGAU's Tim Bryant last week that three commissioners had called him to say they appreciate the new map.
Hamby, Wright and Thornton did not respond to Flagpole's request for comment. Other commissioners, though, placed blame on their colleagues who voted against the local map, while also accusing Republicans of usurping the will of Athens voters.
"If you can't beat them, suppress their votes. If you don't like their policies, divide their votes to make it hard for them to run," Commissioner Patrick Davenport said by email. "Athens is overwhelmingly Democrat, but we now have one extra Republican state representative with only one Democrat state representative out of four. Athens is also represented by two Republican state senators. And now three of my colleagues who are up for re-election are surprisingly drawn out of their districts who overwhelmingly won their elections [in 2018] even preventing a runoff. Pay attention folks, this is what voter suppression looks like. The fight never ends."
Republicans unilaterally redrew ACC commission districts in 2011, as well, but kept all 10 incumbents in their districts. This time, they're taking it a step further by drawing commissioners out of their districts.
"Instead of carving up communities of interest to protect incumbents, we took the approach of keeping neighborhoods and communities of interest whole to reach [an] equal population in each commission district. Our proposal is more geographically compact. It has less deviation in population, ensuring the principle of 'one person, one vote.' This map also includes four minority opportunity districts that have a population that is less than 50 percent white. It also doubles the current number of these opportunity districts in Athens-Clarke County, which is one more than as proposed by the commission and gives greater minority representation in Athens-Clarke County," the Republican delegation members said in their joint news release.
The map proposed by ACC this year, though, is based on the map that Republicans themselves drew 10 years ago over the objections of local officials and voters. Republicans also said at that time that their map would result in greater minority representation, but for several years the commission had only one Black member. It now has three, two of whom supported the local map and opposed opening the door for the GOP to draw one.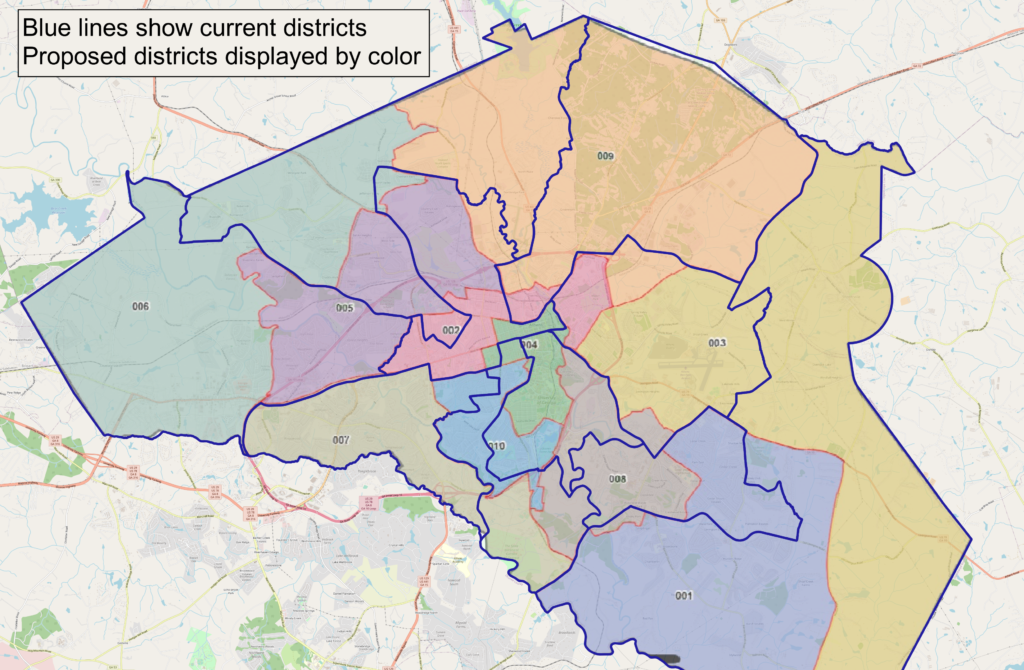 Meanwhile, the districts of the three commissioners who objected to the locally drawn map remain largely untouched. One of them, Wright, specifically objected to a dividing line on Gran Ellen Drive, where houses would be in one district but their mailboxes across the street would be in another. The Republican map creates the exact same issue for Davenport along Morton Road.
Commissioner Carol Myers called the map "a political tsunami." Even those commissioners who remain in their districts would have radically different constituencies next time they run, and many Athens voters will find themselves in new districts, said Myers, who took a training class on redistricting and spoke in favor of a fair and transparent process at an Athens hearing held by the House and Senate reapportionment committees.
"One of the guiding principles repeated at both sessions was to not draw elected officials out of their districts," Myers said. "This whole thing is the opposite of a transparent process with public input, something my three colleagues who did not support the local maps approved by the commission in [December] were so concerned about. This is a politically motivated move to rebalance our county commission in a direction that better suits our Republican state reps and senators and to dilute the power of progressive county commissioners fairly elected to our local government."
Edwards wasn't the only one to see symbolism in legislators choosing to introduce their map on the anniversary of Trump supporters' insurrection at the U.S. Capitol. "If the events of January 6, 2021 and the subsequent slashing of voting access and partisan takeover of the election system in our state was not enough to convince you that Republicans hate democracy and will exercise fascist control when given [an] inkling of opportunity, I present your new Athens-Clarke County Commission district map," Link wrote in a Facebook post.
Link told Flagpole that a lawsuit is under consideration. However, it's likely that the GOP-drawn map would hold up in court, according to Anthony M. Kreis, a UGA graduate and constitutional law professor at Georgia State University.
"Barring strong evidence of racial gerrymandering, it is very hard to bring a successful lawsuit against political maps. If voters of color are denied the opportunity to meaningfully select elected officials of their choice, litigation could work, but that's not what appears to be happening here," Kreis said. "This is a line-drawing perhaps intended to target incumbents and diminish progressive representation. That may be an unsavory proposal as a matter of good governance in the sense that conservative legislators are trying to interpose the General Assembly's unfriendly hand in local Democratic politics. However, political lines drawn primarily for ideological, partisan or incumbency-related reasons aren't unlawful as a general matter."
Like what you just read? Support Flagpole by making a donation today. Every dollar you give helps fund our ongoing mission to provide Athens with quality, independent journalism.