Do you often find yourself chatting up a musician and suddenly discovering they play in or with half a dozen bands around Athens? You would find the same to be true of Elijah Johnston, but he's built an inspiring network that continues to propel him forward in his mission to grow as an artist.
When Johnston moved from Snellville to Athens five years ago to attend UGA, he already had a couple of albums streaming—although the releases were much more "arbitrary" than purposeful. During his time at the university as a music business school student, Johnston went on to produce two more projects that helped define his sound, but the arrangements came from a need to record the songs he played live that fans had become familiar with at shows. This time around, the pandemic changed his perspective and goals as an artist, resulting in the meticulous album Day Off that will be released under his name Friday, Jan. 14. Although the songs were written pre-pandemic, the album was recorded in the middle of it and reflects the state of music.
"There was no current, 'Oh we have to make sure we can play this live.' It was like, 'Let's just get in the studio and put as many parts in it as possible,'" Johnston explains. "I think there was a bit more attention to detail in the studio and in the recording of it. There isn't anything in it that feels like an afterthought."
As of Flagpole's print deadline amid once-again shaky times for live music, an album release show at Flicker Theatre & Bar is slated for this Friday at 9 p.m. with support from Nicholas Mallis and Mary Margaret Cozart.
While Johnston's live performance and recording process includes a multitude of collaborations, two main team members are at the core of arranging Day Off alongside Johnston: his brother Gideon Johnston and fellow Well Kept bandmate Tommy Trautwein. As a release under the We Bought a Zoo Records label, Trautwein had a significant role in producing the entire album while also playing bass and occasionally guitar on the tracks. All three musicians have their hands in a number of projects and groups, from Well Kept and Wanderwild to Drew Beskin and Hotel Fiction. For Johnston, these collaborations have been valuable learning experiences.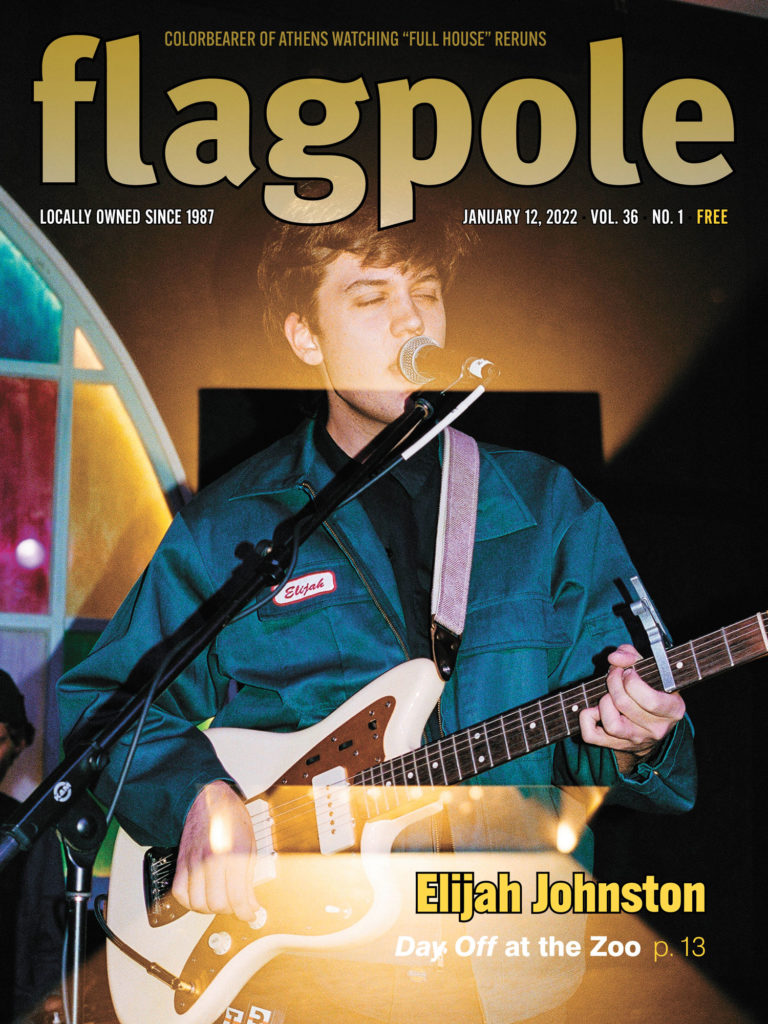 "Being in Well Kept has been helpful because Tommy is there, and he's very professional and very structured and organized. I'm good friends with Jess and Jade from Hotel Fiction, and have gone on a couple shows with them far out of town and seen the benefits of touring. Even my brother, he's very driven and hardworking to be better at his craft, which has been helpful to learn and be motivated to be a better player, be a better musician all around," says Johnston.
More than a group of musicians, this group of friends organically came together under the We Bought a Zoo Records umbrella. The intertwined collaborations led to Johnston and Trautwein discussing how to connect all of their involvements, and they came up with the amusing idea of a record label. We Bought a Zoo Records was a name Trautwein suggested—drawn from the 2011 comedy of the same name starring Matt Damon and Scarlett Johansson—that stuck with everyone the most, and it became a practical demarcation of the projects Trautwein produces. However, in a larger sense, it's a group of friends collaborating together while also working on different but related projects.
Back in the beginning of November, the main artists who put out music under the label came together for a one-day festival at The Lewis Room at Tweed Recording. To start the year off with a taste of what this conglomerate has to offer, a surprise live album, We Bought A Zoo Records Festival Live at the Lewis Room, will be released on Jan. 21. It will feature one song from each artist that performed at the fall festival, including Well Kept, Hotel Fiction, CannonandtheBoxes and Zac Crook in addition to Elijah Johnston. This "fun little appetizer," as described by Johnston, provides a taste of each individual artist after you listen through his collaborative album.
While the WBAZ bunch trade songs back and forth from time to time, their individual inspirations in songwriting separate the music from all melding together as one sound. Johnston notes that being inspired by fellow musicians' hard work and effort rather than the actual sounds being created helps to keep what he does as Elijah Johnston unique and identifiable as himself. Described as an emo singer-songwriter and aspiring pop star, Johnston grew up listening to experimental electronic and ambient music that has influenced his approach to creating.
"There's moments on the album where I was thinking a lot about texture and thinking about sound in sort of [a way] how you look at a canvas rather than this is just a piece of the song."
WHO: Elijah Johnston, Nicholas Mallis, Mary Margaret Cozart
WHERE: Flicker Theatre & Bar
WHEN: Friday, Jan. 14, 9 p.m.
HOW MUCH: $10
Like what you just read? Support Flagpole by making a donation today. Every dollar you give helps fund our ongoing mission to provide Athens with quality, independent journalism.