The Atlanta Falcons are in the Super Bowl. Perhaps you've heard.
If you're a Falcoholic, like myself, this Super Bowl is something you've waited for for a long time, even if you had your doubts it would ever happen. (The team hasn't made it this far since 1999.) But it is happening. Miracles are real, and the Atlanta Falcons are in the Super Bowl. If it seems like I still can't believe it, that's because I can't.
But those of you who have followed the team for a while don't need to hear anything from me. You're ready to rise up on Super Bowl Sunday, Feb. 5, and beat some Patriot ass. Today, I'm talking to the casual Super Bowl watcher in Athens. The ones who may be unsure about this whole "The Falcons are the greatest team that ever existed and will defeat any foe they come across" deal.
To those of you who are used to going to a Super Bowl party to chill with friends and have a good time as a neutral observer, I'm here to explain why that won't fly this year. You're living in Falcons Country, it's the Falcons' time, and you should be a Falcons fan. Other than rooting on the hometown team, here are some reasons why you should have jumped on the Falcons bandwagon, like, yesterday.
That Offense: Everyone likes scoring. Making money is called a score. Having sex is called a score. A score is an objectively good thing. And the Falcons do a ton of scoring. With almost 34 points per game this season, the Falcons led the NFL in scoring. Quarterback Matt Ryan is a machine—he had the best season of his career—and the running back duo of Devonta Freeman and Tevin Coleman is the best pairing in the NFL.
There's also the matter of "Air Julio" himself, receiver Julio Jones. (To those Georgia fans who don't pay attention to the NFL and haven't seen Jones since he was at Alabama, it's OK. We like Julio now.) He's gone scorched-earth this season, and there's no reason to think New England's defense can stop him.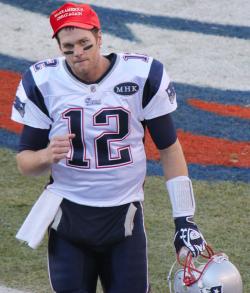 Photo Credit: Original Photo by Jeffrey Beall/Wikimedia
The Camaraderie: Everyone at your Super Bowl party will be cheering for the Falcons. OK, Boston sports fans spread like the plague, so there may be a few Patriots knobs at your shindig, but a fat majority will be Falcons faithful. I'm not big on peer pressure, but it's a helluva lot more fun cheering for the same team as everyone else at your party than it is cheering against it.
Get in on the Ground Floor: The Falcons have drafted well over the last few seasons and have created an exciting, young, talented team. The way it's constructed, Atlanta is set for possible sustained success over the next half-decade or so. This may be only the first trip to the Super Bowl of a handful over the next few years. If you want to be a part of that, start rooting for Atlanta now. The bandwagon will stop accepting tickets should the Birds emerge from the Super Bowl victorious, so get your seat while it's hot.
Good vs. Evil: The two most famous Patriots—QB Tom Brady and head coach Bill Belichick—support Donald Trump. Meanwhile, the Georgia Dome sits in Georgia's 5th Congressional District, represented by civil rights hero John Lewis. You may remember quite the public kerfuffle between our nation's Giant Baby-in-Chief and Lewis from a few weeks back. Cheering for the Falcons should be a matter of state pride after what Trump said.
Now look at the fans of each team: The Patriots boast Mark Wahlberg, Bill Simmons and Steven Tyler (as well as, presumably, Trump). Falcons fans include Samuel L. Jackson, Gucci Mane, Future and Jimmy Carter. Do I need to say more?
Rise up, Athens.
Like what you just read? Support Flagpole by making a donation today. Every dollar you give helps fund our ongoing mission to provide Athens with quality, independent journalism.