Amidst widespread marijuana decriminalization and easing of pot laws nationwide, a certain weed-related product is garnering a lot of buzz—but it won't give you a buzz at all. Cannabidiol, more commonly known as CBD, has risen in popularity nationally, as well as in Athens, especially in the last year.
Commonly confused with THC—the main active ingredient in cannabis—CBD is not psychoactive. This means it cannot be used to get the "high" feeling commonly associated with marijuana. Instead, CBD affects the body, and its primary uses are for relaxation and pain relief. CBD can be found at almost any smoke shop and many convenience stores, and since it is not currently regulated by the FDA, there are a myriad of different products and brands available to consumers.
Salina Nelson has been the manager at Remedy Herb Shop in Athens since 2005, and she says CBD is new even to her. "We have so many people come in to ask about or buy CBD, which wasn't the case when I first started here," Nelson says. "I've heard so many success stories from our customers."
These customers include one group most wouldn't expect: baby boomers. Nelson says much of the market for CBD is made up of older people who suffer from chronic pain, whether due to arthritis or injuries. Normally, she says, after they try CBD, they call back or come in one or two days after and tell her how much it worked for them.
According to a 2018 article published by AARP, seniors are among the primary consumers of cannabis for health-related purposes. As of March 2018, people 50 and older made up 36 percent of patients on the medical marijuana registry. Since marijuana is often only available on a prescription basis, if it is available at all, CBD is much easier for seniors to get, especially if they only need to treat mild anxiety or pain.
This rise in popularity has also affected the Athens market. Athens' first CBD-exclusive retailer, Your CBD Store, opened on Atlanta Highway in January. Co-owner Igor Andrusceak says the store has been much more successful than he thought it would be.
"There's such a stigma around CBD, and we were kind of nervous about opening a store in Athens," Andrusceak says. "People have been a lot more open-minded than expected."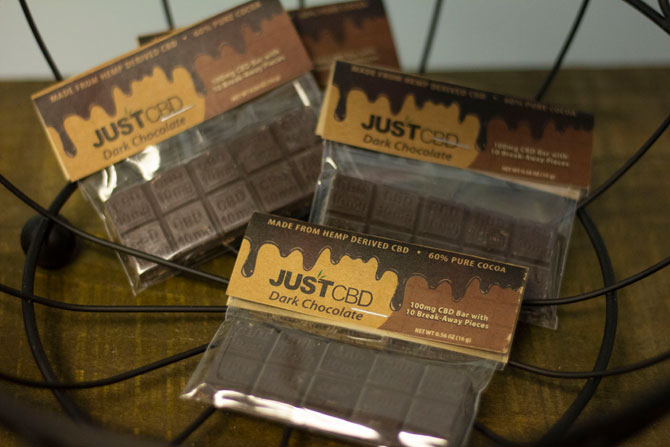 Photo Credit: Savannah Cole
Your CBD Store has adopted a boutique-like atmosphere in order to target a customer base that may not go into a typical vape shop. There is a kid-friendly lounge area where customers can sit and try free samples of CBD products, such as topical creams.
The store has done so well in its first three months that Andrusceak and his wife, co-owner Jackie Parker, plan to open another location across from Aldi on Gaines School Road this May. Your CBD Store is part of a national chain that expects to open 500 stores this year.
In spite of all the reputed benefits of CBD, users should still take caution when trying a new brand or product. Since CBD is not regulated, there is a lack of published research about its uses and side effects, and those who sell it do not have to abide by any drug laws or regulations. Though it has been clinically proven to be effective at treating some forms of epilepsy, much of the evidence that CBD helps with issues like pain relief and anxiety is still anecdotal, making it akin to buying a product based only on the reviews. Just because it works for one person does not mean another user will react the same way.
Yet Nelson says the non-regulation of CBD is a good thing for both sellers and consumers. She says if it were to become regulated, it may only be available through a prescription, similar to medical marijuana.
"It would be pretty negative if CBD turned pharmaceutical, because a lot of people benefit from being able to walk into a store and buy it," Nelson says. "If that happened, law enforcement could ask us to remove all CBD from our store, and we would have no choice."
Though it comes from the same plant, CBD's proponents stress that it differs from marijuana in almost every way. Andrusceak says the most important thing anyone who is looking to try CBD should know is that it is not a recreational substance.
"CBD is not for people to get high—it's for people to get healthy," Andrusceak says. "And that's that."
Like what you just read? Support Flagpole by making a donation today. Every dollar you give helps fund our ongoing mission to provide Athens with quality, independent journalism.