When they're not performing or helping us present this year's list of Flagpole Athens Favorites winners with a whole heap of style, our two fabulous featured drag queens—Jacqueline Daniels and Ming Vase-Dynasty—can frequently be found around town eating, drinking or simply chillaxing with friends. With such knowledgeable and opinionated assistants as these, we had to get the lowdown on their own favorite local haunts.
Flagpole: What's your favorite restaurant in Athens, and why?
Jacqueline Daniels: It's Mama's Boy, because sweet-tea-brined fried-chicken biscuit with pimento cheese! But really, who doesn't love breakfast food?
Ming Vase-Dynasty: I find myself referring people to Hi-Lo Lounge time and again. The food is delicious. Katie [Gasperec] has done a wonderful job giving so many amazing vegan and vegetarian options. It is, hands down, my favorite brunch spot. And since they are also a bar, Jon [Andrews], T. [Silva] and Ian [McCord] crafted some delicious signature cocktails for an after-dinner treat. Of course, the staff there is amazing… And there is the off chance that one Monday you might catch a certain terrible Asian harpy hosting a Creature Comforts-sponsored movie night.
FP: What's your favorite bar?
JD: I'm not a drinker, but some of my favorite places to visit are Sister Louisa's Church for the craziness and Jon McRae with no shirt; Hi-Lo Lounge, because who doesn't love a HUGE hot dog and homemade fries; and The Grotto, because there's something about walking down a dark staircase to have an awesome specialty cocktail.
MVD: Friday and Saturday nights, there is no place I'd rather be than Manhattan Cafe. It's the perfect spot for a group hang on the patio. Or maybe grab a corner booth for an intimate conversation on your Tinder date. Or just a howdy to steel yourself before your Grindr "date." I don't know your life.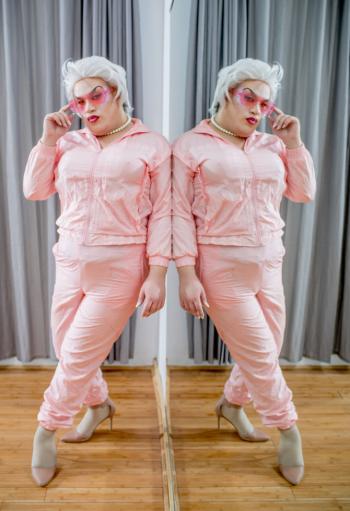 Photo Credit: Jason Thrasher
FP: What's your favorite thing to do in Athens on a sunny day?
JD: Hit Marti's at Midday for some curry chicken salad and pita chips, grab the pups and head to Memorial Park for an afternoon picnic.
MVD: Much like the tender touch of a lover after Dick's mysterious disappearance, I haven't felt the caress of the sun in some time. However, if I must leave the web in the corner of your room that I sleep in but you can't see because it's just out of your line of sight, I suppose I will take up a non-intensive sport that requires one to wear a fun outfit, like croquet. Or a picnic at the botanical garden.
FP: What about on a rainy day?
JD: Rainy days equal nap time.
MVD: Contrary to The Carpenters, rainy days seldom get me down. If there are no murders for me to solve—fortunately for the population of Athens, we are no Cabot Cove—I love soup and board games during a stormy day. The Rook & Pawn comes to mind. Or maybe I'll grab a pie from Automatic Pizza and do a horror-movie marathon at home.
FP: What queen in town—besides yourself—has your favorite style?
JD: Honestly, one of my favorite queens is Ming Vase-Dynasty. She can turn a themed costumed like no other, including hair and makeup.
MVD: It depends on which sort of style you're talking about. I tend to be most aesthetically pleased by queens with styles totally different than mine. My Boyball [Boybutante, the annual drag fundraiser for AIDS Athens] babes Yasmine and Jacqueline Daniels have wonderful pageant style. Larger than life. Dripping in jewels. Hair all the way up to God and back again. Anything Miss He wears looks couture; they're so beautiful it makes me sick. I hate them. They're my sister. I love them.
Cola Fizz's style is wonderful and perfectly avant-garde. The other day, I thought she was sitting in the corner of my room, and I was like, "Girl, what are you doing here looking like that creepy Annabelle doll?" But it just turned out to be my muppet with a trash bag under her.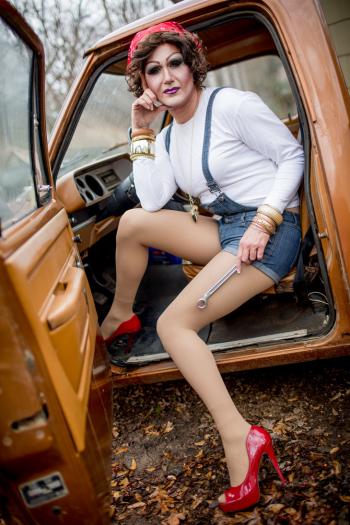 Photo Credit: Jason Thrasher
FP: What's your favorite annual Athens event?
JD: My favorite annual event is the Boybutante Ball. I've been working with the Boybutante AIDS Foundation for several years, and it's very dear to my heart. It truly is a party for a cause!
MVD: I feel like saying Boybutante is cheating, even if the juxtaposition of Boyball and G-Day is beautiful. AthFest is another predictable answer, but what other weekend in Athens will I get to enjoy the sights and sounds of the Athenian musical melting pot? Plus, it's like if the Rose Parade were floats solely devoted to hookups past, present and yet-to-come. Whereas Twilight is like the Macy's Day Parade with floats solely devoted to future Mr. Ex-Vase-Dynasty.
FP: What's your favorite thing about Athens?
JD: The thing that struck me when I first visited in 1998 and still feel living here now is that even as Athens has grown so much it still has a small-town feel. There's a strong townie presence that keeps it feeling like home.
MVD: I love Athens. I wasn't raised here. But I did grow up here. I feel like we work toward equality and justice. Minorities here are given the opportunity to have their voices heard, supported and given a seat at the table. Like any community, things aren't perfect, but we will rally around and support those who have been wronged and need support. It's people like Mariah Parker, Jennifer Weishaupt (with Girls Rock Camp), Lemuel LaRoche (with Chess and Community) and Lesley Cobbs (with Nuçi's Space) who make this community so wonderful and powerful…
Like Asgard, Athens isn't a place. It's a people. And we have good, kind, caring people. Also, like Asgard, I have an army of magically undead creatures dormant beneath the surface waiting for when I call on them to rule the land. So, that makes Athens special, too, I guess.
Like what you just read? Support Flagpole by making a donation today. Every dollar you give helps fund our ongoing mission to provide Athens with quality, independent journalism.