Dr. Angela Dodd (Animal Wellness Center of Athens)
Flagpole: What's a typical day like for you?

Angela Dodd: There's not a typical day, and that's kind of one of the things I enjoy about what I do. No day is exactly the same as the last.

FP: What is the most interesting pet you've ever treated?

AD: I feel like something interesting happens every day. I once treated a very large turkey [that] stood about 3 feet tall—a pet turkey. I treated a raccoon with a green-bean can stuck on its head. He was found by people walking in the woods… We had to sedate him to take it off. As a technician, I used to see snakes. Sometimes I was told they were going to be in the room and sometimes I wasn't, as just a fun little something. "Get a temperature on Rocko." And then I was like, "He's room temperature." You see all kinds of crazy things.

FP: What's the biggest misconception about veterinary care?

AD: When people bring their aging pets in to see us, and we have to begin the process of coming up with ways to make them comfortable and address end-of-life decisions, invariably at some point the comment is made, "I don't see how you can do this job, it's so sad." True, facing the loss of an important part of the family is awful, and we feel that sadness to the very core of our being, but we also are able to have a glimpse at one of the most pure, unconditional examples of love that exists: the bond of love between an animal and their person(s).
FP: What advice would you give someone considering a career as a veterinarian?

AD: Best advice I ever got was, "Make sure you follow your passion—try to make a living doing something you never get tired of doing." I watched my parents complain for my whole life about how much they hated their jobs, and I was determined that I would choose something I loved.
FP: What should people do if their pet has eaten drugs or other toxins?

AD: Always, the best advice is to seek professional veterinary help immediately. There are times when it is appropriate to induce vomiting, if an animal eats something they shouldn't, and there are other times when the item could cause just as much harm coming back up as it did going in… Call your local veterinarian [or] emergency center if after-hours, or the ASPCA has an animal poison-control hotline to call—888-426-4435—and they should be able to advise.
Dr. Mel Cown (Athens Animal Hospital)
Flagpole: What's a typical day like for you?
Mel Cown: The day starts at 8:45 with a clinic walk-through, and checking on the boarding pets in the kennel. I see appointments from 9 a.m.–noon. From noon–3 p.m., I perform any scheduled surgeries, then appointments again from 3–5:30 p.m.

FP: What is the most interesting pet you've ever treated?

MC: The most interesting animal I've treated wasn't a pet per se, but rather an otter that we were rehabilitating for the Georgia Department of Natural Resources. He was so naturally inquisitive, congenial and, of course, adorable.

FP: What's the biggest misconception about veterinary care?
MC: I think our profession has taken a public relations hit over the last few years. Every veterinarian I know will put service and their patients' welfare above their bank account balance. That being said, most of us are small business owners with taxes to pay, families to support (and spend time with) and payroll to meet.

FP: What advice would you give to someone considering a career as a veterinarian?

MC: If you want a career that is very rewarding, but requires lifelong learning, long days and a few sleepless nights, and if you can't imagine yourself doing anything else—go for it! It helps to have empathy and a good rapport with people, as well as a great bedside manner with your patients, because it is the owners that are emotionally invested [in] and financially responsible for their pets.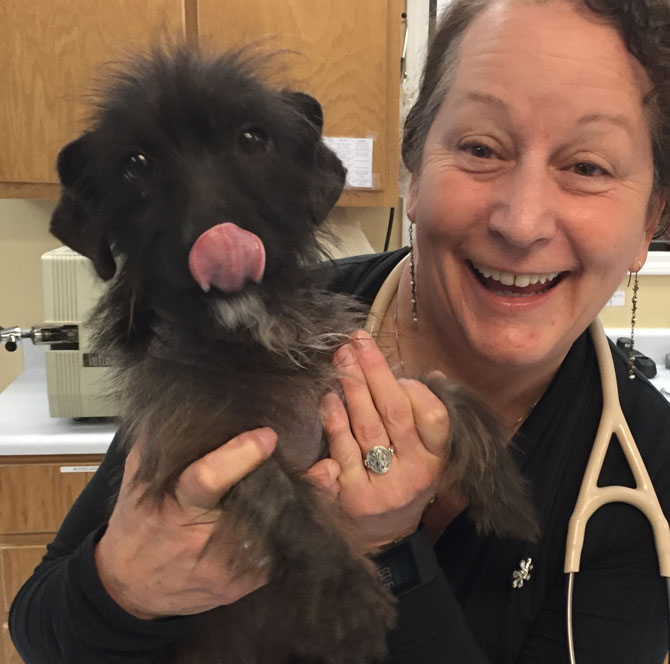 Dr. Jenifer Hope (Hope Animal Medical Center)
Flagpole: What's a typical day like for you?
Jenifer Hope: We arrive ready to see any pets that have come in from being at an emergency hospital and may still be in critical condition. There may be pets that are already there who are very sick. I also look at the surgery patients and see if any laboratory testing is needed before the procedure. Then the other vets and I start dividing up any cases and patient appointments. We hope to complete the surgeries before lunch, so the patients can recover and head home the same day. Meanwhile, there are appointments for vaccinations and for sick pets throughout the day. There is usually an emergency or a sick patient needing to be seen on short notice, and that appointment is worked into the schedule.
FP: What is the most interesting pet you've ever treated?

JH: There have been some very unusual animals I have treated or done surgery on: lemur, skunk, chicken, ostrich—one weighed over 200 pounds—a Caribbean boa constrictor that weighed over 35 pounds, camels, chameleon, ferrets and rats.
FP: What's the biggest misconception about veterinary care?
JH: You have to be a very good communicator in the veterinary field. We have to be able to obtain a good history to help diagnose the problem, and we have to convince owners to treat their pet. You also have to be able to feel empathy and express it to the owner. We choose this profession because we love animals and want to make life better for them and their owners.
Which leads me into the second misconception: We do this for love, not for money. Overall, the pay is much lower than for the human side of medicine. I think people should know we have to earn a four-year college degree and then attend veterinary medical school for an additional four years. It is a costly eight years, and many have significant school loans to pay after graduation. It is not glamorous, but it is worth it. I wouldn't choose any other career, and I did not choose this one to become rich. That is probably why I am very happy.
FP: What advice would you give to someone considering a career as a veterinarian?

JH: There are many career paths in our field. You can be like James Herriot and practice on all types of animals and perform surgery. There are also jobs in teaching, research, CDC, public health and government, including the U.S. Army. You can perform your job in any location with appropriate training and license. I have had the opportunity to help in Haiti, Africa and in Afghanistan, much like the Peace Corps, by helping the local population improve their livestock care and production. You can work on any animal, including fish and water mammals.
Also, if one does not want to go to school for eight years, there are veterinary technicians who are able to assist and get hands-on jobs with the animals, much like the nurses. There are veterinary staff who concentrate in areas such as surgery, dentistry, zoo animals, sea animals, farm animals, etc. There are so many areas and so many opportunities in our field.
Like what you just read? Support Flagpole by making a donation today. Every dollar you give helps fund our ongoing mission to provide Athens with quality, independent journalism.