Despite a rise in DIY enthusiasm in recent years, as evidenced on websites such as Etsy and Pinterest, sewing is in danger of becoming a lost art. But for the group that meets every Monday evening at the community center in Rocksprings public housing, it's a source of community-building, joy and hope.
The two-dozen or so people gathered around sewing machines tonight are mentors or adult students in the Women to the World foundation's local PALS (Partnering Ambassadors for Life and Service) program, which provides GED and vocational training as well as various life skills courses to Athens women in need. Other PALS classes have ranged from CPR and first-aid training to photography.
This course is Phase 2 of the "PALS of Athens Musicians" initiative to create a local sewing cooperative. Once the women in the class master basic sewing skills, they will begin producing pillow dolls that celebrate local music-scene luminaries. Prototypes featuring Of Montreal's Kevin Barnes rest on a table near the refreshments.
The project is the brainchild of Emily Blalock, a lecturer in the department of Textiles, Merchandising and Interiors at UGA. Prior to creating the sewing co-op, she traveled with Women to the World founder Doris Aldrich to Burkina Faso, where she led an entrepreneurship class for women. Through the university, Blalock developed the Ghana Community Trade Program, which connects female entrepreneurs in the Ghanaian textile trade with female boutique owners in Athens. Under her supervision, UGA students on an interdisciplinary study abroad trip are able to act as buyers for the Athens stores.
"I grew up in a single-parent household," says Blalock, "and I watched my mom work really hard, like sometimes three jobs at a time, and I just have a very special passion for women, adult women. I've been fortunate enough to work with women in Burkina Faso and a little bit in Ghana, and so I'm just excited to be part of something in Athens, which has women who are so needy and hungry and want to make a better situation for their families."
All 12 of the women in tonight's sewing class are studying for their GEDs. They also participated in an entrepreneurship course taught by Blalock last fall and winter, which was Phase 1 of the program. Though many more women in the PALS program were interested, Aldrich and Blalock decided to keep the new project small at first, not wanting to spread its resources too thin. They have been impressed by the dedication of the women chosen and their eagerness to learn —on the first day of class, every one of them showed up half an hour early.
From the outset, PALS of Athens Musicians has been a true community effort, with volunteers from all walks of life donating their talents.
The seed money that allowed Phase 2 to get underway was raised by a fashion show in April produced by [amb]ientmade productions and featuring the designers of Community. The [amb]ientmade team—Alexis Sturgess, Meredith Thornhill, and Brandon Spell—began with only $300 to produce the show, but donations from local businesses and an audience of 200 people helped them raise $910 for PALS of Athens Musicians. This contribution paid for sewing machines and other needed materials.
All artwork was donated by friends of Blalock, and sewing aficionados of various ages and backgrounds have signed on as mentors.
Tonight's training session is led by Lillian Kincey, a retired school administrator. Kincey has plenty of experience teaching others to sew; she founded and still advises the Young Designers Sewing Club, which serves students in grades four to eight from Gaines Elementary and Hilsman Middle School. Her younger students have made pillowcases for the homeless shelters in Athens and a quilt for a children's hospital in Atlanta, and they have progressed to making their own clothes.
"To me sewing involves so many skills that it is perfect for young people to become involved in," she says. "It covers reading, lots of math, abstract thinking, problem solving, concentration, fine motor skills, task completion, self-esteem. I could go on and on." Working with adults has also been a pleasure, she found. "I love the fact the women want to learn something new and that they are so enthusiastic."
The mentors and students are clearly enjoying themselves as they work on piecing together patchwork squares to form small pillows. At the beginning of class, each student showed off the tote bag she sewed and decorated the previous week, while the others clapped and exclaimed. Mentors and students are all smiles as they pin their pieces and guide the fabric through the machines.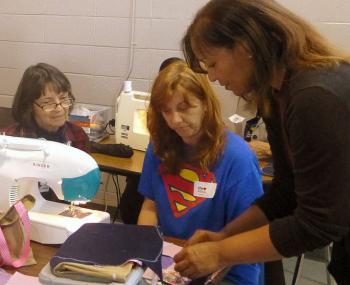 Photo Credit: Emily Blalock
Mentor Patti Hunt-Hurst, who heads the Textiles, Merchandising and Interiors department at UGA, has been sewing all her life and volunteered after seeing a poster on campus. "It seemed like a way to give back and do something fun," she says.
Wanda Maddox, who is working with Hunt-Hurst, has more sewing experience than most of the students; years ago, she worked at a sewing plant in Athens sewing the buttonholes on pants, and for fun she has done crochet, needlepoint and macramé projects. But this is her first time learning to create things with a sewing machine, even though her mother was proficient. "My mom used to sew clothes for us kids. She made our Easter dresses," she recalls.
Other students in the class had never done any kind of sewing before. "I'm learning a lot," says Angela Ware. "I didn't think I had the patience. But we're enjoying it."
Soon, the women will move on to making the pillow dolls. Apart from Barnes, the first batch will include likenesses of Hope For Agoldensummer's Claire Campbell, Widespread Panic's Dave Schools and Drive-By Truckers' Patterson Hood, and Blalock is currently working through R.E.M.'s office for permission to use Michael Stipe's image. The pillows, which will raise money to grow the program, will debut in a booth at this year's AthFest.
But pillow dolls are only the beginning. Once the women in the program have become proficient with sewing machines, clothing companies Spanx and Evoshield will begin offering contract work to them. Blalock's hope is to develop the program to the point where participants can earn a living wage with their skills.
"The mission of PALS of Athens Musicians is to give them real skills-training, which could provide job opportunities independently," she explains. "But we want to focus on pillow dolls first, just because Athens is music, and we want to get people's attention to PALS, to say, 'Hey, there are women who are struggling, but they want to make a difference, and they have tenacity, and they have passion. And the second thing, the long term goal, is small-scale Made in Athens sewing contracting."
Blalock and Aldrich hope that in two-to-three years, the project will be able to employ 12 women full-time and to gradually add more workers.
Though the program has received an outpouring of support, it still needs more volunteer mentors. (Women to the World is a faith-based Christian organization, but religious affiliation isn't required of participants or volunteers.) Additional sewing machines top their wish list, and fabric scraps are also helpful. Interested parties may also donate by writing a check to the Women to the World organization and indicating that they wish the money to go to PALS of Athens Musicians.
For more information, visit Pals of Athens Musicians on Facebook or womentotheworld.org. If you are interested in volunteering or donating, contact palsathmusic@gmail.com.
Like what you just read? Support Flagpole by making a donation today. Every dollar you give helps fund our ongoing mission to provide Athens with quality, independent journalism.