While a number of aerial artists will swing and soar overhead, Canopy Studio's upcoming production, Juniper Takes Flight, takes its inspiration from under the sea. Written by Bart King and illustrated by Jacob Wenzka, the local children's picture book Juniper Gets Wet describes the adventures of an imaginative young girl who refuses to let the rain stop her from going outside to play. Her travels take her far and wide, as the reader sees her sailing, snorkeling and steering a submarine through several fantasy realms.
Given the aquatic nature of the book, it seems fitting that the author and artist happened to meet while taking their daughters to the Forest Heights neighborhood pool.
"I was already a big fan of his painting when we met," says King. "In our first conversation, I mentioned I had been toying with the idea of writing a children's book, and he had just finished illustrating a project for a band and was interested to do more. What I loved about his painting was his beautiful use of color, particularly sunsets, and stark silhouettes."
After their introduction, Wenzka sent King a collection of concept illustrations of a girl who takes a rainy-day adventure. He had previously shown the images around in hopes of finding a writer to articulate her story, with no such luck. This time, however, King responded with a complete narrative in only a few days. Sharing similar backgrounds as musicians and being familiar with the challenges of collaboration, they find that their creative energies fed off of each other.
"I do the art, and he does the words, but we both really end up doing both. I make story suggestions and editorial suggestions, which we debate back and forth," says Wenzka. "He kind of works as an art director, reigning in all of my crazy ideas and storyboarding them into some sort of a coherent whole. Bart is really good at conveying ideas of what he wants done visually, and he has an excellent vocabulary for talking to artists. Really, he's every artist's dream to work with."
The idea to adapt Juniper Gets Wet into an aerial performance was sparked after Wenzka brought in artwork to help decorate for last summer's Splash, Canopy's annual water-themed variety show. Studio coordinator and director Deb Atwood immediately took a liking to the book—especially due to her interest in scuba diving, which she intends to incorporate into her own routine. King was also thrilled to collaborate, since he, his wife and their daughter have all taken classes.
"Canopy is more than exercise," says Atwood. "It is a beautiful place of healing and acceptance. It is a place of empowerment where people grow and learn to accept themselves, but also set goals and push past places they never dreamed they could."
The performance is comprised of 14 unique aerial pieces inspired by scenes selected from the book, which will be narrated by King and Wenzka. Canopy's usual apparatuses—trapeze, lyra, pole, slings, silks—will be combined with props like umbrellas and hits like "Yellow Submarine" and "Octopus's Garden" to portray Juniper's rainy-day adventures. Echoing the studio's philosophy that aerial dance is possible for all bodies and abilities, performers' ages span six decades, and experience levels range from beginner to advanced.
"Trapeze does more than just strengthen the body," says Ann Woodruff-Conley, a former special education teacher who now leads Canopy's outreach and children's programming. "It can also provide outlets for expression, increase confidence, body awareness, and change negative patterns."
As Canopy's annual fundraising event, proceeds from Juniper Takes Flight will help support the studio's various outreach programs, which aim to increase the accessibility of aerial arts by providing financial assistance and modified training when necessary. The five main arms of programming currently focus on students with special needs, students with family incomes of 150 percent or less than the federal poverty level, under-documented students for whom English is not a first language, body-positive classes for all shapes and sizes and "Over B-52s" classes for older adults.
"One of the things we want to let people know is that you do not have to be a cookie-cutter 20-year-old with the perfect body to take and succeed on the trapeze," says Atwood. "The bar does not know how old you are or how much you weigh."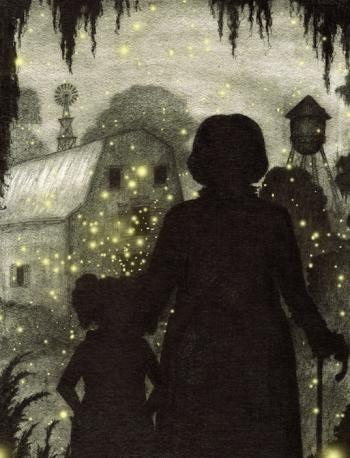 This event doubles as the launch of a Kickstarter campaign to support the printing of King and Wenzka's second book, The Girl Who Kept Night in Her Closet, which will have its own preview party at Hendershot's Coffee Bar in August. Showcasing Wenzka's talent for depicting shadows and silhouettes, the book's illustrations are almost entirely black and white, with the exception of the soft blue-and-yellow glows of stars and fireflies.
"My daughter was talking with my wife about bedtime and story ideas, and she just randomly said something about how I should write a story about a girl who keeps night in her closet and lets it out when she wants to sleep," says King. "I had just finished reading Neil Gaiman's The Ocean at the End of the Lane, and her idea struck me as having a similar kind of Magical Realism. I wrote the draft in one sitting and immediately felt good about it, and sent it to Jacob for feedback. He loved it, and we were on our way."
Juniper Takes Flight will be held at Canopy Studio this weekend, July 28–29 at 7 p.m. and July 30 at 2 p.m. Tickets are $10 at the door, and King and Wenzka will sign copies of Juniper Gets Wet before and after the performances. The book is also available to purchase at Avid Bookshop, and can be found at Trio Contemporary Art Gallery as part of the "Nasty Women" exhibition.
Like what you just read? Support Flagpole by making a donation today. Every dollar you give helps fund our ongoing mission to provide Athens with quality, independent journalism.