After a six-year run, the Farmington Depot Gallery will close at the end of this month. Located just outside of Athens, the unique co-operative gallery is housed inside a former train depot that originally operated in the 1800s. Nearby residents and founding artists Phil Goulding, John Cleaveland and Chris Hubbard noticed that the historic building was available to rent, and dreamed up a plan to transform it into an art space. After preparing walls, installing recessed lighting, painting and completing other general repairs, they opened the gallery as an oasis of art amidst rolling pastures.
The depot had a rotating cast of a dozen or so artists who co-owned and co-operated the business by contributing membership dues and a commission on sales, as well as staffing the gallery's visitation hours through rotating shifts. Several members also took on specific roles to keep operations running smoothly. Former member Jim StipeMaas and his wife, Skipper, played a major part in consulting with Lawyers for Artists in Atlanta to set up the LCC, while Matt Alston kept a watchful eye over finances as treasurer. Creative collaboration and a whole lot of cooperation were required among members, who all had their own career, family and studio obligations to balance, in order to agree on business decisions and organize community events.
"Personalities are really important in starting a co-op. Gather up folks that are not only talented but motivated, and that you can get along with," member Cheri Wranosky says she recommends to anyone hoping to launch their own co-operative gallery or artist space. "You also need folks dedicated to building and grounds upkeep, public relations and advertising, and workday schedules. Flexibility is also very important, as things can change quickly."
Farmington Depot Gallery succeeded in rounding up an eclectic lineup of artists who balanced fine art and folk art through their distinctive styles. Painters Cleaveland and Alston often find inspiration in their immediate surroundings, creating rural landscapes that reveal the simple beauty of the natural world. Both Hubbard and Michael Pierce repurpose discarded materials into artwork that touches on spirituality, Hubbard using scrap metal for wall-bound cutouts and Pierce combining branches, shells, nails and spools of thread into sculptural assemblages. Marian Maxey Smith pieces together vibrantly colored mosaics, while Holly. Just Holly makes ceramics in earthen tones. Goulding, Wranosky, Rick Herzog and Joni Younkins Herzog each have incredibly fascinating approaches to sculpture.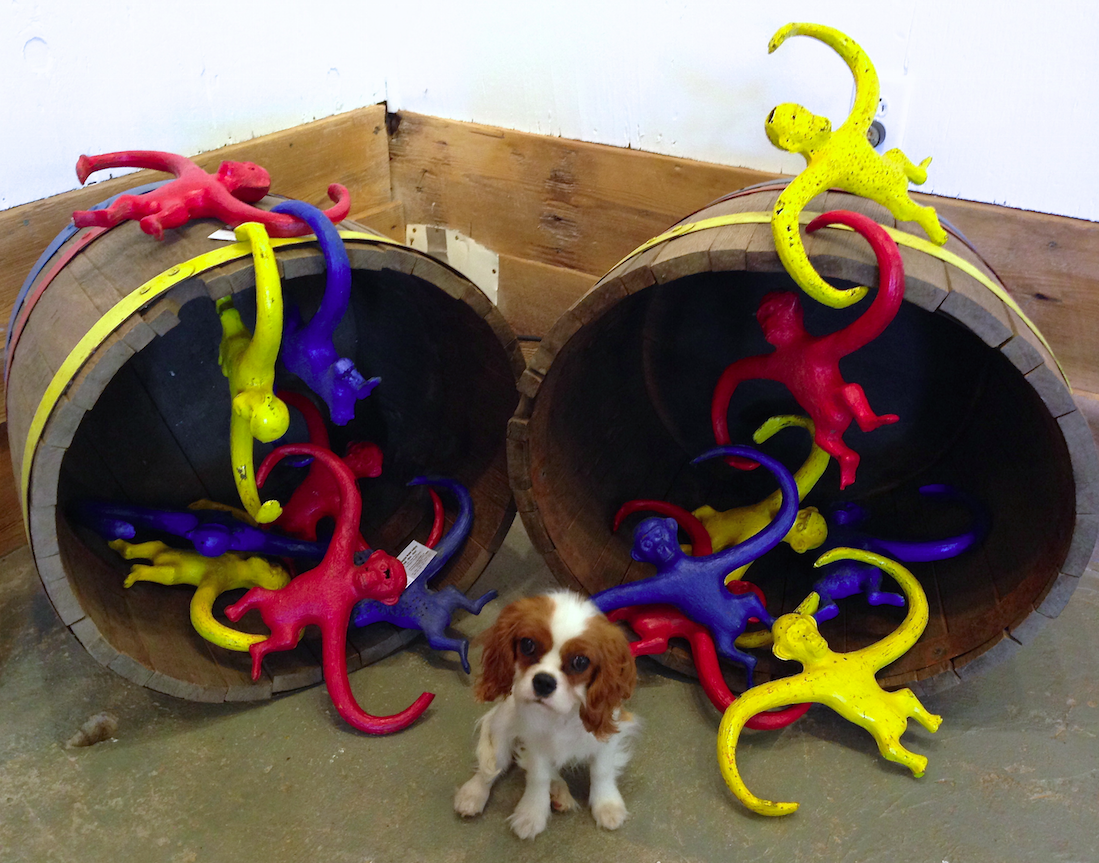 Photo Credit: Marilyn Estes
While the main space was full of both decorative and functional artwork, an adjoining wood-paneled room was typically dedicated to rotating solo exhibitions. Every other month, non-member artists from the community would be invited to share their creations, such as portrait painter Cameron Bliss, wood sculptor Kipley A. Meyer, ceramicist C. Larry Wilson and mixed-media artist Claudia Wilburn.
In addition to artist receptions, the gallery was anchored by multiple annual events, including Festifool in April, Festiboo in October and Holidaze in December. Artists would line up booths around the yard selling everything from paintings, prints and ceramics to tin animals, jewelry and fiber art. The depot excelled in establishing a laid-back, family-friendly environment that made art fun and accessible.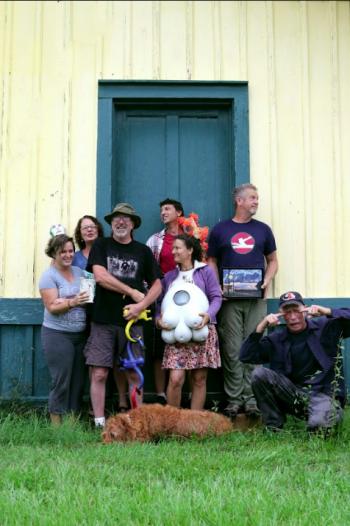 Photo Credit: Caroline Elliott
"I really enjoyed trying to help other artists get their work out into the world," says Cleaveland. "My favorite memories would be providing tractor rides for little kids and their parents. I have a pair of old tractors that I really enjoyed getting out and showing people our little community."
In addition, the festivals would frequently feature live music, raku demonstrations by Holly. Just Holly and "rocket head" performances of frightening pyrotechnics by Peter Loose—not to mention the guest appearances of his slow-roaming pair of gentle giant tortoises. It also wasn't uncommon to see an art car or two parked on the grounds, like Loose's literally titled "Snakes on a Van" or Hubbard's ever-popular "Heaven and Hell Car." "Those events were always fun and foolish times," says Wranosky.
Despite its best efforts, the gallery's decision to close was due primarily to a lack of sales. While its location may be considered by many to be off the beaten path—arguably part of its charm, considering all the pleasant cows and goats grazing sun-kissed meadows nearby—it never quite received the traffic from Highway 441 that members initially hoped for.
The gallery's closing reminds us, above all, that art is worth going out of our way to support.
"The Athens area has so much artistic and musical talent that it is hard to support everything that is happening," says Wranosky. "Taking time to come out to events, meeting the artists and supporting their work with words of encouragement is huge. Purchasing locally is essential for the artists and to a gallery's survival."
"If you think somebody's doing something important, buy their art," agrees Cleaveland. "When it's all said and done, it's expensive and time-consuming to create art. When someone buys a painting from me, they're telling me that my work and time that I spent making it are important enough to trade some of their hard work and time in the form of money."
Currently, there are no immediate plans for who or what will occupy the historic building next. The Farmington Depot Gallery will open at 11 a.m. on its final day of operation, Friday, June 30, with a closing party from 5–9 p.m. Artwork will be 25 percent off the entire day.
Like what you just read? Support Flagpole by making a donation today. Every dollar you give helps fund our ongoing mission to provide Athens with quality, independent journalism.