DECKS AND DECKS: Offering more than a handful of detailed illustrations to get lost in, kindred spirits James Greer and Mina Orion-Atlas Kim are sharing extraordinarily complementary artwork this month at Flicker Theatre & Bar. In addition to displaying framed pieces from their separate bodies of work, the exhibition serves as the official release of a limited-edition skateboard designed by Greer, as well as a preview of Paradox Tarot, a collaborative deck created between the two artists.
Visually, their styles share an emphasis on superfine detail and black-and-white media. Kim often incorporates mandala-like patterns that pull the eye in, while Greer excels at dizzying and meticulously executed dotwork and cross-hatching. Thematically, the two seem open to influences relevant to the human psyche, esotericism and the occult. Kim's works touch on ideas of infinity and the passage of time, as well as the ever-changing relationship between the body, mind and spirit. Often pulling inspiration from his dreams for narratives, Greer's illustrations exist as physical manifestations that document the hazy division between states of consciousness.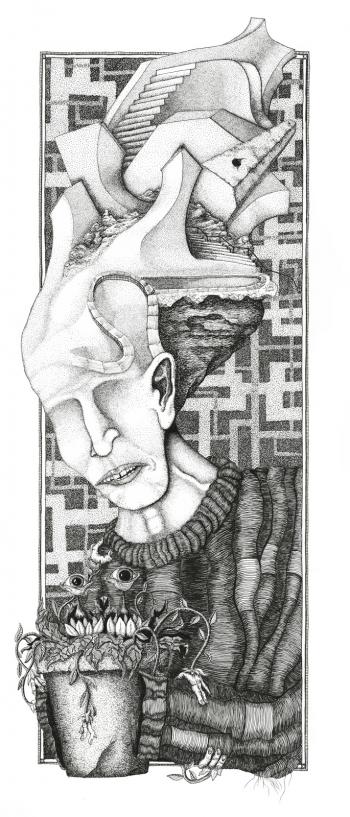 Greer's deck illustration was made for Good Time Skateboard Co., a small business founded by former Athenian and current Richmonder Ken Freeman, who is also a longtime friend of Greer. The meticulously detailed drawing centers on a character whose forehead gently slopes into an Escheresque landscape of staircases, handrails and ramps. Though the humanoid seems to lack eyes and hands, the potted plant he's holding fortuitously has both. Tiny fingers blossom like petals from the tips of sprawling vines, appearing to gently grip onto the arms of their carrier. The five senses are covered between the two, suggesting a strange but endearing symbiosis.
"Skateboard art is probably the first genre of art I was seriously obsessed with, starting at age 12," says Greer. "Back then, talent and originality abounded in that field. As a kid, I would spend hours in class filling notebooks with outlines of boards and drawing my own graphics."
An avid skateboarder himself, Greer combines two of his greatest passions in the collaboration with Good Time. The decks are hand-numbered with a limited run of 100, and orders can be made through goodtimeskateboards.bigcartel.com.
The orange wall at Flicker offers a glimpse into the forthcoming Paradox Tarot, which the duo plans to officially release around Halloween. Greer will illustrate the swords and cups, while Kim completes the wands and pentacles, and the major arcana—all those exciting ones like The Fool, The Lovers, Wheel of Fortune and Death—will be split between the artists.
Within divination, tarot readings are believed to reveal personalized insight into the inner workings of an individual's subconscious, so it seems fitting that artists have created stylized decks throughout history that are as unique as the interpretations they'll inevitably inspire. The cards themselves are often full of symbols and visual cues to indicate the card's significance, which provides a framework from which the imagination can go wild. Greer and Kim plan to document their progress through paradoxtarot.com.
Flicker will host an art reception on Friday, May 26 from 6–9 p.m., featuring individual tarot readings by Desiree Sharpe. Music will kick off around 7:30 p.m., with performances by Trees Biien (Ash Rickli), Caleb Darnell of The Darnell Boys, Brandon Hanick of Future Lives, Fart Jar, Reap and Multiple Miggs. In addition to picking up a skateboard, you can reserve originals, prints and pre-ordered decks from the Paradox Tarot.
FINISHING TOUCHES AT TRIO: More of Greer's work can be seen on the exterior of 766 West Broad St., the new home of Pixel & Ink Studio and Trio Contemporary Art Gallery. Over the past few months, the owners have made major strides towards completing the three-story building's renovations. All the while, Greer has been steadily designing a new mural for the facade where the large futuristic letters of "Money Machine" once hovered above the entrance to the beloved Secret Squirrel.
Greer's mural is fantastical and dreamlike, depicting two big-eyed, cloaked characters amidst a swirling design. Details like an old-fashioned keyhole, crescent moon through a floating window and fluffy yet big-clawed critter add to the mystery.
"I would like anyone looking at it to form their own story, but essentially it is a non-religious variation on the 'Ark' narrative," says Greer. "Two otherworldly beings are moving through the universe with the remnants of civilization in tow, searching for a new place to call home. They carry with them all of the things they could grab that they hold dear."
Though translating a small drawing into a massive wall painting has been one of Greer's most physically and mentally demanding artistic challenges so far, he manages to create incredible shading and depth through his trusted palette of black and white.
The first chance to see the space's completed transformation will be at the opening reception for Trio's inaugural group exhibition, "Nasty Women Athens," on Friday, June 30. Co-curated by Tatiana Veneruso and Melissa Lee, the show is part of a worldwide series demonstrating solidarity in the face of policies that encroach on women's rights and reproductive health.
Submissions of all media are welcome from anyone who identifies with the ideologies of Nasty Women, and images of work should be sent to trioathens@gmail.com by Saturday, May 27. Proceeds from the exhibition will support the Feminist Women's Health Center in Atlanta.
"Nasty Women Athens" will remain on view through Aug. 20, and will be followed by "Color Theory," a group exhibition presenting artists who focus on color as the central element within their work. Proposals will be accepted through July 31, and the show will run Sept. 1–Oct. 15.
Like what you just read? Support Flagpole by making a donation today. Every dollar you give helps fund our ongoing mission to provide Athens with quality, independent journalism.