Amidst shimmering waves of saxophone and bright piano notes bubbling to the surface, Sun Ra's warm, soothing voice gently reminds us that the "Sky is a sea of darkness when there is no sun to light the way/ There is no day/ There's only darkness/ Eternal sea of darkness." It's a tranquil song that conveys acceptance towards a simple observation of the natural world, but beneath the surface it resonates with the inherently unfathomable essence of existence and how easy it can be to lose sight when your world is flipped upside down.
"When There Is No Sun" is the song Atlanta-based artist Michi Meko put on to set the tone when I visited his latest exhibition, "One Last Smile Before the Undertow," currently on view at UGA's Lamar Dodd School of Art. Here, the "One Last Smile" refers to that of former President Barack Obama, and is immortalized through a bittersweet collection of portraits, each cropped right below his nose. Moving clockwise, the viewer is engulfed by a floor-to-ceiling, wall-to-wall mural that serves as a giant "navigation map." Large enough to fill most of one's peripheral field of vision, it's easy to feel submerged within the network of criss-crossing threads and chalky lines.
The exhibition includes a series of smaller, more densely detailed works that scatter geographical coordinates among shapes of black glitter and splashes of gold leaf. One's eyes quickly readjust to the exhibition's predominantly black palette, finding shadowy silhouettes and subtle textures when the light catches the surfaces of materials just right. A collection of wall-bound sculptures incorporating fluorescent orange life vests reinforces the idea of navigating still waters that run deep.
Unrestricted and fluent in a variety of media, Meko takes inspiration from both personal history and African-American folk traditions to create new narratives. "Undertow" challenges viewers to look within and ask themselves where they will allow the modern-day political rip current to carry them: Will you allow your fire to be extinguished, or will you rise up and make your own waves?
In what surely must have been an eerie discovery for urban explorers adventuring into the abandoned Southern Mill last year, current MFA students Alexis Spina (jewelry and metals) and Katherine Miller (printmaking and book arts) collected over 2,000 objects from around the site, then spent roughly 100 hours over the course of six months meticulously organizing them into a grid formation covering the floor of a 9,000-square-foot warehouse space. Their gallery installation, "355," named as a reference to the 19th Century textile mill's address at 355 Oneta St., is an extension of this project.
While the white-wall reincarnation shares the physical content and layout choice of the original, it's impossible to recreate the atmosphere of the decaying mill. Instead, the focus emphasizes the objects as relics, and sparks conversation about local history, architectural and object value, environmentally ethical reuse and gentrification. Stephen Parks, a visual communication and design MFA candidate at Virginia Commonwealth University, has contributed a series of photo books revealing the history of the project, as well as a sound piece incorporating noises recorded at the mill. Spina and Miller will offer a Lunchtime Gallery Talk in Gallery 307 on Wednesday, Feb. 1 at noon.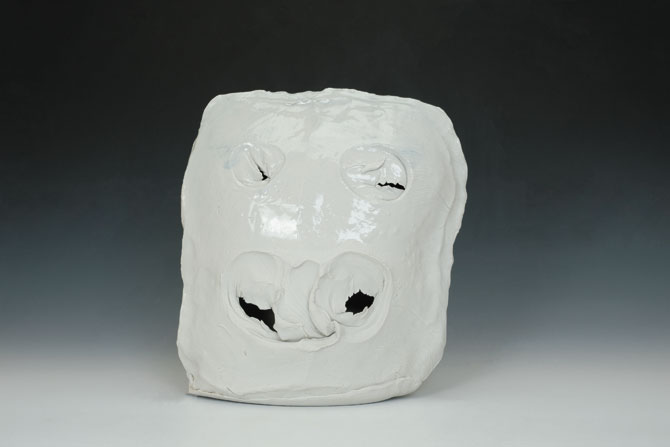 "Listening: Yeonsoo Kim" features engaging ceramic works that depict surreal and occasionally silly drawings sketched in deep blue. Last fall, the artist set the goal of creating a new hand-built vessel or mask each day as a way of exploring identity and listening to an inner voice. Drawn from that collection, this exhibition serves as a glimpse into his mind. Kim, who received a BFA in ceramics and glass from Hongik University in South Korea, is currently an MFA candidate in ceramics. He will offer a Lunchtime Gallery Talk in the Bridge Gallery on Tuesday, Feb. 14 at noon.
The gallery's fourth show of the season, the "2017 Undergraduate Curated Exhibition," showcases emerging talent in a wide array of styles. Organized by Candice Greathouse, director of Atlanta's Mint Gallery, highlights include works by Alison Kocher, Elyse Wilson and Braden Skelton, who use unusual objects like cigarettes, wooden eggs and an aquarium.
The art school has several special events lined up this month. Coalescing sound, video and installation art, "For You" is an interdisciplinary performance spearheaded by associate professor Martijn van Wagtendonk and materialized by over 40 visual artists and musicians. Students in his Thematic Inquiry course have partnered with students and faculty of the Hugh Hodgson School of Music to create an original work thematically focused on the idea of offering and receiving. Visual components of the project consist of a 16-foot boat, wooden pavilion and room full of dancing projections, while auditory elements include a rendition of composer Arvo Pärt's "Für Alina" performed by the 20-member choir Collegium Musicum, and Timothy Adams Jr.'s original composition "For You" performed by a percussion quartet. Groups of visitors will be hosted in 20-minute sessions from 6–8 p.m. on Wednesday, Feb. 1.
Programming continues with Historic Sunsets, an experimental pop quartet led by poet and multi-instrumentalist Thibault Raoult, on Monday, Feb. 6 at 5 p.m. Atlanta-based contemporary music ensemble Bent Frequency will present "The Innocents" on Thursday, Feb. 16 at 6 p.m. Based on Taryn Simon's photo essay, "The Innocence Project," a collection of portraits and interviews with individuals wrongly convicted across the country, the performance uses non-traditional instruments and electronics to explore the complexities of the American penal system. The Visiting Artist Lecture series will host Michael Strand, art professor at North Dakota State University, on Thursday, Feb. 9 at 5:30 p.m., as well as Christopher McNulty, art professor at Auburn University, on Monday, Feb. 27.
The galleries' current exhibitions will remain on view through Friday, Feb. 24.
Like what you just read? Support Flagpole by making a donation today. Every dollar you give helps fund our ongoing mission to provide Athens with quality, independent journalism.