Edgar Allan Poe's chilling yet eloquently articulated tales of mourning, loneliness, torment and death have survived for over a century, forever shaping the development of horror, detective and science fiction genres. Reflecting Poe's tremendous influence on the humanities—art, theater, literature and storytelling—Poe-tober pulls together the efforts of several local organizations for a full month of programming. The collaborative partnership is orchestrated by Melisa Cahnmann-Taylor, a poet and professor in the department of language and literacy education in the UGA College of Education, who received a "Big Read" grant from the National Endowment for the Arts.
Discovering through government surveys that too few Americans are reading for pleasure—about 50 percent of participants reportedly only read one work of a fiction a year—the "Big Read" was launched in order to support approximately 75 communities across the country. Similar to the NEA-funded programs associated with environmentalist poet Robinson Jeffers that were held last spring in town, the grant for Poe-tober supports visiting speakers and performers as well as copies of books which will be given away at events.
"Poe is a wonderful, monosyllabic name, a strong single beat that everyone can march to," says Cahnmann-Taylor. "While he has been known for macabre stories of burying people alive, haunted Usher houses and heartbeats beneath the floorboards, the music in his work and its playful yet dark qualities are those that appeal to a wide range of readers, mesmerizing us with incantatory delight."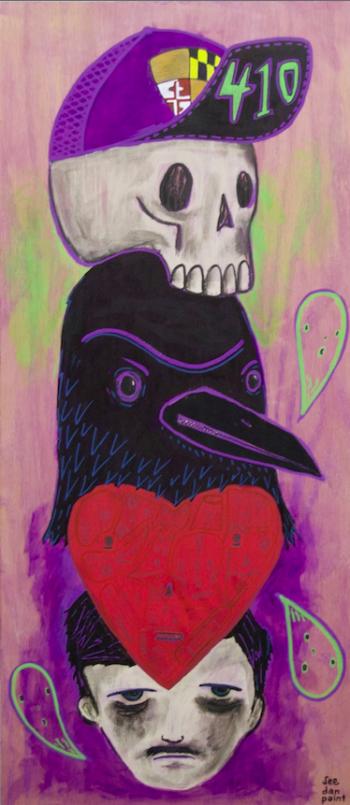 Demonstrating the author's undeniable impact on visual art, the "Poe-tober Art Exhibition" features over 50 artworks thematically inspired or aesthetically aligned with his literary works. Juried by TV Gallery curator Tatiana Veneruso, the show balances contributions from students attending Howard B. Stroud Elementary with just as many from professionals such as Margaret Agner, Jared Brown, Will Eskridge, Ginger Goekjian, James Greer, Dan Smith, Klon Waldrip and Jacob Wenzka. The Athens Clarke-County Library will host an award reception on Saturday, Oct. 15 at 3:30 p.m., and the exhibition will remain on view through the end of the month.
Breathing life into ghostly apparitions on stage, Rose of Athens Theatre presents Nightfall with Edgar Allan Poe at the Seney-Stovall Chapel on Saturday, Oct. 22 at 7 p.m. The production adapts four of his most famous and chilling tales: The Raven, The Fall of the House of Usher, The Pit & the Pendulum and The Tale-Tell Heart. The costumed cast intends to pop up at various other Poe-tober events throughout the month, and Rose of Athens will lead a Poe Pub Crawl with performances at Sister Louisa's, Manhattan, Little Kings Shuffle Club and Max Canada on Tuesday, Oct. 25 beginning at 7 p.m.
"It is an unbelievable privilege to work with the education directors and organizers from so many organizations. We are all carrying out a similar role—enlivening community participation and galvanizing an educated, united citizenry," says Cahnmann-Taylor. "To do this by inviting Athens patrons into the Botanical Garden, the public library, the Art Museum, it reminds us of how lucky we are to live in this wonderful town with access to so many programs that are free and full of beauty."
Poe-tober will culminate on All Soul's Day with Asian-German-American poet Kimiko Hahn, who will read from Toxic Flower, a collection of poems that parallel life science and botany to human science. Like Poe, Hahn frequently approaches macabre or taboo subjects. Consulate-General of Japan Takashi Shinozuka will provide introductory remarks during "Tradition and Poetry in Japan: Tanka and the Imperial Family," and a reception will be held afterwards with samplings of Japanese tea. The event will be held at the Georgia Museum of Art on Tuesday, Nov. 1 at 2 p.m.
"There is so much negativity in our news today, and our focus can be distracted on loss, grief, anger, disenchantment. Poe suffered a great many losses in his life and had much to grieve, yet his response was to make art, literature that would endure for generations to come," says Cahnmann-Taylor. "His sufferings became some of our country's treasure in words on the page. My goal for Poe-tober is to remind us of Poe's work and legacy, to place his work in readers' hands, and collectively imagine what we might create together for a better tomorrow. We live in diverse corners and often disconnected lives, but art and literature have the power to link us together and put us on the 'same page,' so to speak."
Poe-tober Schedule of Events
· Quoth the Raven Mask-Making Workshop: Led by Dr. Lynn Sanders-Bustle of UGA's art education program. Oct. 12, 5–8 p.m. $10. Lamar Dodd School of Art, room N311.
· Juried Poe-tober Art Awards and Exhibition. Oct. 15, 3:30–5:30 p.m. ACC Library.
· Boo-le-Bark on Boulevard. Oct. 16, 3–5 p.m. Boulevard neighborhood, ending at the Jittery Joe's Roaster.
· Poe Book Discussion: Hosted by Talking About Books. Oct. 19, 10:30 a.m. ACC Library.
· Nightfall with Edgar Allan Poe. Oct. 22, 7 p.m. $5–10. Seney-Stovall Chapel.
· Comics, Medicine, and Healing Through Story: Award-winning author and TEDx speaker Dr. Dana Walrath, whose anthropological work explores childbirth, genocide and death, leads a discussion on the role stories and images serve in healing and care. Oct. 25, 5 p.m. Lamar Dodd School of Art, Room S151.
· Poe Pub Crawl. Oct. 25, 7 p.m. Downtown Athens.
· Return of the Son of Listening in the Dark: An Evening of Spooky Stories for Grown-Ups: Co-sponsored by Reflecting, Sharing, Learning, the night features haunting tales by Evan Bush, Jackie Elsner, Eddie Whitlock, Joy Ovington and Donna Butler. Oct. 27, 7 p.m. ACC Library.
· Family Gallery and Poetry Event: Go on a spooky scavenger hunt, hear readings of selected poems by Poe, and write your own poems inspired by artworks in the museum's collection. Oct. 27, 5–7:30 p.m. Georgia Museum of Art.
· A Conspiracy of Ravens: Dress up with a raven mask, House of Usher hat or Poe-inspired costume to march in the Wild Rumpus Parade. Oct. 29, 8:30 p.m. Downtown Athens.
· Poetry Reading with Kimiko Hahn. Nov. 1, 2 p.m. Georgia Museum of Art.
All events are free unless otherwise noted.
Like what you just read? Support Flagpole by making a donation today. Every dollar you give helps fund our ongoing mission to provide Athens with quality, independent journalism.