Commemorating 80 years of clean drinking water in Athens, "Fire Up the Hydrants" presents 20 freshly painted hydrants, each creatively designed by a local artist. Encompassing most of the downtown area, from Thomas Street to Pulaski Street, the public art project draws attention to the value of water and the service the J.G. Beacham Water Treatment Plant provides.
"When I was little and growing up in Arlington, VA, I remember the hydrants in Washington, DC were painted in a patriotic theme to celebrate the bicentennial," says organizer Laurie Loftin, who works as an education program specialist for the Athens-Clarke County Public Utilities Department. "I loved it and, as a child, remember the excitement I'd feel when I spotted another painted hydrant. I wanted Athens to be able to create similar memories for children growing up here."
During a two-year planning process, Loftin sought guidance from similar public art projects in other cities, such as "Hydrant Hysteria" in Harrisonburg, PA and "Paint-the-Plugs" in Paducah, KY. Given the functional nature of fire hydrants—they must remain visible and accessible to firefighters at all times—research focused on how to pull off the project while not jeopardizing the community's safety. Each hydrant was prepped by being cleaned and scraped using a wire brush, then coated with an anti-corrosive primer to help the new paint adhere to the surface. Artists were provided with basic colors of marine paints, and a protective sealant was applied to each finished hydrant to preserve the work for two to five years.
More than 75 proposals were submitted through a blind evaluation process, with the selected 20 designs determined by a panel of judges representing the Athens Area Arts Council (including yours truly), ACC Fire and Emergency Services, ACC Public Utilities Department and the Athens Downtown Development Authority. Ensuring that designs would be weighed based on their creativity, rather than name recognition, the lineup includes a wide range of age and ability.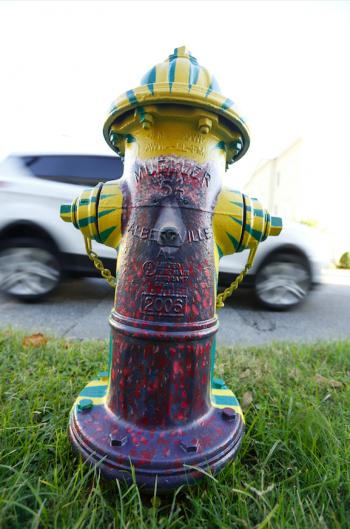 Photo Credit: Joshua Jones
Multiple hydrants painted by professional artists are immediately identifiable through their distinct styles. Well known for depicting Athens landmarks in a palette of primary colors outlined in loose, black brush strokes, watercolorist Jamie Calkin decorated his hydrant with iconic images densely surrounded by sunflowers. Reflecting his dedication to the advocacy of animal welfare through art, Will Eskridge's impressionistic bear stands before a halo of teal and yellow stripes. Dan Smith's fun design, a puzzle-like assemblage of personified objects, serves as an extension of his recurring "spontaneous monsterification" approach to painting.
For just as many participants, "Fire Up the Hydrants" marks the beginning of an artistic career. The project's youngest participant, Lillian Hammond Sams, is an eighth grader at Clarke Middle School whose hydrant, "Unidentified Firefighting Object," cleverly depicts an alien-steered spacecraft abducting a dairy cow—right outside of Ben & Jerry's. Athens Academy student Sofy Bertioli developed her design under the guidance of local artist and educator Hope Hilton, who used "Fire Up the Hydrants" to exemplify public art during youth classes held at KA Artist Shop.
"I see great value in this specific public art project. I hope it will put a spotlight on the importance of our hidden infrastructure. Most people pass by fire hydrants without giving them a second thought," says Loftin. "I want people to recognize that it isn't the hydrant that is special, but the water that comes out of it. That is what we and the firefighters depend on to put out fire. I hope people take a moment to think about how glad they are to have fire hydrants—and clean water—available to them. I want people to celebrate the value of water."
Naturally, many of the artists were inspired by aquatic environments and water itself while drafting up their designs. Scientific illustrator Katie Yost presents an array of freshwater creatures found in Georgia, while Ellen Walker's hydrant depicts friendly, cartoonish marine life beneath a rainbow beach umbrella. There are multiple Athens-centric creations too, such as Ashley Crain's postcard-like "Georgia on My Mind" hydrant outside of City Hall and Sheridan Soileau's "Athens Rocks!" guitar hydrant outside of the Georgia Theatre.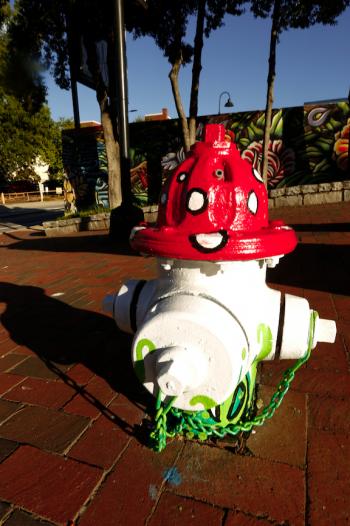 Photo Credit: Joshua Jones
Some of the most startling designs transform the hydrant's unusual dimensions into a new form altogether, such as Sarah Cook's amanita muscaria toadstool, Jennifer Zwirn's blue crayon and David Lunde's miniature fire station. Additional hydrants were painted by Tonya Allen, Maggie Baxter, Marc Beechuk, Emily Bilcik, Christopher Charette, Jill Lenoci, Megan Reeves and Lily Swindle.
"A piece of art can make us happy, make us think, make us sad. When we share the viewing with others, it can spark conversation and build a new connection. It can create a memory," says Loftin. "Not everyone is interested or comfortable in going to an art gallery, and I get that. However, I do believe everyone enjoys art on a basic level. When we put it on display in public, it is open to everyone. You can't help but see it. And when you combine public art with water, it only gets better."
The official "Fire Up the Hydrants" unveiling will be held Saturday, Oct. 8 from 10 a.m.–12 p.m. on College Avenue outside of City Hall, offering kids' activities, a small artist market, celebratory cake, an up-close look at a water truck and a chance to meet the artists. Everyone—especially participants wishing to warm up for the following day's AthHalf Marathon—is invited to take the H2.O Water Walk, a two-mile route that circles past all of the hydrants.
Community members can cast votes for their favorite designs through February, and the top three artists will earn prizes in March. Self-guided maps and ballots will be available online through thinkatthesink.com, as well as at the Water Business Office, Athens Visitor Center, Athens Downtown Development Authority and select Certified Blue locations.
Like what you just read? Support Flagpole by making a donation today. Every dollar you give helps fund our ongoing mission to provide Athens with quality, independent journalism.