Rolling along roads like miniature mobile exhibitions, art cars turn heads wherever they travel. Most often created by self-taught, visionary and folk artists, these eye-catching vehicles vary greatly in theme and style but share a common thread of entertaining and inspiring those whose pathways they cross. While the earliest examples of art cars popped up in the '60s as painted VW buses, it wasn't until the '90s when communities began coalescing across the country. Northeast Georgia happens to be a hub for these unusual automobiles, and the Farmington Depot Gallery—a quick 15 miles from Athens—will showcase a dozen at the first-ever Autovision this Saturday and Sunday.
"I love the fact that my cars make people smile," says Peter Loose, the rally's organizer. Loose is the proud owner of not one but two art cars. The "ClydeMobile" is a Ford truck originally transformed by renowned artist Clyde Jones, whose home in the small town of Bynum, NC was put on the map of roadside oddities as the "Critter Crossing" for his animal sculptures born from log remnants and stumps. Loose's "Snakes on a Van"—exactly what it sounds like—is "the world's only traveling Snake Art Museum," and celebrates the misunderstood creature that so often appears in the folk artist's distinctively dotted paintings. Loose has participated in parades in cities like Houston and Chattanooga, and logged over 400,000 miles in the ClydeMobile so far.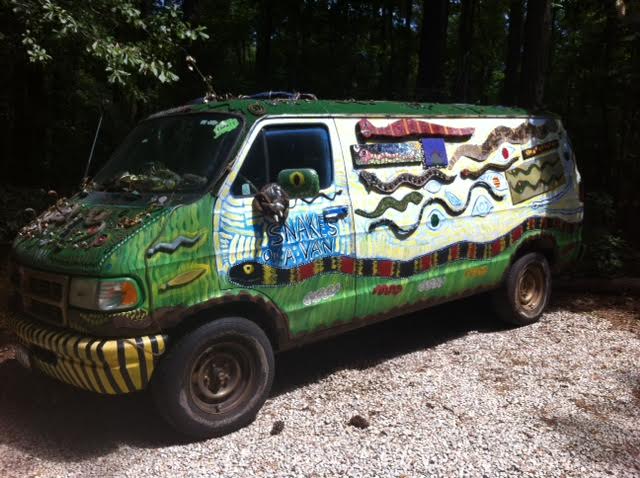 "My childhood memories of the Batmobile and Chitty Chitty Bang Bang have always opened my eyes to the no-limit car vibe," says Loose. "Chris Hubbard was a local inspiration."
Far ahead of what became a national art trend, Chris Hubbard was "reborn" as an artist and began constructing his own art car in 1998 after a 20-year career in science. His "Heaven and Hell Car" explores the good-versus-bad dichotomy that exists within every person internally striving to live virtuously, but who occasionally succumbs to the complexity of human nature.
Covered in carvings made from sheet metal, scrap wood and other found objects, Hubbard's choice in material is a reflection of his deep appreciation for visionary artists like Howard Finster, R.A. Miller and Edgar Tolson. Angels, devils and saints—influenced by his Catholic upbringing and resembling figurines that often appear on altars—are balanced with horseshoes, all-seeing eyes and other superstitious symbols. Much of Hubbard's artwork over the last two decades has continued to reflect his lighthearted, tongue-in-cheek approach to religious themes.
Many of the cars serve as solid representations of their drivers' overall aesthetic and larger body of work. The black-and-white "CrispyRide" and the blue-and-black "Zig Zag," the later of which belongs to the artist Holly. Just Holly, were both painted by Nack, who is the owner of Crispy Printz, a Cornelia-based screenprinting business. Nack is the mural artist who has been painting walls around Athens left and right over the past few years—Journey Juice, Ruby Sue Graphics, Preserve and Marti's at Midday, to name a few—and his style is immediately identifiable by the criss-crossing black lines used to detail his images.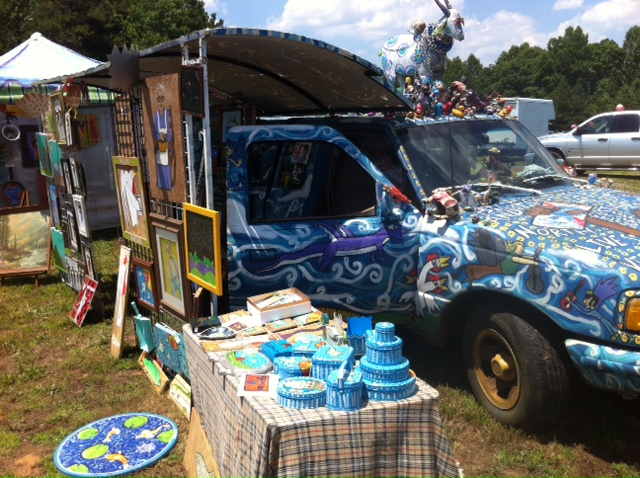 Self-taught Rome, GA sculptor Jim Shores' eccentric "Aliens on Board"—in stark contrast to his earthy folk art assemblages constructed from found objects—is a starry, silver and black spaceship on wheels transporting a full load of extraterrestrials. Rabun County artist Kip Ramey's vehicle, while painted with a folksy swirling sky, is covered in everything from action figures, toy dinosaurs and vintage collectibles. Other vehicles confirmed to make an appearance are Tex Crawford's "Mysteries of the Deep," from Hull; Elizabeth and Chuck Hanes' "Chicken Coup deVille," from Madison; Mariah Hope's "Quilt Car," from Cornelia; and Paulette Perlman's "Florida Art" car, all the way from Panama City.
From sunrise to sundown each day, artists will share the histories and inspirations behind their cars, and everyone will bring original pieces of work to sell. Hubbard will periodically offer talks on the art-car world at large, and spontaneous parades have been promised to occur. Due to the natural wear and tear the vehicles are subject to, many of the artists will take the opportunity to touch up paint or add new ornamentation, including Loose, who is inviting everyone to help him repaint the "ClydeMobile." For anyone ready to take the plunge and start decorating a vehicle of her own, artists will be more than willing to lend a hand.
The gallery itself—housed within a historic train depot built at the turn of the century—will be open all weekend for visitors to peruse the collection of artwork contributed by its members, who cooperatively own and staff the gallery. In addition to folk paintings by Loose and functional pottery by Holly, you'll find rural landscapes by Matt Alston and John Cleaveland, fused glass jewelry by Annette Paskiewicz, paintings by Dan Smith, mosaics by Marian Maxey Smith and sculptural works by Phil Goulding, Michael Pierce and Cheri Wranosky.
Like what you just read? Support Flagpole by making a donation today. Every dollar you give helps fund our ongoing mission to provide Athens with quality, independent journalism.