Lou Kregel sips a cup of coffee on the sunny patio of Big City Bread. She's sitting at a café table in sight of her first chrysanthemum mural, today a green flash behind a stack of shiny aluminum chairs. Her colorful, mandala-like blooms have become her public trademark over the last nine years, but she's been a prolific designer in town since 1992.
Kregel's designs are currently decorating Athens by way of posters, yard signs and billboards to usher in the 20th anniversary of the AthFest Music and Arts Festival, and will appear again later this fall during the AthHalf half marathon. Each year a local artist is selected by a committee to design a unique theme—appearing on T-shirts, the AthFest compilation CD and other merch goodies—and Kregel was selected specially for the milestone year.
Her AthFest 2016 logo is a boldly colored composition of intersecting diagonals, inspired by the clean lines, simple shapes and flat colors of Russian Constructivism, a functional, social arts movement promoting utopian ideals and unity in the face of adversity. The design originated as a component in the artist's major commission while living in Florida: paint-patterning the interior of a 3,000-square-foot nightclub in Tampa. The nightclub—unfortunately now leveled for new development—wanted to incorporate a stylized Budweiser sign into the wall paintings, but the idea was later scrapped. The design has since been collecting dust in Kregel's portfolio, but was given new life to suit the AthFest creative vision.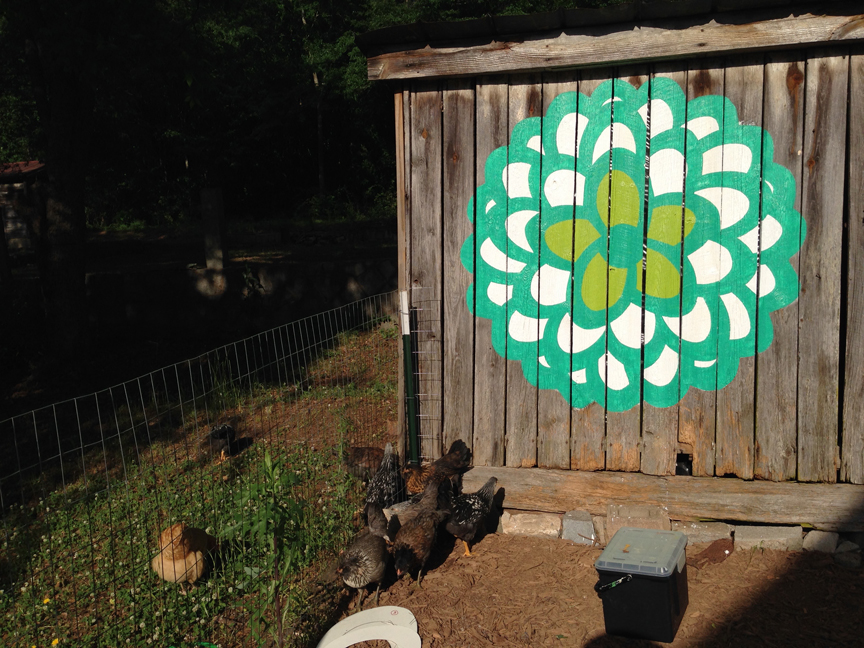 Textiles in Texas
Retro patterns have always appealed to Kregel. She studied textile design in college, learning a great deal about graphic design in the process. She also comes from a family of Texas draftsmen, and was naturally drawn to her university library's large catalog of mid-century architectural magazines. While her current work increasingly reflects the 1960s and '70s, drawing from such sources as interior design, architecture and graphic arts, the distinctive shapes of the '50s remain her primary inspiration.
In school, Kregel repeated the same class over and over just to have access to the textile-printing studio. Watching the birds flit over a fallen biscuit, the artist recalls sneaking into the second-story window of her art school's studios to print all night. After selling her student work in Dallas on the weekends, Kregel began her working artistic life at 21 as a billboard painter. A fondness for large-scale painting seems to have stuck over the decades, leading her to produce more than 70 chrysanthemum murals since 2007.

The Art of Mass Production
Kregel is drawn towards functional art, especially mass-produced forms of graphic and interior design. Her patterns have made their way onto coffee mugs, rugs, custom drum sets and restaurant backsplashes. She isn't bothered that her mural at Big City Bread has become a backdrop for storage, as it reflects that the art is a living part of the environment.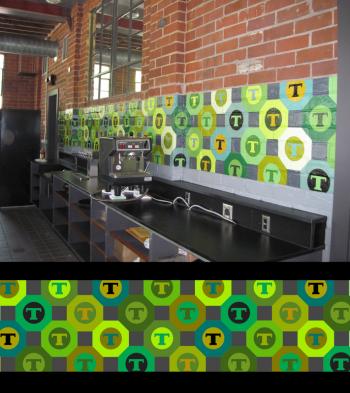 Kregel's chrysanthemums act as a town-wide motif, uniting neighborhoods from Five Points to Boulevard. The first few public murals were created for free as an informal public art project. Inspiration for the original chrysanthemum outside Big City Bread came from a wide spool of 1970s flowered ribbon, which the artist enlarged into a complex and fragile paper pattern. When the mural commissions kept rolling in, Kregel developed the more efficient method of production she works with today, rotating graduated petal shapes around a central point.
For Kregel, the beauty in creating mass-produced art objects or patterns like her murals is that they act as a backdrop to the social action occurring around them. These objects support artful living and encourage a heightened enjoyment of surroundings. The precision of her patterns is achieved through careful handcrafted effort rather than computer generation, creating a compelling visual tension between man and machine that the artist says only adds to the humanity of the work.

Building the Future, Looking at the Past
The artist's goal is to design, not necessarily to continuously produce unique works of art. "It's hard to be intellectually satisfied with one-off products," Kregel says before sinking another bite into a strawberry jam-smeared biscuit.
Processes of manufacturing and multiple printing have always fascinated Kregel, who likes to imagine the mysterious system behind transforming a blank bolster of fabric to curtains at J.C. Penny. While she has tried to work with large production companies in the past, the constraints of working with today's mainstream retail have been disappointing. Most companies advise her to tone down her colors—one of the most distinctive aspects of her work—in order to appeal to a more general audience.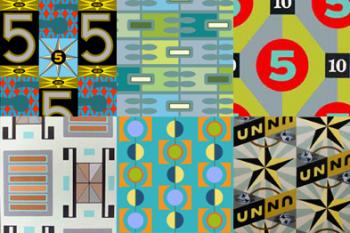 To overcome such obstacles, Kregel is currently working towards forming her own design company. Her first product on the horizon is a large, rounded edge square table that recalls influences of mid-century Eames design with the Herman Miller Design Company.
Surprisingly, Kregel's favorite artistic period is prehistoric cave art. "Art history is the history of humanity exploring itself," she says, and the fire and animals our ancestors smeared on cave interiors in ochre and ash was a "basic expression of the human will to survive." This primitive art essentially conveys humanity's need to remember the past as well as to give form to the dreams of the yet-to-come.
Kregel's deceptively simple art lends itself perfectly to the AthFest mission. A design based on social unity could hardly be more fitting for a festival that has brought the town together to celebrate the arts for the last 20 years, keeping the creative spirit of Athens alive.
Like what you just read? Support Flagpole by making a donation today. Every dollar you give helps fund our ongoing mission to provide Athens with quality, independent journalism.