A small but thriving community, Watkinsville once earned the nickname "Artland of Georgia" for the many potters, painters and studio artists quietly working from their homes. Fully embracing its reputation as a center for established and emerging artists alike, the City of Watkinsville and the Oconee Cultural Arts Foundation (OCAF) have been working in cooperation behind the scenes to arrange not one but two exhibitions of public artwork, which are now fully installed and ready to cruise or stroll by.
"Public Art Watkinsville: A Pop-up Sculpture Exhibit" features five diverse sculptural works temporarily installed at prominent locations along North Main Street. The imaginative creations were selected from works submitted through a call for entries issued by Watkinsville's Arts Advisory Council this past December.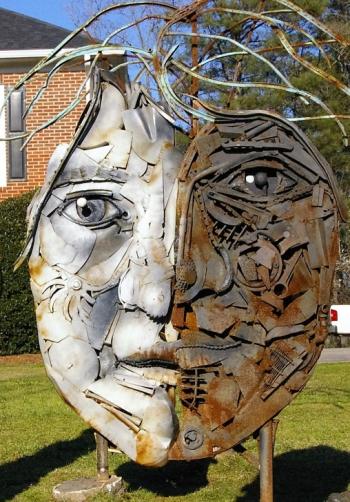 Located on the Dolvin property across from the Oconee County Courthouse, William Massey's "Object of Wo(man)" is an interactive optical illusion best approached slowly or on foot. Three metal forms appear disjointed until viewed from the center's sweet spot, where the pieces perfectly align to create a three-dimensional image of a woman's face. The artist's desire to unify seemingly divided fragments is similarly reflected in his process and emphasis on recycling. He cuts, grinds, welds and assembles discarded materials and found objects back into whole works.
Ben Lock's steel and cast iron "Rocker," in the lawn of the Murray House, is a simple form representing the artist's deep explorations into American culture and the history and labor of making. Much of the artist's work touches on themes of class, labor and time through investigating the functions of tools and applications of materials. Lock, who has an MFA in sculpture from the University of Maryland, is an assistant professor in the University of North Georgia Gainesville campus.
"Scopa" by Joni Younkins-Herzog is perhaps the most unusual-looking sculpture of the bunch, and can be found near the AT&T building. Like an organic form borrowed from a Seussian fantasy land or something molded by the hands of Delia Deetz in Beetlejuice, "Scopa" resembles a veiny, stark white angel-trumpet flower with a bright red mouth. Younkins-Herzog, who received her MFA in sculpture from Indiana University after attending UGA for undergraduate studies, combines beauty and absurdity through grafting subtle elements of the human form into her works.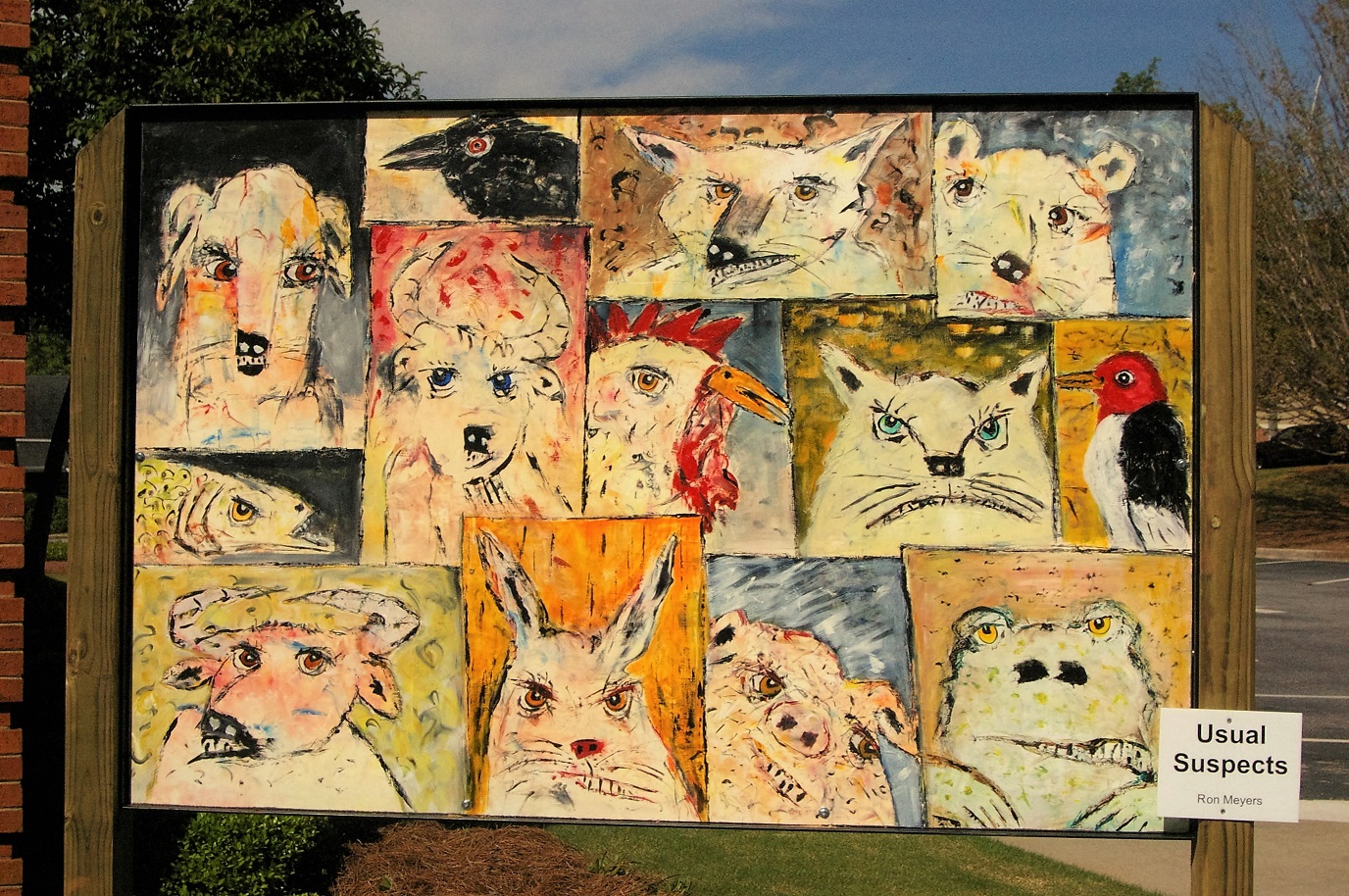 Across the street outside of the Ashford Manor Bed & Breakfast, you'll find Robert Clements' "Circus Acrobats," a whimsical, topsy-turvy creation in cast iron and welded steel. As a horse prances across a globe precariously balanced on a cube, a woman stands on its back, impressively lifting an upside-down man above her head. Clements, who taught at UGA's Lamar Dodd School of Art for 25 years, is no stranger to public art; additional sculptures of his can currently be found outside of the Athens-Clarke County Library and in a small sculpture garden in front of an apartment complex off of Milledge Avenue.
Stan Mullins' "Hands of Respect," installed outside of Watkinsville Storage, is an 8-foot-tall, five-ton monument chiseled from a single block of Elberton granite. Originally commissioned for the 2008 Beijing Summer Olympics, two right hands align their palms as if praying together in a universal symbol of respect. Many Athenians are familiar with Mullins by way of his unusual yet picturesque home on Pulaski Street, an 18th Century cottonseed oil refinery that has been renovated to include a 7,000-square-foot studio space and two sprawling acres of land for an ever-changing sculpture garden.
The five sculptures are unfortunately not permanently installed, but all artists have offered to loan their works for a minimum of three months.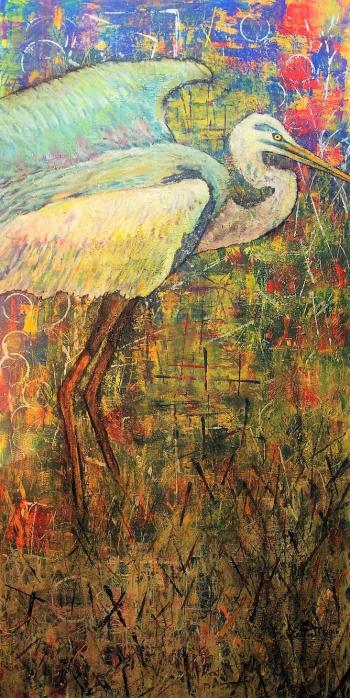 In conjunction with the pop-up sculpture exhibition, OCAF and the City of Watkinsville also unveiled "Artscape Oconee: The Monuments of Artland," a collection of eight newly commissioned public art panels alongside six refurbished works. Measuring 4-feet-by-6-feet or greater, these eye-catching fine art billboards serve as large-scale paintings spreading splashes of color across town. Installed outdoors at locations such as Harris Shoals Park, Ameripride, Mutty Paws, McNalley Park and the Oconee State Bank, the panels strengthen Watkinsville's growing reputation as a thriving arts community by tastefully integrating visual reminders into the landscape.
"Artscape Oconee" was a public art initiative launched in 2000, with the first and second wave of panels erected in 2009 and 2010. This latest collection continues the tradition, showcasing the diverse talents of artists who live and work nearby. The roster inarguably includes some of the most established artists around, with new commissions from landscape painter June Ball, scientific illustrator-turned-still life painter Manda McKay, famed ceramic artist Ron Meyers, wildlife painter Leslie Moody, UGA art professor Alex Murawski, The Loft Art Supplies owner Scott Pope, UGA professor emeritus Art Rosenbaum and art students attending the University of North Georgia. Restored boards are contributed by Cecel Allee, Robert Clements, Stanley Bermudez and Bill Pierson, Will Eskridge and students attending Whitehead Road Elementary and Oconee County High School.
Both exhibitions were supported in part by a grant from the Georgia Council for the Arts through the Georgia General Assembly, a Partner Agency of the National Endowment for the Arts. Brochures with a map of art locations can be picked up at OCAF, the Oconee County Welcome Center and Watkinsville City Hall, or downloaded online from ocaf.com.
Like what you just read? Support Flagpole by making a donation today. Every dollar you give helps fund our ongoing mission to provide Athens with quality, independent journalism.