There's something universally meditative about the cool squish of mud on your skin. It is a physical connection with the Earth and a reminder of days gone by when, as a child, it was acceptable to cover yourself in dirt simply for the joy of it. When we set aside our modern adult aversion to getting our hands dirty, we can tap into that youthful, primal part of ourselves that remembers the Earth and unleash our innate, playful creativity.
Why do some people grow up and continue playing with the Earth, as potters do? At what point does play become art? "Perspectives" provides imaginative answers to these questions, as well as several opportunities for attendees to learn about working with clay.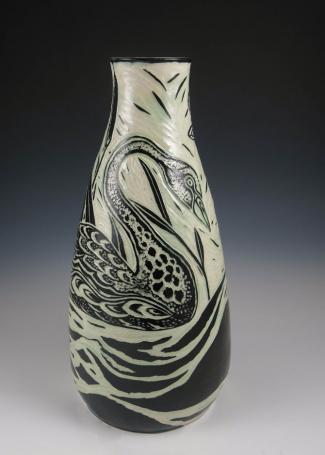 One of the Southeast's largest pottery exhibitions, the 13th annual "Perspectives" is hosted by the Oconee Cultural Arts Foundation in Watkinsville and will run from Friday, Aug. 28–Wednesday, Sept. 16. The invitational show and pottery sale features original handmade work by 50 of Georgia's best contemporary potters.
As per tradition, there will be an opening gala and preview sale featuring light refreshments, finger food and an outdoor performance by soulful jazz group Period Six on Friday, Aug. 28 from 6-9 p.m. Admission is $20—higher than in years past, but hopefully a sign of a bigger and better-than-ever event. Attendees will get early access to the show and sale, which features thousands of pots, vases, bowls and non-traditional clay objects. The general exhibition will commence the following day, Saturday, Aug. 29, and will be free and open to the public every day (including Sundays and Labor Day) from 10 a.m.–5 p.m.
OCAF is located in the repurposed school known as the 1902 Building, which once housed the Watkinsville Gym, now called Rocket Hall. Classrooms and hallways in the building have been converted into galleries and creative workshop spaces in which OCAF hosts public art classes year round. It seems appropriate that such a storied building would host an event dedicated to celebrating a traditional craft, but like the building itself, many of the featured artists have taken a unique, modern approach to pottery.
The bulk of "Perspectives" will fill Rocket Hall to the brim with an extensive selection of 5,000 purchasable pots. "Participating Potters: 2015," an exhibition on view in the Main Gallery, includes two or three pieces by each of the 50 selected potters for a condensed, "best in show" option. These pieces are typically utilitarian objects like bowls, cups, plates, vases and pots, but many artists choose to create less traditional, decorative pieces. Two such artists will be featured in smaller galleries devoted solely to their unique work.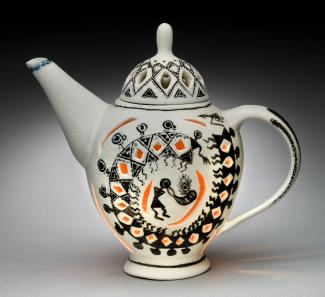 The Hall Gallery will display "Once Upon a Time," a collection by local clay worker Isabell Daniel. Daniel is a Georgia native currently living and working just south of Athens in Farmington, but her work is influenced by the colors, textures and pottery techniques absorbed through her worldwide travels. During her time as a professor at the University of Georgia—where she also received her master's degree in ceramics—Daniel lived and taught abroad for months at a time in Japan, a land known for its delicate ceramic products and ancient techniques. Her collection in this year's "Perspectives" is based around the ideas of time and storytelling, embodied through a series of figurative terracotta clocks. The clocks are constructed like stringed puppets, with individual moving parts that create faces, hands and other abstracted elements of the human form. On each figure, the clock face is placed where the heart should be, a visual reminiscent of the Tin Man from The Wizard of Oz. Daniel's whimsical work is sure to stir every viewer's inner child.
The Members' Gallery will feature work by Akira Satake, a Japanese native currently based in Asheville, NC, a city with one of the country's premier pottery communities. Satake's work blurs the line between art and nature through the use of natural forms and textures. His naturalistic work evokes textures such as water-worn wood and rough-hewn carved stone. These textures are often created through methods that incorporate natural media such as wood ash used in firing for coloring. Satake also creates work that speaks to his Japanese heritage, with the more refined, minimalistic forms and patterns popular in traditional Japanese ceramics. His selection represented at "Perspectives" creates a beautiful bridge between the natural origins of traditional pottery and modern aesthetics.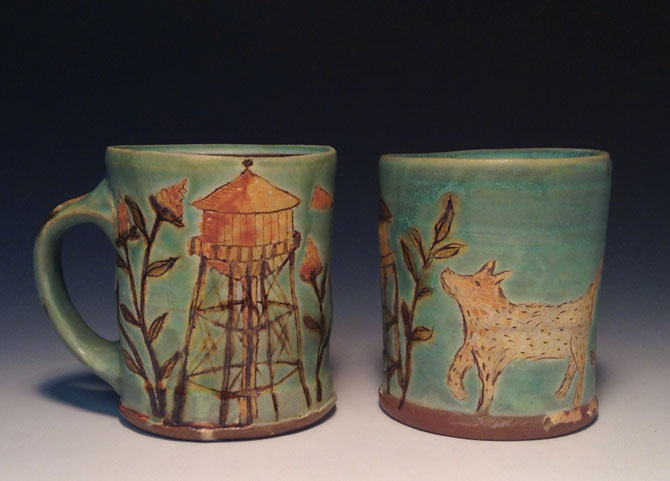 In addition to the exhibitions and pottery sale, "Perspectives" will host an artist workshop, demonstrations and gallery talks throughout the month:
Workshop: Satake will lead "Beauty in Imperfection" on Saturday, Aug. 29 and Sunday, Aug. 30 from 10 a.m.–5 p.m. The artist will demonstrate hand-building and throwing techniques used for making bowls, pots and vases, and give tips on creating rich surface textures inspired by nature. The two-day workshop costs $165 (including lunch), and spots can be reserved online at ocaf.com, by phone at 706-769-4565 or in person at 34 School St. in Watkinsville.
Gallery Talks: Michael Pitts will lead free discussions in the Main Gallery on Sunday, Sept. 6 and Sunday, Sept. 13 at 1 p.m. The well-known Georgia potter will highlight various pottery styles, finishing techniques and firing techniques, using pieces on display as examples.
Pottery Demonstrations: Participating potters will lead free demonstrations of wheel throwing and hand-building techniques on Saturdays from 1–4 p.m. in the Rocket Hall Courtyard. The lineup includes Atlanta potter Rick Berman on Aug. 29, Good Dirt studio owner Rob Sutherland on Sept. 5 and Watkinsville artist Alice Woodruff on Sept. 12.
Like what you just read? Support Flagpole by making a donation today. Every dollar you give helps fund our ongoing mission to provide Athens with quality, independent journalism.