Creative Collaborations: Doubling as both an artist collective and a gallery, Eugene O'Neill was established by local artists Darin Beasley, Michael Siporin Levine and Noah Lynch as a venue for creativity, conversation and cross-disciplinary arts.
"I lend toward being a smartass kind of jackass a lot of the time; Noah's pretty much the opposite, and Mike is funny and gets the making-work ethic, so I was picking up on all of this and had an idea the three of us would make a good team—smartass, quiet guy, maker—all making something together," says Beasley. "So we became Eugene, the collective. Eugene, the space, was part of that concept from the beginning, where we could spring our first work out of it kind of as an inaugural exhibition and kind of as a debut."
Located in the front of a residence at 153 Cleveland Ave., Eugene O'Neill, the gallery, is a one-room alternative space, where the collective plans to present eight-week exhibitions in addition to public events such as performances, conversations with artists and film screenings. Unlike most art venues that showcase solo or group shows, Eugene O'Neill will turn selected artists loose in an experiment of collaborative practice.
"We'll curate the exhibits insomuch as asking artists to work together for a specific exhibit; however, we won't be curating their work—that's for them. It's a pleasure to work that way, and we hope to bring together artists who will encourage one another to do something new and to do something new together as well," says Beasley. "As for performances and screenings, there are ongoing open calls for that. I love the idea of someone's friend who's a musician coming to town just walking into the space and setting up whenever, or, say, someone wanting to show a random film. It's also space for visiting artists who want to talk about what they do."
The gallery's debut exhibit will be "But Wait," a site-specific installation created among the three founders. The opening reception is Friday, Sept. 26 at 10 p.m., with a performance by Bad Nudes at midnight, and the show will remain on display through Friday, Nov. 28.
"The installation will be a mix of things we consider serious, sublime and deadpan," says Beasley. "When we're together, Mike and Noah and I will hang out around the table and brainstorm and talk it all out loud and change the subject too. We're really relaxed about it, grounded in one another as friends first. We throw out ideas to one another, and then hanging out is done. When we go into the install, we'll be bringing a bunch of whatever we've dreamed up on our own and take it from there and turn it into the piece. You could say we're waiting to see what it becomes."
To visit Eugene outside of opening receptions and special events, arrange an appointment by emailing oneilleugeneoneill@gmail.com.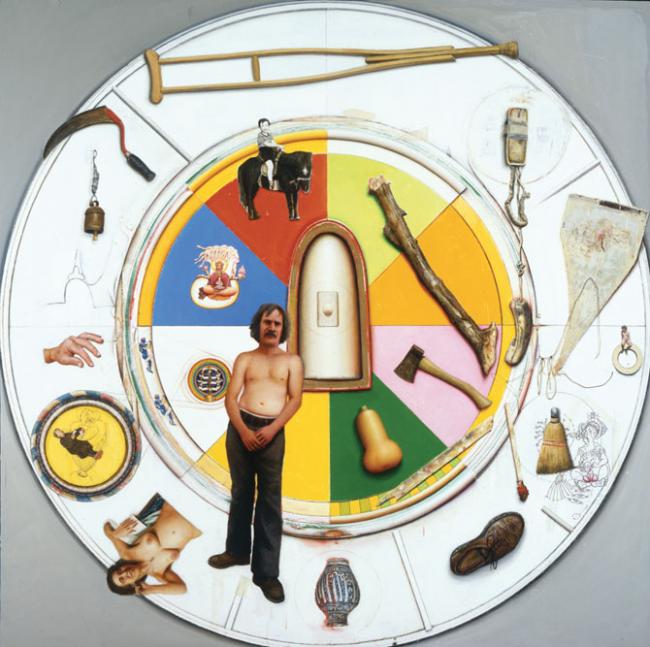 Bigger is Better: "XL," on view at the Georgia Museum of Art through Sunday, Nov. 16, presents giant contemporary paintings, prints and sculptures whose impressive scale creates an immersive experience for viewers.
The magnitude of several pieces can only be fully realized in person. To create the brittle, wall-spanning "Un/Structure No. 9," New York artist Jeff coated unshaped, unstretched canvas in layers of molten metal, blending elements of painting, sculpture and architectural relief. Small scratches inflicted on the surface were designed to reflect atmospheric light and develop texture. Gregory Gillespie's "Wheel of Life" appears almost as a cut-and-paste collage when scaled down into a photograph, yet up close many of the individual images are so thickly painted that they make a three-dimensional surface.
With more surface area comes more room for detail. The swirling paint within "Crocodile Strategy #2" by Sandro Chia reflects the forward motion of a muscular man's energy, and the small details hammered into Saul Baizerman's "Day," a copper sculpture of a reclining man, make his skin appear more worn and rest-worthy. Within Philip Wofford's lyrical abstract painting "Cascades," the artist's touch is visible through sweeping brushstrokes and splattered, sprayed and layered paint. Dean Gillette's "Neptune II," an abstract painting with geometric shapes, is humbling through its underlying cosmic patterns.
The exhibition is rounded out by "Star," a brightly colored floral form by Jack Youngerman; "Torre Pieno Al Vinoto," a simple steel sculpture by Beverly Pepper; a geometric piece by Don Head; and "Solicap," painted biomorphic forms by Terry Winter. The exhibition will be highlighted during the museum's quarterly reception, 90 Carlton: Autumn, on Friday, Oct. 10 from 5:30–8:30 p.m.
Like what you just read? Support Flagpole by making a donation today. Every dollar you give helps fund our ongoing mission to provide Athens with quality, independent journalism.