Team Effort: Five new exhibitions are up and ready for viewing at the UGA Lamar Dodd School of Art. As an experiment in the curatorial process, "Regina Rex: New Threads"—on display through Monday, Mar. 3 in Gallery 307—was collectively organized by the 12 artists who run Brooklyn gallery space Regina Rex. Titled to reference the thread of emails and constant back-and-forth discussion necessary to self-curate, the show reveals an interesting behind-the-scenes perspective on the challenges of collaboration. A list of show possibilities that were brainstormed early on by the group is provided, ranging from "everyone makes a clock" and "everyone contributes a work to add to a wood chipper; we exhibit the mulched remains" to naming the exhibit "Shitshowchallenge." Ultimately, the artists chose the path of least resistance and decided that everyone would simply bring whatever they wanted to the gallery in a month, and the group would then collectively figure out how to best arrange the works. As you can probably imagine, having a dozen artists with their own separate visions led to an overall disjointed, somewhat scatterbrained-looking exhibit, with a few pieces visually linked but most appearing unrelated. Fortunately, the exhibit offers a compilation of handwritten artist statements reflecting the thread-like reasoning behind the pieces selected. LDSOA's gallery director, Katie Geha, will give a free lecture in conjunction with the exhibition on Tuesday, Mar. 4 at 5:30 p.m. in room S150. Using Regina Rex as an example, Geha will discuss the role of artist-run spaces in contemporary art.
Best in Show: In "Some Points"—on display in Gallery 101 through Thursday, Mar. 6—LDSOA Post-MFA Faculty Fellow Rachel Cox presents a collection of photographs taken while traveling around the Southeast visiting state fairs and local competitions. The images highlight prized possessions like competing avocados, a "7th best kitten" ribbon, a first-place-winning Christmas tree and a Portuguese Tumbler pigeon with its wing delicately displayed. Through her in-process body of work, Cox prompts viewers to consider how value is attributed to objects and how photography assists people in deriving meaning from what they see.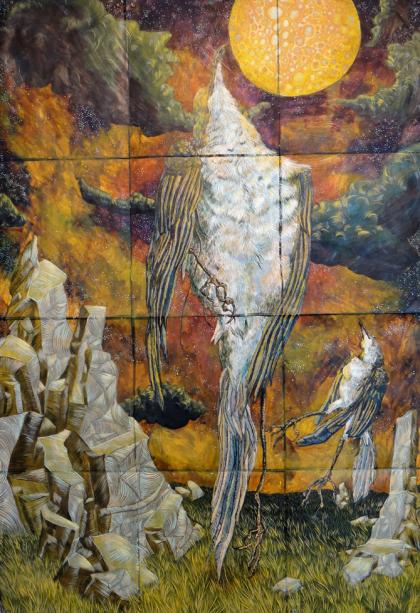 Flying High: Inspired by several dead birds found along the perimeter of the art school's building last fall, painting graduate student Michael Ross organized "Big Bird, Little Bird," a multimedia display in the Suite Gallery through Friday, Mar. 14. The exhibition considers themes of habitat, architecture, morality and conservation, reflecting on a systematic disharmony in mankind's relationship with the natural world. Jason Sokolic's installation recreates a memory of when a small bird flew into a waiting room and was knocked unconscious when it crashed into a window. Ry McCullough's video projection uses edited footage of soaring birds. The show is rounded out by oil pantings of birds by Ross, talismans constructed from dumpster-rescued materials by Elizabeth Kleene and spiritually-charged scenes by Heather Foster. Clear glass is invisible to birds, who either see straight through it or instead see illusory reflections, and flying into windows is one of the major causes of bird mortality worldwide. Multiple window installations in the building's stairwells, including a mural called "Pink Paradise" and a collection of images adhered directly to the windowpanes, were created to interrupt the windows' transparency and reflectivity, thereby protecting birds from flying into them. Alfred Hitchcock's The Birds will be screened in conjunction with the exhibition on Monday, Mar. 3 at 6 p.m. in room S150.
Creating Borders: "Within a Bounded Field," which is on display in the Bridge Gallery through Friday, Mar. 14, was organized by LDSOA's new painting professor, Benjamin Britton and features the works of undergraduate students. The pieces are intended to be declarative about the relationship and position of a frame to the content of the artwork it outlines, while exploring the work's overall relationship to the outside world.
Sounds Also organized by Britton, "Pspspspspst-zzzzzt!"—on view in the Plaza Gallery through Friday, Mar. 14—is a series of one- and two-person shows by painting students at UGA that will rotate out every Sunday and Wednesday nights. Named for the sound the lights make in the plaza as well as the sound of rapid movement, the month-long exhibit will feature six shows and 10 artists. Sarah Cowan and Michelle Fontaine have already exhibited, and remaining artists include Nancy Holmes and Carly Moser Feb. 23–26, Deniz Beyhan and Kayla Kaeding Feb. 26–Mar. 2, Rachel Wiltshire and Tyler Gibson Mar. 2–5 and Andi Dangerfield and Maria Nissan Mar. 5–14.
The Lamar Dodd School of Art galleries are open Mondays through Fridays, 9 a.m.–5 p.m. Parking is available in the Performing Arts PAC Deck and lot E20, and free parking is available after 4 p.m. in lots E07 and E11.
Like what you just read? Support Flagpole by making a donation today. Every dollar you give helps fund our ongoing mission to provide Athens with quality, independent journalism.