On the Cover: "If the Smithsonian American Art Museum can hold 'The Art of Video Games' exhibit, as they did just last year, people kind of have to take notice and give some respect," says Flashback Games' "Artcade Show 2.0" exhibit curator Thomas Wilcox. "I have always considered video games to be pretty close to the perfect art form. When done correctly, they expose the player to superb visual artistry, great storytelling and amazing soundtracks with atmospheric sound effects that allow you to become one with the art in real time. They create worlds in a way that no other art form really can."
This season's installment of the arcade's biannual show of video game-inspired artwork includes contributions from Edmond Baker, Matt Blanks, Christopher Cote, Justin Floyd, Lawson Grice, Jess Hinshaw, Jojo, Jordan Noel, Thomas Sanders, Breanna Watkins, James White and Tyler Wood.
"There is a real connection that people seem to make with this art form," says Wilcox. "I believe the onlookers take a genuine sense of ownership of this art, because it gives them a direct connection to their childhood while at the same time allows them to take pride in an art form unique to their generation. I guess that's kind of one of the reasons they named the arcade Flashback Games."
The pieces go far beyond the pixels that inspired them, running the gamut from paintings, charcoal drawings, mosaics, sculpture, screen prints, mixed media, textiles and audiovisuals. Highlights include props and costumes inspired by Zelda, Tron and Minecraft by 11-year-old artist Jojo; a Berserker-influenced, post-apocalyptic robot series by Thomas Sanders; and a listening station of musical works blending electro-pop, 8-bit and new wave sounds composed by Minikon.
"I'd say it's about 80 percent classic arcade and 20 percent new concept… A couple of our younger artists have created some great characters inspired by Japanimation culture, but for the most part it's Pac-Man to Street Fighter II era," says Wilcox.
Admission to the opening reception on Friday, Sept. 6, 5–9 p.m., is $3 for 30 minutes or $5 for a full hour of unlimited gaming and a raffle ticket. The raffle, set to start at 9 p.m. sharp, will distribute over two dozen door prizes, including free Flashback Games admission passes, original Artcade art pieces and prints and a wide variety of old school video game memorabilia dating from Atari 2600 up to the Nintendo 64 years.
That's Why It's Hotter Under the Water: In "Darling It's Better Down Where It's Wetter"—on display at Highwire Lounge through September—recent Lamar Dodd School of Art MFA graduate Jaime Bull presents a collection of surreal monsters, fantastical mermen and abstract, aquatic landscapes.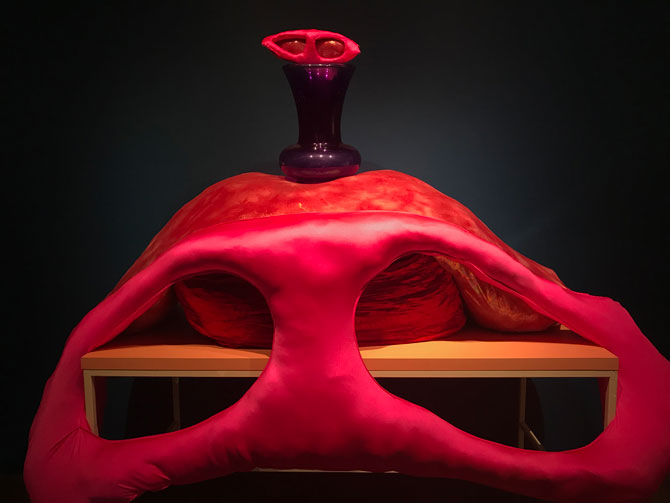 "It grew out of a trip to Belize—where I snorkeled like crazy, exploring underwater coral worlds—combined with a visit to Weeki Wachee, a roadside attraction in Florida built in the '60s, where live 'mermaids' perform in an underwater spring," Bull says. "An affinity for sci-fi, party supplies and a childhood nostalgia for Super Mario Brothers and 'Pee-wee's Playhouse' can also be added to the mix."
Not unlike a Rorschach inkblot test, for which the mind's eye is open to freely perceive images, Bull's paintings and drawings often don't take definition until far after her hand has touched the paper. "I usually have a banal idea or object in mind, and then it starts to transform, becoming weirder and more fantastic," she says. "I put down a mark and then respond to it. Sometimes the mark will look like a tree or a bird or maybe a sea monkey. I let my imagination take it from there."
The unusual assemblages employ a mixture of metallic surfaces, hand-drawn patterns, fabric, acrylic gels and gems, creating dimensionality as well as undertones of femininity and playfulness to each marine environment.
"Recognizable and intriguing material—My Little Pony hair, disco ball mirrors, glitter eyeshadow—encourage a connection to the work, or at least may spur a memory, engaging imaginations," she says.
Bull, whose floor-length "Lady Beasts: An Investigation of Womanliness" mixed media installation was exhibited in the most recent MFA exit show at the Georgia Museum of Art, intends for her new aquatic-themed pieces to serve as blueprints for future three-dimensional sculptures.
"The work is fun, has a sense of humor and is about playing with ideas and objects, but at the same time I want an oddness, the presence of an underlying subversiveness. It's like having a strange Alice in Wonderland style dream."
An opening reception for "Darling It's Better Down Where It's Wetter" will be held in the Highwire Lounge on Wednesday, Sept. 4, 6–9 p.m.
Theology in Color: The public has a rare opportunity to watch Byzantine iconography in action as Father Anthony Salzman and his team of artists set out to paint larger than life images of the Resurrection and the Nativity at the St. Philothea Greek Orthodox Church, located at 3761 Mars Hill Rd. in Watkinsville. The wall-spanning murals, created in the style of the long-revered tradition, will be created on-site during daily open houses Sept. 15–22. "Icons & the Incarnation," a lecture presented by UGA Department of Art History Associate Professor Asen Kirin is scheduled for Tuesday, Sept. 17 at 7 p.m. Check stphilothea.ga.goarch.org for a full daily schedule of visitation hours and correlated events.
Like what you just read? Support Flagpole by making a donation today. Every dollar you give helps fund our ongoing mission to provide Athens with quality, independent journalism.